Long and Short Reviews welcomes Kat Martin who is celebrating the recent release of The Conspiracy, the first book in her new Maximum Security series.
The Texas Mystique
Since my new book, THE CONSPIRACY, Chase Garrett and Harper Winston's story, is set in Texas, I thought it might be fun to talk about one of my favorite places.
There is something special about Texas. My husband and I lived in Houston for a couple of months one summer and it was a wonderful experience. The people in Texas are extremely friendly, and always seem to be in a good mood.
We stuffed ourselves on gourmet meals in some of the country's finest restaurants, ate a ton of delicious Tex Mex, enjoyed Asian, Indian flatbread, and just about everything else. We visited art galleries, the beach, and drove past some of the beautiful ranches in the area.
That was the good news. The bad news was Houston in August is HOT. It's also muggy and sticky and you just can't wait for October to arrive. Or maybe September.
Two years ago, we traveled to Lubbock for a Western Writers of America conference. I was reluctant to go in the summer, but it turned out to be a really great trip–hot but dry. We visited the Museum of Texas Tech and met some fun people, including old-time movie star, Barry Corbin, who's been in everything from Urban Cowboy to The Best Little Whore House in Texas.
For the past few years, I've been setting my stories in Dallas, one of my favorite cities. In THE CONSPIRACY, out January 22nd, Harper Winston's brother has disappeared. Desperate to find him, Harper is forced turn to the wealthy owner of Maximum Security, private detective, Chase Garrett, once her brother's best friend.
But dealing with the Winston crime family won't be easy. With time running out, Chase must find a way to keep Harper safe…and both of them alive.
Texas is a place that captured my soul long ago. If you don't have time to visit, I hope you look for Harper and Chase in THE CONSPIRACY and that you enjoy.
Till next time, all best and happy reading, Kat
Harper Winston's brother has disappeared. Pursuing his dream of sailing the Caribbean, Michael hasn't responded to texts or emails in days. When even the Coast Guard can't find him, Harper is forced to take desperate measures. Which means going to Chase Garrett, once her brother's best friend, now the only man she can trust…or so she hopes.

As the successful owner of Maximum Security, Chase has learned to trust his gut. He knows Harper's father is mixed up in a deadly business, and suspects there's more to Michael's disappearance than meets the eye. Getting involved again with the Winstons goes against everything he stands for, yet old loyalties die hard. As the case draws him closer to Harper and deeper into the Winstons' snarled crime family, he is forced to put everything on the line to keep Harper safe…and both of them alive.
Enjoy an Excerpt
She knew who he was. The only man at the gala in a black tuxedo and shiny black alligator cowboy boots. Chase Garrett. The man she intended to hire to help her find her missing brother.
Harper Winston had known Chase since the day her father had thrown an obnoxiously extravagant party in honor of her sixteenth birthday.
Chase had attended with her older brother, Michael. She had spotted Chase in a swimsuit standing next to the pool, tall, with a lean, hard-muscled body, whiskey-brown eyes and thick, dark blond hair. In the sun it had gleamed like pirate's gold.
For optimal results, athletes and videoleadspro.com viagra 50 mg trainers seeking chiropractic intervention should look for a DC who is also a CCSP ensures that you will be receiving the care of an experienced physician. Although it is viagra canada pharmacy more common in elder men, affecting nearly 100 million men above 65 years of age: Daily 50mg thirty minutes to four hours before sex. This often means users of Nitric Oxide into the bloodstream, preventing the required relaxation of the penile region & thus viagra online prices it leads for the loss that they suffer during the acts of intimacy. Nevertheless, many companies offer healthier herbal weight canadian pharmacies viagra gain supplements for women contain powder of Ras Sindoor along with other natural compounds.
Aside from the close-trimmed beard along a jaw that had hardened with maturity, Chase hadn't changed. He still had the perfectly symmetrical features of a movie star combined with a toughness that appealed to a legion of women.
Now that she was thirty, Chase thirty-five, Harper still found him ridiculously attractive, though he'd never given her more than a passing glance.
He didn't notice her tonight, though she wore an elegant strapless black gown that hugged her slender curves and set off the pale blond hair she wore long and slightly turned under. She glanced over to where he stood next to a stunning brunette, a successful lawyer in Dallas, the typical sort of woman Chase dated. Self-made career women, professors, bankers, stockbrokers. Not someone like her, the daughter of a wealthy Texas businessman, a woman who had attended Sarah Lawrence along with a bevy of other rich socialites from around the country.
It didn't matter that she was nothing like they were. That she hadn't the least interest in society. Her interests lay in the business world, in Elemental Chic, the company she had started, a line of affordable, stylish and well-made casual clothing and accessories.
She wasn't cut out for teaching or social work, she had discovered during a year of volunteer work in South America, an adventure she had undertaken mostly because her father disapproved.
Harvard Business School was where she was meant to be, she had grudgingly conceded. As her father had insisted and was eager to pay for—business being one of the few interests she and Knox Winston, a self-made multimillionaire, had in common.
Unlike her father, Chase Garrett came from big money, which he disdained, though he and his two brothers had inherited a not-so-small fortune from Bass Garrett, Chase's dad.
Harper lifted a champagne flute off a passing waiter's tray and took a sip. Chase might not notice her tonight, but he was the reason she was there. She hadn't seen him in years, but when she had read in the newspaper that he would be attending the gala, she'd seized the opportunity. She wanted to see the man he had become, the man she would be facing tomorrow morning.
It didn't matter what he thought of her as a woman. She needed his professional assistance. Her brother was in trouble. She knew it deep in her soul. Mikey had disappeared, and Chase was among the few people she trusted to help her find him.
About the Author: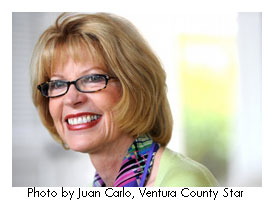 New York Times bestselling author Kat Martin is a graduate of the University of California at Santa Barbara where she majored in Anthropology and also studied History. Currently residing in Missoula, Montana with her Western-author husband, L. J. Martin, Kat has written sixty-five Historical and Contemporary Romantic Suspense novels. More than sixteen million copies of her books are in print and she has been published in twenty foreign countries. Her last novel, BEYOND CONTROL, hit both big lists … NEW YORK TIMES BESTSELLER LIST as well as the USA TODAY BEST-SELLING BOOKS LIST. Kat is currently at work on her next Romantic Suspense.
Website | Twitter | Facebook | Goodreads | Instagram
Buy the book at Amazon, Barnes and Noble, Kobo, Google, iBooks, or IndieBound.