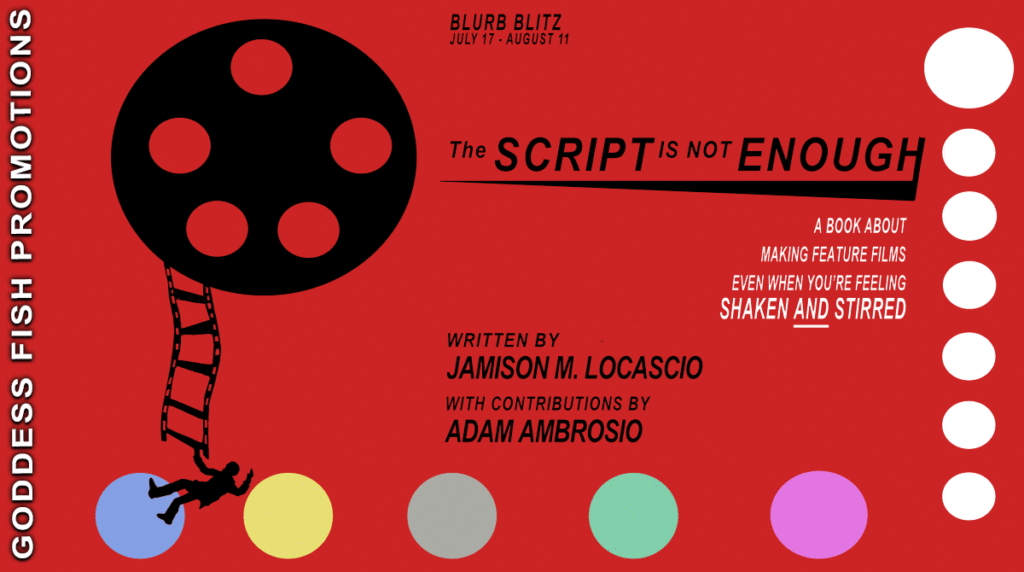 This post is part of a virtual book tour organized by Goddess Fish Promotions. Jamison LoCascio will be awarding a $10 Amazon GC to a randomly drawn winner via rafflecopter during the tour. Click on the tour banner to see the other stops on the tour.
The Script is not Enough takes a unique look at the making of four different independent feature films. The author takes you through every stage in development from writing, to financing, and to distribution and marketing. Find out how you can learn from the hard experiences and challenges that face the filmmaker along the way.
Enjoy an Excerpt
Life and filmmaking do not often mix well
I offer a detailed look at my journey of making four different feature films for the brand-new filmmaker out there. I am trying to write the book that I could have used in the very beginning. This is a book about what it means to be a filmmaker with little to no industry connections, "ins," magic tricks, or otherwise.
My "rules," which are in bold throughout the book, are just some things I keep in mind for myself. Based on my own experience reading books on making films, I want to try to avoid burying what is of value—the information—into a sort of "life story." That's boring.
It's very upsetting to see how many people sit around talking about how they never got a chance to make a film in their life, and now they are married, divorced, single, too old, too young, too poor, too comfortable…too anything besides "ready." There are so many excuses not to make a film, so it's best to just make one before your time's up.
Life and filmmaking do not often mix well; you need to make movies and also live your life. "Life" and "Movies" are two separate and severe challenges. So, make movies and make life, even when everything is against you, and it certainly will be. A poignant moment of "The Empire Strikes Back" comes to mind…
"Are you afraid?" asks Yoda.
"No," answers Luke Skywalker.
"You will be. You will be," says Yoda, his eyes widening, in a very creepy way.
Your first feature film is simply a difficult but attainable milestone. I now know now why that is. Lack of experience and opportunity to grow is more harmful to new feature film producers and directors than anything else. When you can try and fail at something, or succeed moderately, you can grow, adapt, and overcome. The problem with making feature films is that many do not get a chance to ever make one or, even worse, they make one and never get a chance to try again.
About the Author: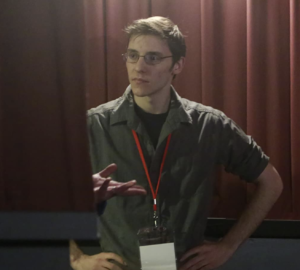 Jamison LoCascio is an award-winning feature film director. In 2012, Jamison LoCascio began to write the screenplay for his first union short, "Midnight Catch," which garnished much acclaim at the New Jersey International Film Festival and Manhattan Film Festival. LoCascio decided to form his production company, Halcyon Valor Productions Incorporated. Graduated from Montclair State University with honors winning the "Excellence in Filmmaking" award for his numerous successful productions which premiered in film festivals around the world. LoCasio's short films have since been honored by the Screen Actors Guild and screened at such festivals as the Los Angeles International Short Film Festival, Montclair Film Festival, and NewFilmmakers New York. LoCascio's shorts "Track 3," "A Stranger's Confession," and "Powerless" were all official selections of the Festival de Cannes Short Film Corner. His films have been anthologized in the prestigious Anthology Film Archives in Manhattan, distributed worldwide on DVD, picked up for online distribution by Film Bay. DIRECTV & AT&T distributed 6 of LoCascio's short films on their new International short film platform. LoCascio's first feature film, "The Depths," starring Michael Rispoli and Patch Darragh won Best Feature Film at the 2017 Manhattan Film Festival and had a strong critical reception. The film also won Best Feature Film and Best Director at the 2017 Los Angeles Film Awards and received domestic distribution with Sony Pictures and The Orchard releasing on all major platforms including Amazon, Itunes, DVD and more. LoCascio's second feature film "Sunset" starring acclaimed actor Austin Pendleton received rave reviews and won multiple awards including Best Dramatic Feature Film at the 2018 Manhattan Film Festival, Best Ensemble at the 2018 Los Angeles Film Awards, Best Leading Actor (David Johnson) International Independent Film Awards. "Sunset" also received domestic distribution with Sony Pictures and The Orchard. LoCascio and Adam Ambrosio have recently launched their latest initiative by filmmakers for filmmakers called Film Valor, a youtube channel with over 3,000 worldwide followers and over 250,000 views, a behind the scenes look at their filmmaking process. "Know Fear," his latest feature film, received critical acclaim and stars Amy Carlson. The film had a limited theatrical release. His next feature film "How Dark They Prey," a unique horror anthology, has been released on major streaming platforms including Amazon Prime, Tubi, Plex, Udu, Mometu and many more with critics hailing the film as "Horror at its best". His latest feature film release "7×7" is a collection of many of LoCascio's award-winning short films brought together for one viewing experience on major platforms including Tubi and Amazon Prime.
LinkTree
Buy the book at Amazon.