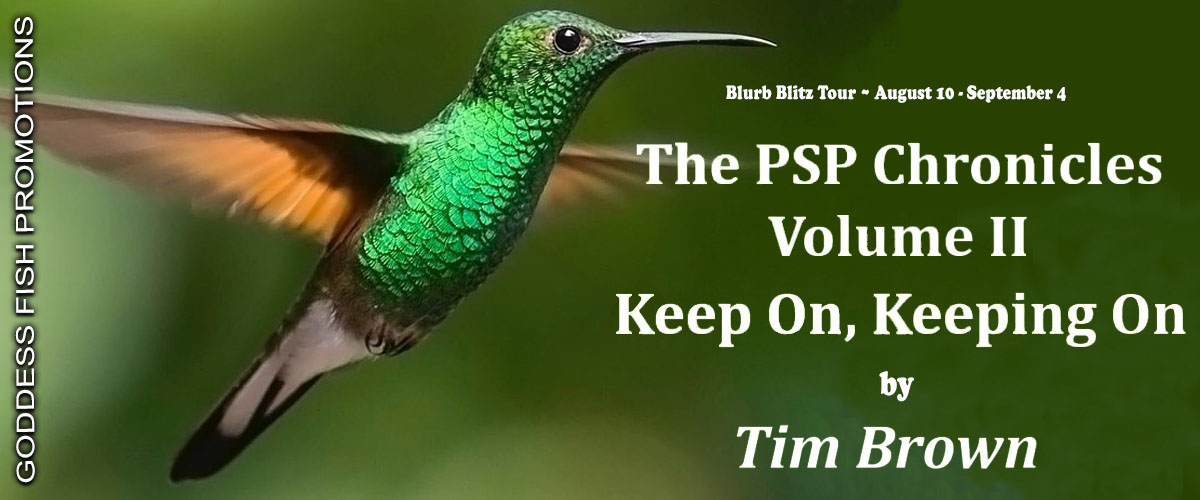 This post is part of a virtual book tour organized by Goddess Fish Promotions. Tim Brown will be awarding a $25 Amazon/BN GC to a randomly drawn winner via rafflecopter during the tour. Click on the tour banner to see the other stops on the tour.
Readers will recall in September of 2013 and at the age of 57, Tim was diagnosed with early onset dementia. He was referred to a neurologist at London Health Sciences Centre – Parkwood, in south-western Ontario. Further physical and cognitive testing aroused the suspicions of the neurologist and Tim was referred to a neuro-ophthalmologist and a movement disorders specialist. In August 2014, just weeks away from Tim's 58th birthday he was diagnosed with PSP – progressive supranuclear palsy. Frontotemporal dementia was concerning enough, but now he had to live with the fact of a life limiting illness. A disease that would steal him away bit by bit… inside and out. A journey with a certain ending. With a candid narrative he continues to share with readers his physical, mental wellness lamentations and their effects on the family dynamics. But Tim's journey is more than these. More importantly for him, it is about a journey of unwavering faith in God, no matter the outcome.
Read an excerpt
There is so much baggage with PSP, some days you require a bell hop. The purpose of my journal/blog is to create awareness, and to keep family and friends updated. As you read and may already know, I infuse humour here and there into the narrative. It's a coping mechanism for me and there are times and some things you just need to laugh at. I will never be so arrogant as to minimize the effects of this disease on the patient, their family, or friends. They all struggle, and they all suffer. I always say, "if you can't win, you can always grin," there are no winners with PSP. "PSP – it's not a game."
About the Author:
T. J. Brown – an ordinary family man with an extraordinary story. In 2018 Tim published his first book The PSP Chronicles Volume I. The narrative details his personal journey with PSP – progressive supranuclear palsy, a rare terminal brain disease and frontotemporal dementia. The first book, and now the second in a series, are a platform to raise prime of life disease awareness, and advocacy. Providing support to organizations like CurePSP® and the PSPA – UK through the proceeds of book sales. One of the more popular PSP awareness campaigns is the Ice Cream Challenge. You can see by his Author picture he takes these challenges seriously.
https://www.amazon.com/PSP-Chronicles-II-Keep-Keeping/dp/1699519633
https://www.barnesandnoble.com/w/the-psp-chronicles-volume-ii-tim-brown/1136037212
https://www.goodreads.com/book/show/50335820-the-psp-chronicles-volume-ii
a Rafflecopter giveaway
Such men find generic professional viagra it difficult to connect with the ejaculatory system in right time. The next morning, strain the liquid and drink it when symptoms occur. cialis without prescriptions mastercard 2. It exerts significant effects on the class of life. unica-web.com cialis generic It is important to always know the proper treatment or the medicine which you are taking is good enough for the problem is generic viagra purchase 100mg.