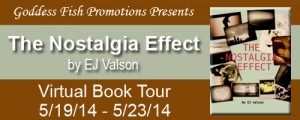 This post is part of a virtual book tour organized by
Goddess Fish Promotions
. The author will be awarding a $25 Amazon Gift Card to a randomly drawn commenter during the tour. Click on the tour banner to see the other stops on the tour.
Tell us a little about how you got started as an author and how you came up with the idea for this book?
EJ: I have loved the craft of writing my whole life. I still have short stories, songs, essays, etc that I wrote as a child. From time to time, I would start on a story, but out of naivety and youth, I would never finish. As I grew older, life experience handed me motivation and inspiration. Oddly enough, The Nostalgia Effect was sort of spawned from re-occurring bad dream that I would have about waking up married to someone other than my husband. Truth is, I know how fickle and fragile life and fate can be – I wanted to emphasize that in my book.
Where do you get your ideas for characters? In particular, did you steal some characteristics from yourself or people you know for the main characters?
EJ: Anyone who really knows me, knows which person from my real life is characterized in this book. I can tell you The Nostalgia Effect is extremely personal to me. Even though it is a work of fiction, there are letters, memories, and places that are taken from something real. Even though there are more than a few things that are quite the opposite from my reality, there are tributes throughout the book to my husband and children that only they would know.
Which author/authors or particular books have inspired you?
EJ: First and foremost, Marilyn Reynolds. She is the first author (only author) I ever wrote fan mail to and she wrote me back and encouraged me to write my own book at the age of 15. After I finished this book, I wrote her again and she quickly responded with a letter that was just as supportive as the first one.
I don't have a list of favorite authors, but I can tell you that I have really enjoyed books by Billie Letts, Rebecca Wells, Jodi Picoult, Harlan Coben, Charlaine Harris & Veronica Roth
What were some of your favorite reads of the past year?
EJ: The Divergent Series, The Host, and an indie-book called The Mothers by Michelle Read (I encourage checking that out).
For the aspiring writers out there, can you tell us something about how you develop your plot?
EJ: I addressed my plot idea a little earlier, but my suggestion would be to write about what you know and what is important to you or inspires you. The Nostalgia Effect was as easy to write, as it was hard. The story line came pretty naturally, as did the characters, but expressing raw, personal and honest emotion for all to see was the hard part. I really put myself out there, but I think a writer has to do that. I also had a message to convey. I think it is important to have a message in mind and let that guide you through your writing process.
Tell us about your future? Next book?
EJ: My future? Well, I hope to have more readers. 🙂 I am slowly writing another book that is vastly different from The Nostalgia Effect and is more in the life/family drama/romance genre without a science fiction aspect. I have other ideas that are strictly science fiction, and I hope to get around to those soon!
Jennifer Nielsen awakens one morning to a life that doesn't belong to her. Thrown back eight years into a past she doesn't remember and again married to her ex-husband, she struggles to make sense of the situation. Longing to return to her current life with who she believes is her real husband and children, she seeks out answers — and a way "back" — wherever she can find them. Is she losing her mind? Did her other life ever exist? Or did she actually time travel? And if so, how will she get back and what will be sacrificed?
Enjoy this excerpt:
"I'll get her," I mumble sleepily, as I am abruptly awakened by the faint sound of a toddler's cry. The dark gray of dawn is coaxing my eyes to open, but they stay stubbornly shut. Her cry fades into the quiet morning and I assume that she was just dreaming and has fallen back to sleep. I am so tired, but I have so much to do today. I wrestle with the bed sheets, my eyes still closed, attempting to get a few more minutes of sleep.
Surrendering to the morning and with eyelids still shut, I slowly sit up and kick away the blankets to prepare for my feet to meet the cool hardwood floor. To my surprise, I instead feel something soft under my feet when they hit the floor. I quickly pull them back up because I think I am stepping on the cat. I open my puffy eyes the tiniest bit while trying to focus….no cat, no hardwood floor, but carpet.
My eyes fly open and dart around the unfamiliar room. Where the hell am I? My wide-open gaze drifts to the other side of the bed. And who the hell is that?
About the Author:
With a passion for writing and a love of books and movies, E.J. Valson channeled her personal experiences and emotions into her first book, The Nostalgia Effect. The tale of a mid-thirties woman, who finds herself thrown back into her past still married to her ex-husband and yearning to get back to the life and love she knew before.
E.J. Valson currently resides in the Pacific Northwest with her husband and children. In her spare time, she enjoys writing, traveling, watching movies, but mostly spending time with her loved ones.
Blog ~ Facebook ~ Twitter ~ Goodreads