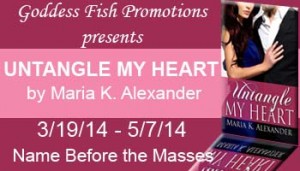 This post is part of a virtual book tour organized by
Goddess Fish Promotions
. Enter to win a $25 Amazon/BN gift card via the Rafflecopter below. Click the banner to see the other stops on the tour.
The Making of a Romance Writer
by Maria K. Alexander, Author of Untangle My Heart
How many of us have imagined what it would be like to be famous? If you did, maybe you dreamed of wearing glamorous clothes, fabulous shoes and sparkling jewelry. Don't forget limos and champagne along with a sexy man escorting you across a red carpet.
When I think of my early impressions of a romance writer, I think of Danielle Steel. She was one of my favorite authors who got me enthralled with reading romance as a young girl. I remember looking at her author photo at the end of her book, where she'd always be wearing something sophisticated and gorgeous, and I'd say to myself, "I want to be like her."
Well, here's a reality check…
This writer's everyday life is not glamorous.
I get too little sleep, don't keep the house as neat as I'd like, I miss out on the occasional softball game all in the name of writing. Like many, I juggle a day job, family, fitness, friends and writing. It's a journey I started over five years ago and despite the missed sleep, I wouldn't change it.
I've always been a goal-oriented person. And any goal worth striding toward is worth some self-sacrifice. I thought long and hard before embarking on this journey. I armed myself with data on the craft of writing, attended a countless number of workshops, and have worked hard to strengthen my skills. It's not an easy journey and has the potential for failure. Even knowing this, I was still intent on pursuing my dream.
"Failure is not your final destination." Vernice Armour
I heard these words from a motivational speaker at my day job. This phrase, along with her workshop (and book) really resonated with me. The journey through life can be challenging. For some, more so than others. The same applies to writers. Some people write one book, get and agent, and get published. Others have written ten or more before they're picked up. Many more are still struggling.
I've been blessed that it only took five years and two manuscripts before I got published. It wasn't easy and I had a lot of challenges to work through. And I still do. Because there are so many opportunities for publication, writers have to work harder to write the best story possible. We have to keep our material fresh and engaging to our readers.
And now that I've reached one goal—publication—it's not over. The journey doesn't stop with the publication of a book. Rather, it's a start of a whole new phase. Now that I've reached that bar, I raise it up and try for the next goal. In my way of thinking, the bar never stops moving. You're in charge of where you set it and how quickly you choose to move to get there. Sometimes life gets in the way and you sit idle for a while. And that's okay. But keep moving, even if it's moving in place.
The making of a romance writer isn't always glamorous, and it certainly has its ups and downs, but I've met a lot of fabulous authors and made new friends. This July, I'll head down to San Antonio, Texas for Romance Writers of America's annual conference. I'll be in the presence of awe-inspiring authors like Nora Roberts, Kristin Higgins, Jill Shalvis, and many others. For the first time, I'll get to sign at the "Readers for Life" Literacy book signing. And while I won't attract the masses like the wonderful ladies I just mentioned, I hope to connect with a few readers who will be attracted by my cover and stop by my table. I'll get to dress up and attend an award ceremony to recognize achievement in writing. For those few days, I will feel…not exactly famous…but part of greatness. And it will bring a smile to my lips and help me remember all that I've accomplished and what's more to come.
When her marriage ended in tragedy, Kate DiFrancesco rebuilt her life, but has never gotten over the pain of what she lost. Seeking the help of an ex-lover ignites feelings she's promised never to have again. She'll need to untangle herself from dangers in her past in order to break the hard shell around her heart.

Edward Weston has a lot to prove, both to his stuffy upper-crust British family, and to himself. Working alongside Kate, a woman he had a casual relationship with, stirs unexpected feelings. Helping her family makes him realize what he's missing. For the first time, he wants more than a one-night stand.

When Kate is threatened, Edward must overcome feeling unworthy to protect the woman he loves and fight for the family he never thought he'd have.

About the Author:

A romantic at heart, Maria K. Alexander spent hours as a young girl getting lost in and wishing to be one of the heroines in the stories she read. Books gave her the ability to go to another world where she loved meeting new characters, learning about their problems, and watching them fall in love.

Maria blogs about her writing journey with The Violet Femmes at http://thevioletfemmes.com. When not writing, Maria loves to read, bake, downhill ski, visit the beach, and watch romantic comedies. Maria lives in New Jersey with her husband and children, and writes in her "spare" time between juggling a full-time job and her kids' busy schedules.

You can keep in touch with Maria at:

Website: http://mariakalexander.com

The Violet Femmes Blog: http://thevioletfemmes.com

Twitter: https://twitter.com/MKAlexander1

Facebook: https://www.facebook.com/pages/Maria-K-Alexander-Author/201236689917319

Goodreads: https://www.goodreads.com/mariakalexander

You can buy Untangle My Heart at:

Amazon: http://amzn.com/B00GVKRLOG

Barnes & Noble:  http://bit.ly/1or9aAY

The Wild Rose Press: http://bit.ly/1gWifgp

Kobo: http://bit.ly/1cU0Ub8

iBooks: http://bit.ly/1gMBszO