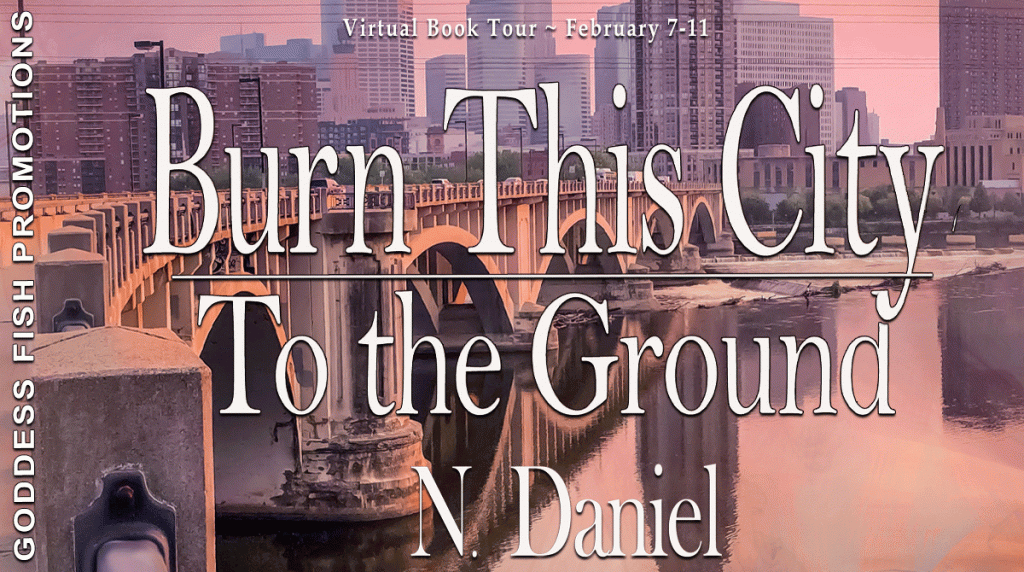 This post is part of a virtual book tour organized by Goddess Fish Promotions. N. Daniel will be awarding a $25 Amazon or Barnes and Noble GC to a randomly drawn winner via rafflecopter during the tour. Click on the tour banner to see the other stops on the tour.
The Making of a Memoir Writer – A Short Beginners Guide
My name is N. Daniel and I began writing memoirs about my life in 2013. Authors who write memoir have both the blessing and the curse of living through meaningful, sometimes traumatizing events, and coming out the other end with something worth mentioning. Unique experience is awesome in these circumstances but finding the profound in the ordinary is where most memoir writers make their living.
The first thing you need to realize is that memory is a day-dream. Your timeline, your conversations and your frame of reference are probably all false. Your goal is to ride the tide between reality and interest. Be accurate and use your deviance from the truth to reveal the lessons you have learned along the way. Reality is respectful to the reader but they will not pay attention if your story doesn't flow correctly or meanders on loose ends. Change the timeline to build a climax. Weave narratives throughout to show people what you have learned without them doing the work. This is the real work of the memoir writer. If you need to combine or omit characters to simplify the story, do it! Streamline your thoughts. Streamline the narrative. Let it flow and shine. The most important thing you can do is to show people what you know with as little information as possible, and then show them more! Life is too complicated to explain everything, to have every little sub-plot involved. Make it easy. Make it smart. Write in a way that will make people interested but also be factual whenever possible. This is the memoir way.
The second thing you need to be aware of is this, don't use memoir as a weapon. Respect your characters. Be sympathetic to them and be realistic about their aspirations and motivations. No one thinks they are evil. No one thinks they are wrong. Point out the inaccuracies in a kind and humbling way. If you google "writing a memoir" online, it will tell you to expect people to be hurt. That is very true. However it is up to you to tell your story fairly, realistically, without judgement. If you don't like some one tell the reader why! Tell them what they did. Speculate about why they did that and be nice about it. Perhaps they came from a broken home, had improper role models or maybe they were just having a bad day. Be honest with others. More importantly be honest with yourself. Explain what you have done wrong, why you did it and how you could have avoided it. Value your readers enough to set your book in the real world. You don't need to be the hero. You don't need to sugar coat yourself. Just be genuine.
Finally, write from the heart. Talk about things that matter to you. Explain why you feel the way you feel. This is your story so you need to give as much detail as possible. The most embarrassing, self conscious and incriminating thoughts are often the ones readers relate most to. Find the bravery to be vulnerable. Find the courage to "take the hit" for your story. Reputation aside, we are talking about your life, your writing! People value a genuine story and the closer you can hit home the better. Put your soul into your writing. Tell people about your deepest desires, your deepest fears! Never shy away from sensitive topics and always, always, always be respectful to everyone you think might be reading your work. The profane, the controversial, the offensive has a place in your writing. This is reality we are talking about. This is real talk! Just remember to put things in perspective.
Everyone has a story in them just waiting to get out. Scratch the surface a little. Find out what you know. I guarantee you will learn more about yourself than your readers will. It is the ultimate journey of self discovery.
Bless you and your endeavors. Write me if you need help at: author@ndaniel.us
Yours,
N. Daniel
As Daniel recovers from a psychotic episode and months long mental health civil commitment, he befriends a youthful quadriplegic named Samantha who is dealing with life-threatening health problems. When cohabitation becomes necessary for Sam, caregiver and client both move to downtown Minneapolis to begin a new life together. Before they can get settled in, Daniel is diagnosed with stage 3 cancer and must undergo multiple surgeries. The two navigate the American healthcare system and work towards Samantha's eventual independence, however, their relationship becomes toxic when a global pandemic shakes the nation and George Floyd is murdered by Minneapolis police officers.
Based on the author's life, this endearing platonic love story is the gooey center of a turbulent world set aflame. Through the laughter and the tears, Samantha and Daniel play off each other like a tragic comedy duo that's hell bent on finding humor within the most savage aspects of their everyday lives.

~~~~~~~~~~~~~

EXCERPTS (Please choose only ONE to use with your post):

Excerpt One:

I pulled into a gas station and had some trouble figuring out which side the tank was on. With some maneuvering I positioned the van next to the pump. Suddenly I realized that I didn't have any money for gas. I paged through the three-ringed binder holding the mileage log and found what looked like a debit card in a pencil pouch.

"That's the gas card, dear. You type in the mileage and the user code when you start the pump."

"Oh, I get it. What's the code?" I asked. "Look at the back of the card." There was a tiny piece of paper fastened to the back of the card with clear plastic tape. It read "3742". Sam put her limp left hand on her forehead as though she was doing a facepalm. I entered the information into the pump and opened the side door so I could talk to her while it filled up.

"So, you have had problems with these sores before?"

"Yes," she replied, callously.

"They can be pretty serious business, huh?"

"You know the guy that played Superman? Christopher Reeve?"

"Yeah, everybody knows him. He fell off of his horse and broke his neck, right?"

"Exactly," Sam continued. "He broke his neck at the base of his skull, so he had even less function than I do. Poor Bastard. Do you know how he died?"

"No, how?"

"Just like this. He got a pressure ulcer. Felt fine, just peachy. He went into sepsis and before they could give him antibiotics he dropped dead."

Sam pointed her hand at me in the thumbs up motion.

"I wish I had the balls to just refuse treatment, but I am too chicken****."

About the Author N. Daniel works as a medical caregiver in the greater Minneapolis/Saint Paul Metropolitan area in the Winter and as a landscape laborer for his father in Winona, MN in the Summer. His debut writing effort, "Corners Untouched by Madness: A Personal Journey of Overcoming Mental Illness," has enjoyed modest success in certain writing circles. The Author lives with his wife and two dogs just outside of downtown Minneapolis.

Website | Twitter | Instagram | Facebook

Buy the book at Amazon.