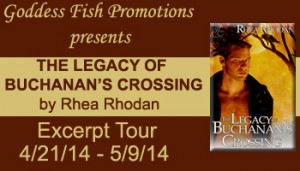 This exclusive excerpt is brought to you as part of a virtual book tour organized by
Goddess Fish Promotions
. Rhea will be awarding a $30 Amazon or Barnes and Noble GC to a randomly drawn commenter during the tour. Click on the tour banner to see the other stops on the tour.
What price will destiny demand?

Warding the Crossing has always been Cayden Sinclair's destiny. With her beloved Gran growing weaker, it's time the little witch took her place. Juggling substantial curves for her frame and an inconvenient inability to control her power has always been a serious challenge. But not until discovering her fated Keeper is the extremely hot, tragically clean-cut insomniac who's ignored her for months, does she truly fear failing her legacy.

Now that he's finally on the road to the top with an offer from a big developer, Clint MacAllen can't allow his struggling construction company to be threatened by a vicious nightmare, or his inexplicable attraction to a goth clerk working the graveyard shift at HandiMart—no matter how potent they are.

J. Milton Developments has its own agenda for Buchanan's Crossing, and they'll spill blood to get it.
Enjoy this exclusive excerpt:
"Let me get this straight. You don't smoke, you don't swear—even when it's called for—and you don't drink alcohol. You have a mostly-hidden tat and the only piercings I can see are those in your ears. Since there's a half- dozen in each, I guess I'll give you that one. Really, though, what kind of goth girl are you?"

Instead of giving in to his baser instincts as he was meant to, Clint MacAllen was genuinely trying to figure her out. She liked it, which was bad. It tempted her to believe he might care about her. Time to rally.

"Perhaps you should be asking what kind of woman I am, without the preconceived judgments you've attached to your concept of goth. However, in the interest of full disclosure, I don't swear because I believe words have power. I don't drink because I consider it unhealthy. You need not be curious in regard to additional piercings or tats. While the one I have is extensive, it's symbolic rather than decorative. I have no need to inflict pain upon my body. Or don't you think it deserves that degree of respect?"

"Hold it." He pushed his chair back from the table and held up his hands. Naturally, his feet could reach the floor from his stool, unlike hers. "That's not what… I didn't mean… Of course you…your body…deserves… Damn it, the last thing I meant to do was offend you. I'm only trying to—"

"Put me into a slot. I'm too round for any of your square holes, Clint."

"What if I happen to find round damn tempting?" he shot back, low and loud. He followed the comment with a deliberate visual examination that made her grateful she was sitting down.
About the Author: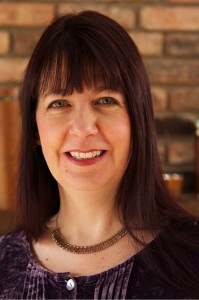 Rhea Rhodan resides in Minnetonka, Minnesota and has been telling herself stories since long before she could write. She attended the University of Minnesota with a focus on Journalism, then Brown Institute for Broadcast Journalism. After many adventures, misadventures, and a couple of short marriages, she found the love of her life in Regensburg, Germany, and has been living happily ever after since.
She journaled those adventures extensively (some might say rabidly) beginning in middle school, but didn't combine her writing and story-telling until several years ago, when one of the stories grabbed her by the throat and shook her like a rag doll until she gave in and wrote it. Having tasted freedom, her muse refuses to return to the confines of her head, and has successfully turned the tables, keeping her at the keyboard to appease it.
Her stories always had a twist of magic or a touch of the paranormal. Why the romance? Because she believes in happy endings, and helping people imagine them helps them create the magic to find their own.
She welcomes feedback and fan mail :>). You can join her on Facebook and/or Goodreads, too. Rhea is always happy to meet new friends.
Website ~ Facebook ~ Goodreads
Buy The Legacy of Buchanan's Crossing at Musa, Amazon, Barnes and Noble, iTunes, or All Romance.
You may also be interested in her debut novel, a Musa Publishing Editor's Top Pick, Finding Grace, available here and at popular on-line retailers.