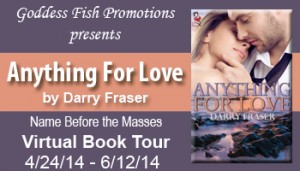 This post is part of a virtual book tour organized by
Goddess Fish Promotions
. Darry will be awarding a $25 Amazon gift card and an ecopy of Berry Flavours to a randomly drawn commenter during the tour. Click on the tour banner to see the other stops on the tour.
The Hardest Thing About Writing Is …
Hi – and thanks so much for having me on board.
I was given a list of things to chat about and I had to choose one so the one I'm going to write about comes with a list of its own, maybe even a mile long.
The hardest thing about writing IS—
The hardest THING about writing is… No. THE hardest thing about writing is— oh for goodness sake, here's a list:
• Getting to page 122. You're half way through a novella, and bam! Nothing. No dialogue, no narrative, no character tantrums. No nothing. You sit and stare at the last thing you've written. You go back a few pages, make a few corrections. You go away and watch the telly. You come back. Still nothing. NOTHING.
That's hard.
• It's lonely. Not that you feel lonely, just alone, which is different (but then you can make people up), it's just that you must be alone to do it. So a lot of other people don't get it when you say, 'You know what, I can't make dinner/the show/the game because I have to do edits/final chapters/blog tours 🙂 ALL WEEKEND'. They don't get that. You have to run a fine line between continually rejecting and accepting invites so that you can meet your deadlines but not have your mates give up on you.
That's hard.
• The hardest thing… is writing this brilliant scene. It's brilliant! Brill! Everything works, dialogue's good, narrative's not too long, not too short. It's good. Then your crit partner says (and this is only valid if it's not your mum) it's got nobs on it, it stinks. Or she doesn't get it. Or how could you DO that to him?? You have to write for you. Sometimes that's the hard thing. We're all in it for the love, but we hope to make sales and have people want to buy our next books and so on. So it's hard getting it right. Your publisher & editor have to like it too.
That's hard.
• Distractions. You've heard it said that writers generally have the cleanest house /kids /husband /dog etc in the street … It's true. Not always because we're stuck (see dot point one) but because to quite a number of us – well, me anyway – writing is a luxury. All the chores have to be done before I can sit down guilt-free and write. That's hard.
But I'm getting over it.
That's not too hard.
I could go on, but there's a word limit. And don't get me started – that's another hard thing about writing … the word count.
Word counts are good. But they can be hard. What if you have an epic? You've got 130,000 words and the limit is 100,000. How are you going to chop 30,000? You've already been through and cut out all extraneous 'that's, 'said's, adverbs, and the 20 thousand times you've used 'discreet' – what else can you do?? You go back over it and cut some more. You cut whole chapters, maybe that back story … which then means you have to go through the whole thing again and cut out characters who now have no relevance.
That's hard. But it makes for a much better epic. I love word counts. They're still hard.
Then of course, there's the characters themselves. Man, can they be hard. Sometimes they rule the show. You think that can't be true, but it can be. It is. You can have the whole story planned from go to whoa, but they're gonna go off and do something you hadn't imagined. Literally. So the story takes another turn.
That's hard, but it's kind of exciting too. I suppose I like that, being a panster as opposed to a plotter most of the time.
Anyway, where as I?
And that's hard. You've got everything figured out and then you forget where you're up to.
Tilla is the managing director of a temping staff agency who finds herself enmeshed in Kent Taylor's business world, which includes an IT takeover. When she decides to work in his office as one of his temporary staff members they clash, so she keeps her identity to herself. When they both decide to take a break from their crazy business lives, they have no clue it's at the same place, in the same house and at the same time, on the isolated north west coast of rugged Australis Island

She tells herself she can't bear to be near him one moment longer … until they find a way to be together. But when he has to suddenly leave their hideaway and doesn't give her a backward glance, she realises she shouldn't have done just anything for love.
About the Author: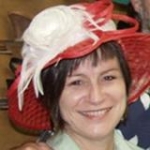 I have been writing since a very young age. I was the one at school with the home-penned plays and stories, the entertaining ideas and the grand vision, believing I had great talent. Wrong.
I believed that because I could put words on a page in a grammatically acceptable way and tell a reasonable story that I was 'an author'. Technically, I suppose I was, but the apprenticeship as a 'writer' – to labour the difference – is a long and hard road.
One day, I had what I still call a little 'thing' – I saw my late grandfather in his World War One trench gear talking to 'me' at my desk and suddenly the words flowed and so did the short story which was published within two weeks in an Australian national women's magazine.
So I revisited all my short stories and my novel-length stories and found success again with four short stories and then two short novels in 2001/2.
Alas, life got in the way once more. I kept writing, but in the dark so to speak. I used it as a means of escape, as a retreat and I was able to create my own HEA or HFN.
Then life took another turn and I figured that I had nothing to lose. I dusted off quite a number of manuscripts and began to whip them into shape. At a serendipitous meeting with my current publisher, Nicola at SteamEreads, she agreed to read my current work at the time. It was a 67,000 word unedited novel, which she accepted. It was published in June – Money For Blood.
Since then I have had three other novels and two novellas accepted, all HEA/HFN.
I currently have four books published with Steam eReads.
Website: www.DarryFraser.com
Steam eReads: http://steamereads.com.au/2013/04/meet-author-darry-fraser/