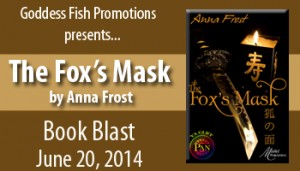 This post is part of a virtual book tour organized by Goddess Fish Promotions. Anna will award a $30 gift card (Amazon OR BN OR Kobo) to one randomly drawn winner via the rafflecopter at the end of this post. Visit other stops on the tour by clicking on the tour banner, above.
NOTE: This book is on sale for only $0.99 for a limited time.
Demon hunter Akakiba keeps many secrets from his human companion. The fact he's a werefox isn't the worst one.

In feudal Japan, magic is dying. As a demon hunter, Akakiba finds this problematic. The evil he's been trained to destroy is disappearing and, along with it, the shape-shifting abilities of the clan he left behind. With his only companion, a determined young human named Yuki, Akakiba traverses the country slaying demons and performing odd jobs.

But when an army of demon-possessed humans masses to exterminate his clan, Akakiba must put aside old feuds and protect his family–-all while hiding an important secret from Yuki. Will they find a way to defeat the demon possessed before it's too late? With magic dwindling, will it matter either way?
Enjoy an excerpt:
Akakiba found Jien and Sanae waiting outside, the latter wearing an expression too perfectly innocent to be genuine.
Jien, on the other hand, wasn't even trying to hide his eavesdropping. "I take it you're still not interested in marriage, Aki?"
"Don't make me hit you."
"I'll try. I don't want you to hurt yourself."
Sanae giggled, and Akakiba gave her an alarmed look. When a young woman started giggling at a man's stupid jests…
It wouldn't be bad news for Sanae to be interested in the opposite sex since, as his dear mother said, they needed to produce all the kits they could, but Jien wasn't a suitable candidate!
Whirling round, he kicked Jien's legs from under him. By the time the monk hit the floor, there was a sword inches from his face.
Jien peered up at him. "Ow. What was that for?"
"If you ever touch my sister," he warned with all the threat he could muster, "I will dismember you, piece by piece, and I will leave the remains to feed wild beasts."
Sanae gripped his sword arm, trying to force it up. "Brother! Put that away!"
"Please, Aki," Jien said with a snort. "I knew that without you saying it."
"Good." His sword slid home. What was it about Jien that rubbed him the wrong way? Everything, possibly.
Lifting himself from the floor, Jien brushed and straightened his clothes. "You make it hard to be your friend."
"I'm not your friend."
"You saved my life. In my opinion, that makes us friends for life."
"If I'd known you'd be pestering me forever, I wouldn't have bothered."
"Hindsight is such a wonderful thing, isn't it?"
Sanae was glaring. "Brother, that's no way to behave with a guest! Jien is an honorable man, and I need no protection from him. I would also say you have no right to pretend to care about my virtue after abandoning me for three years! Honestly! What's the matter with you?"
It wasn't his habit to defend himself, but in this case, it seemed important to tell the entire truth. "Jien's about as honorable as a snake! When we first met he told me he'd been wounded by a demon and beseeched me to carry him over the hill to a village where he might get treatment. I later learned that, in truth, he'd been caught spying on bathing girls. Their guardian had beaten him up and thrown him out of the village so he couldn't get treatment there!"
"It was an accident," Jien said. "I got lost, and hearing voices, tried to follow them. That's how I plunged headfirst into the hot springs. And that old woman was as frightful as any demon I've ever seen!"
ABOUT THE AUTHOR: Anna Frost is a Canadian girl who spends winters writing and dreaming of summer. An overdose of Japanese culture and media has led her to write fantasy inspired by Japanese mythology. In a shocking break with literary tradition, Anna does not live with cats. Instead she lives with chinchillas, which can be just as demanding and evil as cats.

Author links:

https://twitter.com/Frostanity

https://www.goodreads.com/author/show/6452110.Anna_Frost

Buy links:

Amazon: http://www.amazon.com/The-Foxs-Mask-ebook/dp/B009SZNN5W

Smashwords: http://www.smashwords.com/books/view/247839

B&N: http://www.barnesandnoble.com/w/the-foxs-mask-anna-frost/1113580803