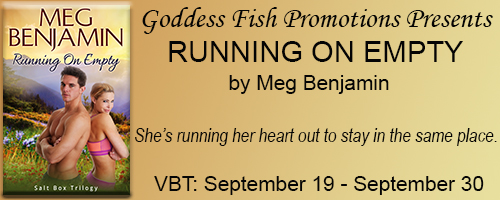 This post is part of a virtual book tour organized by
Goddess Fish Promotions
. Meg Benjamin will be awarding a $20 Amazon or Barnes and Noble GC to a randomly drawn winner via rafflecopter during the tour. Click on the tour banner to see the other stops on the tour.
The Evolution of a Heroine
I always knew I wanted Ronnie Ventura to be a heroine. Even when she was being sort of an idiot.
In 2015 I published the first book in my Salt Box Trilogy, which revolved around the clash between a Colorado mountain town and a reality show. Book 1, Finding Mr. Right Now, was about a Bachelorette-style show featuring a lovely but clueless bachelorette—Ronnie Ventura. In Finding Mr. Right Now, Ronnie was sweet but naïve. I've always felt that the women on the Bachelorette had to be either naïve or extremely cynical, so I went with choice number 1. The first version of Ronnie (Ronnie 1) believed in love, even if it was the commercialized variety. Other characters regarded her with a mixture of affection and exasperation, trying unsuccessfully to get her to understand the reality behind her reality show. At the end of Finding Mr. Right Now, Ronnie decided to stay in Colorado rather than going back to reality show central, having begun to realize just how naïve she'd been in the past.
In Book 2, Love In the Morning, Ronnie was working as a barmaid in a favorite local hangout, the Blarney Stone. This version of Ronnie (Ronnie 2) was still sweet, but considerably less naïve. She'd become part of the gang of local characters, and ultimately her understanding of the way reality shows work helped the heroine of the book, Lizzy Apodaca, hold her own with a Real Housewives-style group of harpies. In fact, Ronnie's smarts were what ultimately allowed Lizzy to triumph over the women who'd originally done her wrong.
So now we have Book 3, Running On Empty, which is Ronnie's book, or rather it's Ronnie 3. She's changed a lot from Ronnie 1. She's no longer naïve, and her sweetness now has an edge. She's not afraid to show her slightly less charming side. She's also fallen for her boss, Ted Saltzman, owner of the Blarney Stone, who's fallen right along with her. Into this paradise comes a snake—Ronnie's old nemesis, Fairstein Productions, with a new reality show they want her to star in. Ronnie knows she shouldn't go along with them, but she's still haunted by Ronnie 1. Ronnie 3 wants to show the world she's changed: she's smarter, stronger, and better able to match Fairstein toe-to-toe. None of her friends can understand why she wants to do this. Even Ted thinks she's making a big mistake. But Ronnie knows what she has to do.
And she does it.
Ronnie's a very different kind of character for me. My heroines tend to be smart and cynical, with their feet planted firmly in reality. Even as she wises up, Ronnie still maintains a bit of her basic sweetness. She's never a total cynic even when she's fighting off all of Fairstein's machinations. I love a heroine who learns as she goes, and that's definitely true of Ronnie. She takes on a situation where no one expects her to triumph and she wins her own victory. Is it any wonder that Ted finally overcomes his serious doubts about Fairstein and goes with his girl?
I hope you'll check out Ronnie 1, 2, and especially 3. She's dear to my heart—a heroine who grows into her potential.
Ronnie Ventura has every reason to distrust Fairstein Productions: she's had run-ins with their shows before. But Fairstein's newest reality show offers Ronnie a chance to redeem herself from looking like a blonde bimbo. All she has to do is win a modified triathlon. Simple, right? Except this is Fairstein, and nothing is ever simple with them.

Ronnie's boss at the Blarney Stone bar and café, owner Ted Saltzman, is a lot less convinced that another Fairstein show is just what Ronnie needs, particularly when he's head over heels about Ronnie himself. But she's determined, and he's a man in love.

Ted becomes her running coach, which fans their budding romance to a fever. But can Ronnie's newfound confidence stand up to the usual Fairstein plots? And can Ted find a way to keep his true love in Salt Box if Hollywood tries to steal her away again?
Enjoy an Excerpt:
Ted watched Ronnie circle the high school track. It was always a bit easier to train here since the track had quarter-mile markers and he could time her more accurately. Saturdays were the only time they could use it, though, until school was out.
They'd switched to two minutes of running followed by a minute of jogging for the warm-up, rather than the one-minute run, two-minute walk that he'd started with. Ronnie's stride was really developing.
As he'd watched her over the past few weeks, he'd come to a surprising conclusion. Dick was right—Ronnie was a natural athlete. She loved to run, just like she loved to bike and swim.
He was a little embarrassed about how long it had taken him to realize the extent of her abilities. He was willing to bet that he would have wised up a lot sooner if she hadn't been, well, Ronnie in all her Ronnieness. He wasn't sure why the idea that a gorgeous woman could also be an athlete seemed so revolutionary. Probably more evidence of his troglodyte side.
Now she was sprinting down the stretch, knees pumping, arms swinging at her sides. She seemed to be enjoying herself, but lately she always seemed to be enjoying herself. The sight of Ronnie running full-out in shorts and T-shirt did predictable things to his libido.
Of course, the sight of Ronnie doing just about anything did predictable things to his libido these days. Even when he caught a glimpse of her bent over her bike, which was about as unsexy as you could get, he still found himself watching her long legs spin the pedals, her blonde hair steaming behind her helmet.
God she was lovely. And God he was a horny, lust-filled idiot around her.
About the Author: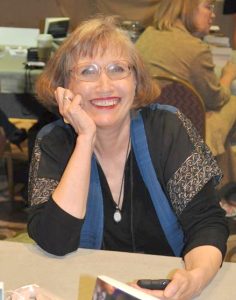 Meg Benjamin is an award-winning author of contemporary romance. Her Konigsburg series for Samhain Publishing is set in the Texas Hill Country and her Ramos Family Trilogy is set in San Antonio's King William District. Her Salt Box trilogy takes place in her new home the Colorado Rockies. She's also the author of Going Up In Flames, part of the Sapphire Falls Kindle World series. Meg's books have won numerous awards, including an EPIC Award, a Romantic Times Reviewers' Choice Award, the Holt Medallion from Virginia Romance Writers, the Beanpot Award from the New England Romance Writers and the Award of Excellence from Colorado Romance Writers.
Website | Facebook | Pinterest | Twitter | Email.
To purchase Meg's books, you can visit her author page at Samhain,
Amazon, Barnes and Noble, Kobo, or All Romance Ebooks.
Meg's books are also available through iBooks and other venues.
Meg's Books:
Konigsburg, TX
Venus In Blue Jeans ISBN 9781605043692
Wedding Bell Blues ISBN 9781605046303
Be My Baby ISBN 9781605048437
Long Time Gone ISBN 9781609281083
Brand New Me ISBN 9781609283070
Don't Forget Me ISBN 9781609288259
Fearless Love ISBN 9781619212404
Hungry Heart ISBN 9781619222274
Salt Box Trilogy
Finding Mr. Right Now ISBN 9781619229570
Love in the Morning ISBN 9781619230729
Promise Harbor Wedding
Bolted ISBN 9781619214293
Ramos Family Trilogy
Medium Well ISBN 9781101599648
Medium Rare ISBN 9781101622575
Happy Medium ISBN 9781101622568
Sapphire Falls Kindle World
Going Up In Flames ASIN B01FV7OAYI