Welcome Emily Greenwood to Long and Short Reviews. One randomly drawn commenter will win a print copy of the book (US/Canada only).
Thanks very much for having me here today to celebrate the release of MISCHIEF BY MOONLIGHT. The final book in my Regency Mischief series, it's the story of an earl in love with his best friend's fiancée.
What do you think are the essential elements of a Regency Historical Romance?
I really don't think there are any rules! I know some authors like to write Regency-set historicals that have a kind of modern energy, while others put in an impressive amount of period detail or have more leisurely, old-fashioned pacing. I love that there are all these different styles of historicals—to each her own :-). The elements I personally find essential in a Regency romance are:
1. A great setting that captures the flavor of the time. Many of us historical readers want to escape to a different world that really feels like another place and time. Horses, coaches, manor houses with only fireplaces to provide heat, nights that are thoroughly dark because there's no electricity—I love books that take me there!
2. Characters who behave in a way that's believable for the times they live in. This doesn't mean the characters can only do the accepted thing. People have always gone their own way, either secretly or boldly. But if they chose to flout the societal conventions, then they needed to aware of the potential costs of their behavior. For example, an unmarried woman in Regency England would, if she became pregnant, cause herself and her child to lose respect and standing in their community. So if she's going to have an affair with a man she might not marry, she ought to weigh her choices pretty seriously—or she risks looking either too modern or like a fool.
3. Dialogue that sounds authentic, which doesn't mean it has to be stilted. People, at least in the Regency, did use contractions. But they didn't say "okay," and modern phrases like "I know, right?" can pull the reader out of the story.
4. Wit! Clever conversation and writing was especially celebrated in the Regency era (see the works of Jane Austen) and it's one of the things I love about a good Regency.
5. Plenty of chances for the hero and heroine to get to know each other. This can be a challenge to pull off in the Regency era, when unmarried people of opposite sexes weren't supposed to be alone together, but finding creative ways for that to happen is part of the fun! I want to see the hero and heroine interacting a lot, in ways that reveal character and show how those two particular people are going to grow and change together. Is he overbearing and needs to get in touch with his softer side? Does she have trouble trusting? Whatever it is that makes the characters distinctive and perfect for each other, I want to see it!
With the night so full of romance…

Colin Pearce, the Earl of Ivorwood, never dreamed he'd desire another man's fiancée, but when his best friend goes off to war and asks Colin to look after the bewitching Josie Cardworthy, he falls under her sparkling spell.

Who can resist mischief?

Josie can't wait for the return of her long-absent fiancé. If only her beloved sister might find someone, too…someone like the handsome, reserved Colin. A gypsy's love potion gives Josie the chance to matchmake, but the wild results reveal her own growing passion for the earl. And though fate offers them a chance, a steely honor may force him to reject what her reckless heart is offering…
About the Author: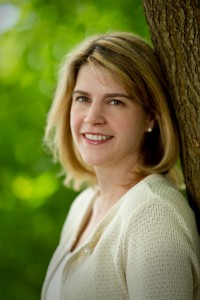 Emily Greenwood worked for a number of years as a writer, crafting newsletters and fundraising brochures, but she far prefers writing playful love stories set in Regency England, and she thinks romance is the chocolate of literature. A Golden Heart finalist, she lives in Maryland with her husband and two children.
-Author website: http://emilygreenwood.net/
-Facebook: https://www.facebook.com/pages/Emily-Greenwood/365744720128570
-Twitter: https://twitter.com/emigreenwood
-Buy Links: Amazon | Barnes and Noble | iTunes | Books A Million | IndieBound | Indigo