Please welcome Sandy James, who's here to celebrate the release of her story, THE BOTTOM LINE from Forever. Enter to win A Pink Apollo 39-Piece Tool Set with a copy of THE BOTTOM LINE by Sandy James or eBook copies of THE BOTTOM LINE. Use the Rafflecopter at the end of this post to enter.
Top 5 Things We'd Never Guess About Sandy James

1. Sandy spent time in jail.
Sounds worse than it is. Sandy's bachelor degree is in criminology, so in college she did internships in the probation and public defenders' offices. As a result, she spent time vistiing the jail, interviewing prisoners for pre-sentence reports.
2. Sandy may be a small town girl, but she loves New York City.
After a visit in 2009 with her sister, Sandy fell in love with Manhattan. Broadway. Times Square. Restaurant Row. Central Park. Although she'd miss the Midwest, she'd love a chance to live in New York City.
3. Although she loves being a teacher, Sandy would retire if she could.
Twenty years in a public school takes a toll. Because she has lupus, each school year gets a little tougher physically. But because she loves teaching so much, she would still teach workshops on psychology for writers.
4. Sandy was only seventeen when she met her husband.
He walked into the McDonald's where she worked and asked her out. She took a chance and went on a hayride date for Halloween. They've been together ever since, and celebrated their thirtieth wedding anniversary in 2013.
5. Sandy is much more likely to be reading a true crime book than a romance.
After college, she never lost her fascination with the study of how a criminal's mind works.
THE BOTTOM LINE by Sandy James (May 6, 2014; Forever Yours E-Book)

When life gets tough and love is hard to find, four friends take their troubles to lunch. Surviving a failed marriage and an illness that almost takes her life, high school teacher Mallory Hamilton needs the Ladies Who Lunch more than ever . . .

After a year of upheaval, Mallory has had her fill of change-with one exception. Her house is a disaster, and she wants it fixed. Hiring a contractor to finish the projects her ex-husband started will help her banish the past so she can return to the life she had before everything went awry. But her contractor is sexy, sweet, and single, which threatens the peaceful, solitary life Mallory has planned for herself.

Ben Carpenter has had a hard time raising his daughter without his ex-wife's help. His new client's projects will give him the extra income he needs, not to mention afternoons alone with a gorgeous woman. Though their attraction is undeniable, Ben sees the fear and pain hiding in Mallory's beautiful eyes. But how can he help her if she won't let him in? Ben can fix just about anything-but can he fix Mallory's broken heart?
Enjoy an excerpt:
"I need to go." She tried to walk toward her friend.
His hand snaked around her upper arm. "Wait. What's wrong?"
Her responding yawn was as phony as the ones Amber gave him when she wanted to skip school and faked exhaustion. "I told you, I'm tired. Need to catch up on my sleep on the weekends."
He glanced over to Juliana and saw she was engrossed with a man. "If you came with your friend, you're out of luck. She's gonna be busy for a while. Maybe I could drive you home? You won't even have to give me directions."
She didn't rise to his teasing this time, which made him even more convinced he'd done something wrong. The problem was he didn't have a clue what it was.
"No, thanks. I drove myself."
"Then let me walk you to your car."
"You don't have to do that. This is a mixer, remember?" She shooed him away with the back of her hand. "Go mix."
"I've mixed with the only woman I care to mix with."
At least Mallory smiled. "That sounded kinda dirty."
A small crack in the wall. He'd try his best to crawl through. "Only kinda dirty? I'll have to try harder next time."
Reaching for her hand, he hoped she'd let him lead her to the dark parking lot—the perfect place for a test kiss.
He'd always believed in finding out if there was any chemistry before taking the next step with a woman. This time, he'd reversed the order, getting to know Mallory before checking to see if they were compatible physically. Since they'd clicked, Ben was dying of curiosity to see if that connection extended to the physical.
"C'mon, Mallory. Let me walk you to your car. It's dark out there. I need to know you're safe."
"Fine." Her gaze found her friend. "Juliana's obviously not ready to go."
"Obviously," he drawled.
"You don't have to bother, you know."
"No bother." He swept his hand toward the door. "Lead the way."
Her SUV was about as far away from his truck as she could've parked.
Mallory stood at the driver's door and gave him a hesitant smile. "I should go."
"I had fun, Mallory."
"Me, too."
Her face lifted when she smiled at him. The moonlight bathed her skin, making her glow. The crickets' song broke the silence that had descended upon them.
The perfect scene for a first kiss.
Leaning in, Ben gave her time to pull away if she didn't welcome his attention. Her eyes widened then her lids lowered to half-mast. He was smiling when his mouth found hers.
The softness of her lips against his was painfully sweet. Moving slowly, he put his hands to her waist and pulled her closer, close enough her body pressed against his.
She tasted sweet, like wine, and he wanted more. Tickling the seam of her lips, he took quick advantage when she opened to his tongue.
Chemistry.
He'd wanted to know if they had any. The first brush of her tongue across his told him everything he needed to know.
They had enough chemistry to blow up a laboratory.
Mallory rose on tiptoes, so he held her closer, wrapping his arms around her, and finally lifting until her feet dangled. He wanted to devour her, to drink in all her sweetness. Her response was heated, frantic. She looped her arms around his neck and laced her fingers through his hair, tugging as though she couldn't get enough of him.
They were playing with fire, one that could quickly flare out of control if he didn't call a stop to it. But… damn. He loved kissing her.
He turned, leaning his back against her Escape while he ravaged her mouth. She shifted, rubbing against his erection. He groaned, hugging her tighter. Everything inside him screamed to take her home, to beg her to let him make love to her.
Ben finally found the strength to drag his mouth away, and he let Mallory slide down his body. She stopped when her small feet were on top of his. She weighed next to nothing.
He had to smile at her bemused expression. The woman looked thoroughly kissed.
He had to stop this now or he wasn't sure he'd be able to regain any control.
"I—I should go," Mallory whispered.
"Yeah." If he tried to say anything more, he'd probably sound like a blabbering fool.
"See you Monday?"
Ben nodded while she chirped off her alarm. He opened her door and waited until she slid behind the wheel.
"Okay, then. Bye."
He couldn't help himself and leaned back in to brush one more kiss over her lips. Then he closed her door.
As she drove away, he noticed the magnetic pink ribbon—the one for breast cancer awareness he'd seen on lots of other cars. After hearing about her mother, he understood its significance.
He went to his truck, ready to leave. There was no sense in going back inside since the woman he wanted to spend time with was on her way home.
At least Monday was only two days away…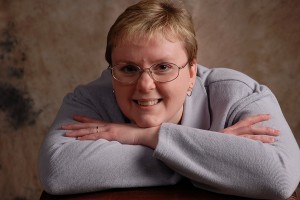 Sandy James lives in a quiet suburb of Indianapolis with her husband. She's a high school social studies teacher who especially loves psychology and United States history. Since she and her husband own a small stable of harness racehorses, they often spend time together at the two Indiana racetracks.
Buy Links: