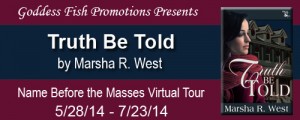 This post is part of a virtual book tour organized by
Goddess Fish Promotions
. Marsha will be awarding a $25 Amazon Gift Card to a randomly drawn commenter during the tour. An extra entry can be earned by signing up to follow her blog:
http://www.marsharwest.com/category/blog/
. Click on the tour banner to see the other stops on the tour.
Background of TRUTH BE TOLD
All of my books have as a theme, Second Chances. TRUTH BE TOLD is no different. The story is set in Fort, Worth, TX where I have lived for the majority of my adult life. DH and I raised our daughters in the FW public schools. My parents moved here to retire and are both buried here. I've served on the Fort Worth ISD School Board, and DH has served on numerous city boards and commissions. All of this is to say, I know this city pretty well and how things work here. Fort Worth is a big city with a small town feeling. We have one of the most bustling and vibrant downtown areas you'll find anywhere. If you're a fan of the Final Four, you saw our plaza because that's where all the PR folks were headquartered.
One of the characters in TBT is the mayor of Fort Worth. I can promise you, he's not based on any of our real-life mayors though we've known several to varying degrees. I'm familiar with the politics in our town and how things work.
Part of the background for TBT is what inspired me to write the book. It was a house. I know that sounds odd. But I usually start with the location, and this specific house reached out and grabbed me. A few years ago, I regularly drove by the house several times a week to babysit for one daughter and take Pilates from my other daughter. I seriously fell in love with the place. I've never been inside. Gosh, I don't even know who lives there. But that house got the creative juices flowing. Who lives there? What do they do? What if?
I confess to being a huge fan of the Canadian TV show FLASHPOINT. It's not on in Fort Worth any more 🙁 , but I've saved one recording. I found intriguing the relationship between the members of the SWAT team, one of whom was a woman. I'd also spent a day with a police officer with Dallas SWAT a couple of years ago and met a woman on one of their teams. Tough job for anyone, especially a woman. That knowledge led to the development of the heroine.
On a particular story point, I did research on some police regulations, both online and by communicating with current or former police folks. Police officers put their lives on the line for us every day, and there's no way we can repay them for their service. It's not a job I could do. I'm grateful they can. I hope you enjoy reading TRUTH BE TOLD, released in May and my first book VERMONT ESCAPE, released summer 2014. My 3rd book, SECOND CHANCES releases Winter 2014/2015. Thanks for having me.
SWAT member teams with brother's former homicide detective partner to stop a blackmailer. Falling in love wasn't one of their strategies.

Longer Blurb: Needing a peaceful visit with her Fort Worth family for Christmas, Meg Bourland is shocked to discover someone is blackmailing her father. When he rebuffs her offer to help, the Atlanta SWAT team member enlists the help of her brother and his former LA police officer partner to uncover the truth. She fights her attraction for Scott and the immediate tug to her heart. But her life is in Atlanta, and his is in California.

Scott McClaine, medically retired, came to Fort Worth to recuperate from life-threatening bullet wounds he received saving the life of Meg's brother. Hard enough to accept his new physical limitations, but in Scott's mind they make him unacceptable for a strong Meg. Regardless, he commits himself to helping her stop the blackmailer. Working closely with her, a bond forms. Could she feel the same?

In the search for truth, Meg and Scott uncover pieces of the puzzle, which threaten to ruin her father's career as mayor and destroy the family she holds dear. Will Meg and Scott find their way through the maze of family secretes? Will they find the strength to make the sacrifices required for real love before the blackmailer kills?
About the Author: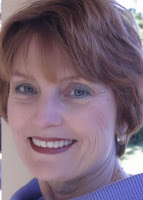 Marsha R. West, a retired elementary school principal, is also a former school board member and theatre arts teacher. She writes "Romance, Suspense, Second Chances. Experience Required." Her heroes and heroines, struggling with life and loss, are surprised when they discover second chances at love.
Marsha, who loves to travel, lives in Texas with her supportive lawyer husband. They've raised two daughters who've presented them with three delightful grandchildren.
Her first published book, VERMONT ESCAPE, was e-released by MuseItUp Publishing in the summer of 2013. The print version releases in June 2014 . TRUTH BE TOLD e-releases by MIU in May, 2014. She's sold a third book to MIU. In SECOND CHANCES, the hero, Mike Riley, played a supporting role in VERMONT ESCAPE. SECOND CHANCES is the first of a planned series about four women who met when they were kids at summer camp. It's scheduled for e-release in winter 2014/2015
http://www.marsharwest.com/category/blog for Thoughts on Thursday and Tuesday Author Chats Hope you'll stop by. She'd love to hear from you.
Buy Links for TRUTH BE TOLD:
Publisher ~ Amazon ~ Barnes and Noble
Buy Links for VERMONT ESCAPE:
Publisher ~ Amazon ~ Barnes and Noble.