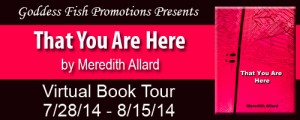 This post is part of a virtual book tour organized by
Goddess Fish Promotions
. One randomly chosen Grand Prize winner will receive a $25 Amazon or BN GC and a runner up will receive a digital copy of the novel.
The Background of That You Are Here
It's no surprise that my latest novel, That You Are Here, is a love story. All of my novels are love stories in one way or another. My most popular novels, The Loving Husband Trilogy, is a paranormal story about eternal love. The surprise might be that That You Are Here is a completely present-day story set in one of my favorite places, Portland, Oregon, when I'm most known for historical fiction. Or, the surprise for That You Are Here might be that the romantic leads are both men. Andrew Whittaker and Mark Bryce have quite a journey to travel together, and I hope they are a couple readers cheer for. Andrew and Mark are very much in love but Andrew has to learn to accept himself if he can ever fully commit to Mark. It's about Andrew's journey to himself, as well as his journey to Mark. While it is about two men, I think the larger theme of learning to feel comfortable in your own skin is one that everyone can relate to in one way or another.
I happened to be visiting my cousin in Portland, Oregon (surprise) when the announcement of the Supreme Court decision overturning DOMA was made. The idea for That You Are Here occurred to me shortly afterward in some random daydream. On the outside, I don't have much in common with Andrew and Mark since I am most definitely not a gay man. I'm not even a gay woman for that matter, but I believe that people who are in love should be able to get married, and suddenly I saw the characters from the story, Andrew Whittaker and Mark Bryce, so strongly, like they were standing in front of me. I had the idea for the story from beginning to end in a matter of days, and in November I wrote the first draft as the challenge for National Novel Writing Month. I had 62,000 words written in 30 days, which is super fast for me. My main goal wasn't to write a gay story exactly, but rather to write a love story, a story about learning to feel comfortable in your own skin, which is one anyone can relate to, gay or straight. And Andrew's story about having a secret to hide is one that a lot of people can also relate to. Andrew has to learn that he's okay the way he is, again, a lesson that everyone needs to learn in one way or another.
That You Are Here is a present-day story when I'm most known for historical fiction, but everything I write is about people who are outsiders or different from the general society somehow. James Wentworth in the Loving Husband Trilogy struggles as a supernatural being (a vampire) in a human world. In Victory Garden, Rose Scofield struggles as a woman who wants to live on her own terms during a time (1917-1922) when women were fighting for their rights. In That You Are Here, Andrew Whittaker and Mark Bryce must make sense of what it means to be a gay man in the 21st century. Great progress has been made, certainly, but there is still prejudice to overcome. It's a story about learning to feel comfortable in your own skin, which is something nearly everyone has to deal with in one way or another. I'm not gay so I haven't had to hide a secret the way Andrew does in the story, but I understand Andrew's struggle to make sense of his place in the world. I feel very lucky that That You Are Here is my highest rated novel on both Amazon and Goodreads, and I'm glad that readers have been able to relate to the universal aspect of the story.
On the outside, handsome, successful attorney Andrew Whittaker has everything in life. On the inside, he has everything too, only he doesn't know it. He hides the love of his life, Mark Bryce, from his family and everyone else where he lives in Portland, Oregon. Soon the weight of the secret becomes too much for Andrew. After wrestling with himself and his place in the world, he must decide how he's going to live—with or without Mark.
Enjoy an excerpt:
Andrew's cell phone buzzed in his pocket. He put his lunch bag on the counter, nodding at the message from Lisa Bloom, his secretary. He scanned his e-mails and grimaced at the phone. "I have to go." He left at a sprint through the kitchen door to his silver Mercedes in the attached one-car garage. He didn't even like the car, but that's what the senior partners at his firm drove, so that's what he drove too. Andrew opened the garage door, got into the driver's seat, slid the key into the ignition, started the car, and jumped at the knock on his window. He shrugged sheepishly, opened the window, and took his lunch bag.
"Sorry," he said. "I'm a little distracted today."
"Today?" A sigh. "That car is such a gas guzzler. You need a hybrid. This is Portland. You're supposed to be green."
"Kermit the Frog green?"
"Any kind of green you want to be."
Andrew looked at the person watching him with such open-hearted love in those soft gold-brown eyes.
"Mark?" Andrew said.
"Yes, Andrew."
"Thank you."
Mark Bryce leaned his head through the open window and kissed Andrew's cheek. "Anything for you, beautiful boy."
When Andrew stopped at the red light on Bancroft Street he felt his phone vibrate. He pulled his phone from his pocket, saw the screen and cringed, peering at the nearby drivers as though they were reporting his every move to some great eye in the sky. The text was from Mark.
Stop looking at your phone!
About the Author: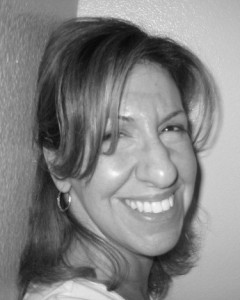 Meredith Allard is the author of The Loving Husband Trilogy, That You Are Here, Victory Garden, Woman of Stones, and My Brother's Battle (Copperfield Press). She received her B.A. and M.A. degrees in English from California State University, Northridge. Her short fiction and articles have appeared in journals such as The Paumanok Review, The Maxwell Digest, Wild Mind, Muse Apprentice Guild, Writer's Weekly, Moondance, CarbLite, and ViewsHound. She has taught writing to students aged ten to sixty, and she has taught creative writing and writing historical fiction seminars at Learning Tree University, UNLV, and the Las Vegas Writers Conference. She lives in Las Vegas, Nevada.
Website ~ Twitter ~ Facebook
Buy the book at
Amazon