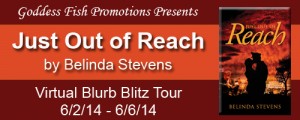 This post is part of a virtual book tour organized by
Goddess Fish Promotions
. Belinda will be awarding a Print copy of Just Out of Reach to a randomly drawn commenter during the tour (US ONLY). Click on the tour banner to see the other stops on the tour.
10 Things Most People Don't Know About Me
1. I love the sea. When I was a child, family vacations were spent at the ocean. I couldn't wait to go to our Alabama retreat, change into my bathing suit and head for the ocean. I agree with John Kennedy who said "We are tied to the ocean, and when we go back to sea…Whether it is to sail or to watch it…We are going back from whence we call."
2. I'm a serious World War II buff. I've seen every major motion picture about D-Day- Saving Private Ryan and The Longest Day, for example. I've read biographies on Churchill, Hitler, Patton and Field Marshall Montgomery to name a few. I even purchased the 919 page World War II, The Encyclopedia of the War Years 1941-1945. And of course, I have the complete CD collection of The Winds of War and War and Remembrance.
3. I love Dance. I never miss a season of Dancing With The Stars. I love all types of Dance-tap, ballet, ballroom, Jazz- you name it. I have a video of River Dance. I've seen River Dance performed live and would see that over and over again if I could.
4. My favorite birthday foods are fried chicken and caramel cake. When my mother was alive, she always made sure I had those food items on my birthday. I still love fried chicken but I can't eat my weight in it anymore!
5. I'm a big fan of the original Dark Shadows. I loved to watch Angelique turn people into cats. I love all things scary-vampires, ghosts, witches, etc. Edgar Allen Poe is one of my favorite writers.
6. I always watch the Kentucky Derby. Both my parents, older brother and sister were born in northwestern Kentucky. I still have many relatives living in Kentucky, so I have strong connections with the Bluegrass State. The Kentucky Wildcats are my favorite college basketball team.
7. I'm a member of the Red Sox nation. I was living in Martha's Vineyard when the Sox won the World Series in 2004. In fact, I was in Boston the night they won.
8. I know the Marine Corp hymn by heart. My brother taught me. Both he and my father were in the Marines.
9. My favorite spectator sport is football. I went to my first high school football game at the age of four to watch my brother play. I attended my first college game in the fifth grade. I like to tell people I was raised on football and politics, which is true! While living on Martha's Vineyard, there were two things I really missed–southern fried chicken and southeastern conference football.
10. I always have at least five or six books resting on my bedroom chair waiting to be read. I can't resist a good bookstore. Invariably I come out with at least three books to read, usually a combination of biographies, mysteries and general fiction.
When high school freshman Katherine Boyd meets David, her life is forever altered. Their romance experiences the turmoil of Mississippi in the sixties, family relationships that keep them apart, and political differences that threaten to destroy them. Through the death of JFK and James Meredith s admission to Ole Miss, Katherine s growth means being progressive in a traditional Southern family, accepting the loss of those closest to her, and learning to cope with her family s darkest secrets. Just Out of Reach is the story of a young woman forged in desperate times and a love that changes her life forever.
Enjoy an excerpt:
We were at Angie's, a local eatery specializing in fried shrimp and lemon ice-box pie. Despite the jukebox, a concession to those under eighteen, Angie's was more upscale than the Blue Bird Diner or the local drive-in. The restaurant was populated with round tables covered in satin tablecloths. The walls were painted a light-colored mauve, and small decorative lamps were placed on each table. Oil paintings and watercolors by local artists adorned the center wall of the restaurant, an innovation ahead of its time but very popular. After we were seated, I began talking about the President, something I did a lot of in those days. Little Richard was blaring on the jukebox, and I was shouting to be heard over the music.
"With John Kennedy in the White House, anything's possible," I screamed.
"You idolize him, don't you?"
"Yes, I guess I do," I answered, dipping my shrimp in the remoulade sauce. "He's so handsome. It's nice to have a cute President," I giggled, "Not like bald-headed Ike!"
David rolled his eyes.
"But seriously," I continued. "President Kennedy makes me believe everyone can make a difference. You know, change things, real peace and people living together without hating each other."
"Katie, is that realistic?"
"I don't know, it…" I stopped midsentence. I felt cold; a shudder ran through me.
David looked puzzled and asked, "What's wrong?"
"I feel like someone's walking over my grave."
About the Author: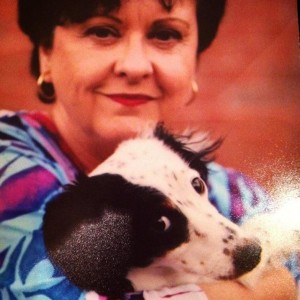 Belinda J. Stevens was born in Yazoo City, Mississippi, the gateway to the Mississippi Delta, in 1948. She grew up in the turbulent sixties, and has a true appreciation for the difficulties experienced Katherine in her first novel, "Just Out of Reach".
An attorney by profession, Belinda tells the story of young love and dark secrets in the turbulent Sixties. Inspired by her own experiences as a Yazoo City High School student, Belinda writes about the impact President Kennedy's assassination, James Meredith's integration of the University of Mississippi and the Vietnam War had on one young Mississippi woman.
Belinda is a graduate of Belhaven University and earned a Masters in Social Science and a Law Degree from Mississippi College. From 1987-1997 she served as Special Assistant to Mississippi Attorney General Mike Moore.
Belinda resides in Brandon, Mississippi with her dog Humprey B., and practices law in Yazoo City where she is a Public Defender
Website ~ Author
Buy the book at Amazon.
https://mail.google.com/mail/u/0/images/cleardot.gif