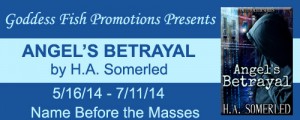 This post is part of a virtual book tour organized by
Goddess Fish Promotions
. Leave a comment or ask the author a question for a chance to win a digital copy of the book–you can see the other stops by clicking the tour banner.
Ten things you don't know about H. A. Somerled.
1. I am a Navy Veteran. I spent a short time in the Navy. I went in as a Russian linguist, but switched to French.
2. I've lived in Europe. I was stationed in Rota, Spain. It was really tough duty, as you can imagine. Beaches, bars and the warm-Spanish sun. I thank my lucky stars that Facebook wasn't around back then, so many alcohol fueled nights – one involving a whip.
3. I'm well travelled. Living in Spain granted me the opportunity to take road trips to other countries. I've been to France, Portugal, Morocco, England. Post Navy, I visited Japan and Scotland.
4. I have four tattoos. Three I got while in the Navy, one just a few years ago. I have an arm band of these flowers that grew on my fence in Spain. I have my family's coat of arms on my ankle. There is a ninja frog on my thigh, with the words "Grenouille Femme Fatale." It was a tattoo that two of my friends and I wanted to get to represent us, three French linguists, who went through training and were stationed together. However, I was the only one who got it. My last tattoo is a pirate ship on my lower back, it has the saying, "Prepare To Be Boarded," below it.
5. I've worked on a Dude Ranch in the mountains where one of my unofficial duties was bear control. I learned a lot about bear spray. Such as:
Don't spray standing downwind.
Don't spray while chasing the bear.
Don't spray then circle around the building, it tends to linger in the air and you'll run smack into the stagnant peppery cloud.
Don't spray near any building's air vents, unless you want everyone inside to enjoy it too.
Don't use bear spray to season your eggs.
Luckily I had a paintball gun, which works just as well as bear spray.
6. Despite the previous entry, I am addicted to Sriracha sauce. I put it on almost everything. I've even made chocolate truffles out of them, which are not as disgusting as you would think.
7. Even though I am a published author, I stink at Words With Friends, and have yet to win a game. I even cheat and use an anagram finder.
8. I once scared Hugh Jackman. It was at the 2010 People's Choice Awards, and I was a seat filler. I ended up in the second row, and the person I was filling in for, never returned, so I spent the almost the whole show in the second row surrounded by Hollywood's finest. I was two seats in front of Kellan Lutz and Taylor Lautner, and three seats across from Nichole Kidman and Keith Urban. I was so close to Jackie Chan, I could have spit on him. Anyways, Hugh Jackman won for Wolverine and walked right by me. I stood up and "WHOO"-ed him, and he jumped away from me wide-eyed and probably thinking "Crikey- what a crazy sheila!"
In my defense, it was an award show. It wasn't like I jumped out of some bushes and "WHOO"-ed him. And really, it was Hugh Jackman.
9. I am a classically trained chef. I went to the Art Institute of Colorado and worked in many places. Coors Field, Pepsi Center, Rock Bottom Brewery, a Beaver Creek ski resort, a Hilton Head beach resort, a Phoenix convention center, a Montanan dude ranch, a sorority, and most recently a chocolatier.
10. I have the most diverse taste of music than anyone I know. Jazz, Rock, Rap, Country, Classical, World, Folk, they are all represented in my collection. Artistic noise/music made with PVC pipes, yup, got it – I can even sing you a few bars of "It's Raining Meat." Pop-heavy one hit wonders, I admit, I still listen to "Gangnam Style," and prance around the room while I do. Local gems yet to be discovered by the mass machine, absolutely, I even got their cd signed. I'll make you a playlist.
I hope you enjoyed these intimate tidbits.
It's summertime and insects are not the only things flying in the London skies.

Oliver and Danny Murray return in this explosive second-in-the-series novel.

When two CIA agents appear in Oliver Murray's office, he knows nothing good could come from it. An American drone has gone missing and the agents believe that one of their own may have taken it. The agent in question is Sara Parsons, also known as Fallen Angel.

Maintaining her innocence, Angel tries to find the real culprit, but when one of the agents sent to apprehend her turns up dead in her flat, Oliver has a hard time believing her. With the help from his brother, Danny, Oliver betrays his own instincts and decides to help Angel find the true murderer and drone thief.<\blockquote>

About the Author:H. A. Somerled lives in the Missoula, Montana area. After an uneventful tour in the U.S. Navy, she followed her passions and enrolled in Culinary School. She graduated from the Colorado Institute of Art and has also completed a writing course from the Long Ridge Writer's Group.

She has two dogs, a puggle named Fritter and a pug named Flapjack. She considers herself lucky to be single and claims she's half the age she really is.

~ ~ Blog

Buy the book at Amazon