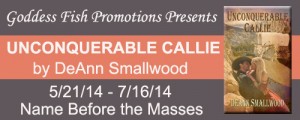 This post is part of a virtual book tour organized by
Goddess Fish Promotions
. DeAnn will be awarding a $25 Barnes & Noble GC to a randomly drawn commenter during the tour. Click on the tour banner to see the other stops on the tour.
Ten things we might not know about DeAnn Smallwood
This is an interesting and possibly difficult post for me. I'm a fairly private person, but I thought this post would be easy. Ha!!
Here goes:
1. I have a phobia about death, funerals, coffins, vampires, and all things that go bump in the night. However, I've been working on this by doing funeral pre-planning. Not fun. Let's move on to something more pleasant.
2. I worry that my last completed book really might be my last. By that I mean, what if I lose the ability to write? Hasn't happened yet and I've got nine books written, seven published and two more ready to go this year. I'm also in the middle of another historical romance, Montana Man. And, I've written two books of a suspense/thriller series: Death Crosses The Finish Line and Death Is A Habit. I've got the third one outlined and just waiting for time. I've several more outlines on the computer, so I think I'm safe. Still…
3. It's hard for me to do book signings, readings, anything promoting me…me…me. Still, I absolutely love hearing from readers. And I really mean it when I say next to writing, having my books read and enjoyed is my greatest pleasure. I walk on air when someone tells me they liked my book.
4. I don't drink water. Well, I do some in my coffee and tea. But to drink glasses of water…yuck!
5. I don't like to garden. But I do love working in my raspberries and strawberries. I just don't like dirt under my fingernails.
6. I don't like criticism. (Who does?) I try to accept and use it to improve. But it stays with me for days and I worry.
7. I love to run. I don't like to walk. Walking makes my legs hurt, but running feels great.
8. I love chocolate. Not dark chocolate, but I'll eat it when desperate. I crave chocolate and consume more than I should…but it tastes sooo good.
9. I love to sing, but I don't because I can't carry a tune. I sound worse than a frog.
10. Wow!! I'm here already.
I'm putty in the puppy paws of my two Yorkies. They get by with murder. Stormy, our little girl weighs 4 pounds and Eli, our little boy weighs 6 pounds. Stormy is sweet and Eli is naughty. Eli is my boy. He curls up in my desk chair, tight against my back, while I write. Stormy sits in the window of my office, on a pillow, watching for cats. All in all, my life is great! Especially my love for writing. I hope you enjoy my books. They are all available at Amazon.com
Thank you for this opportunity!
Callie Collins, a proud woman in the late 1800's is a liar and a darned good one, a master of the dubious art. She is also a dreamer. Her greatest hope is to reach a new life in South Pass City Wyoming, where she can open a bakery and live an independent life. To be successful, she will need her greatest gifts of deception to date. As a woman alone, she has to prove to Seth McCalister, the wagon master, that she has the wherewithal (a wagon and a set of oxen), the stamina to survive months of drought, dust, hardships and even risk of death, and a mythical fiancé who waits at the end of the line. McCallister is uneasy, but also mystified by the audacity and determination of the young woman. He allows her to join the train west. What he doesn't realize is there is no fiancé. To make matters worse, Callie is in love with Seth McCallister, too. For the first time, the lies that have brought her so far in life threaten to keep her from her one, true love. McCallister is a man of strong character and Callie feels certain that once he realizes her deception, he'll turn away, ashamed of his love and trust in her.
About the Author:I live in Colorado with my husband and my two Yorkie kid dogs: Stormy, four pounds, and Eli, six pounds. I'm a native of Colorado, but I've lived several years in Wyoming and Montana. I draw from these beautiful states for most of my books. My historical romances are: Montana Star, Sapphire Blue, Unconquerable Callie, and Wyoming Heather. Tears In The Wind is a contemporary romance. I have just contracted for another historical romance, One Shingle To Hang. It will be published fall of 2014. Then I changed genres from my beloved romances and wrote, under the pen name of D. M. Woods, my first suspense/thriller: Death Crosses The Finish Line. The second book in this 'death' series, Death Is A Habit, came out January 8th, this year. I am currently working on the third book in the 'death' series, Death Walks C Dock. I am also working on another historical romance, Montana Man. Truly, I mean it when I say my greatest pleasure next to writing is having my books read and enjoyed. There are many more stories just waiting to be written.
Buy the book at Amazon