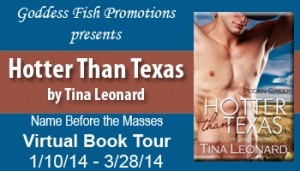 This post is part of a virtual book tour organized by
Goddess Fish Promotions
. Tina will be awarding a $50 Amazon GC to a randomly drawn commenter during the tour. Click on the tour banner to see the other stops on the tour.
10 things most people don't know about me—and probably shouldn't! 🙂
1. I really don't like clowns. Not at all. On the other hand, I adore puppets. Weird, huh? Now rodeo clowns—bullfighters—that's a whole different matter! Love a really strong, playful rodeo clown or barrel man. I grew up in the Bozo days—even got to be on his show once—he seemed pretty harmless, didn't he? Still, don't like clowns!
2. I'm an old movie buff. Drives my husband nuts. He likes them, but he can get tired of them. Me? Never!
3. I'm a huge rescue dog and horse champion. Would give my last penny to rescue organizations!
4. I grow my own organic lettuce and some veggies. Winter lettuce is my new love.
5. Am married to the man I accidentally touched tongues with in a head-on collision in first grade. Yes, I'm afraid that's true.
6. My first date with my husband was on my wedding day to another man. I bailed 4 days before the wedding, and Mother said I wasn't going to sit home and cry. So she made me call "Timmy" Leonard, who I hadn't seen in over 15 years. I'm sort of a believer in listening to your mother!
7. I don't like scary movies at all, though I grew up reading Stephen King and loving Alfred Hitchcock's TV series. Used to love sitting up and getting scared to death with my stepmother!
8. I'm allergic to chocolate, and don't eat sugar.
9. Therefore, I'm a big food label reader. And I make my own soups—love making soups!
10. I write every day, whether I have a deadline or not. Even on holidays and vacations. You could say writing is my passion. I've still got a lot of books I want to write!
About the Author: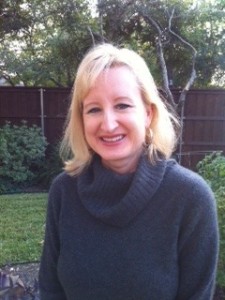 USA Today Bestselling and award-winning author Tina Leonard has sold over 2.6 million copies of her titles. She has made the USA Today Bestseller, Waldenbooks, Bookscan, and Ingrambook lists, and has written and contracted seventy-one books and special projects. Her work has been published by Harlequin, Samhain Publishing, Robinson Scarlet, and most recently Random House Loveswept contracted for a single title trilogy project, Hell's Outlaws. Leonard was chosen to be among the first authors published for Robinson's Scarlet line, writing four single title novels for that imprint. Not long after, she sold on proposal to Harlequin American, where she has since written several popular series, most notably the Cowboys By The Dozen, Morgan Men, and Callahan Cowboys series. Her newest single title project, HOTTER THAN TEXAS, was published in March 2013. Leonard is known for her fun sense of humor, endearing communities, snappy dialogue, and memorable characters.
Website ~ Facebook ~ Twitter
Perfection takes time, but desire waits for no man. Or woman…

Pecan Creek, Book 1

With more than one skeleton rattling in her closet, Sugar Cassavechia hopes "The Most Honest Town in Texas" will be the perfect place to start an online business. As soon as her mother remembers the family recipe that'll get hotterthanhellnuts.com off the ground.

In the meantime, no way is Sugar letting their new landlord get away with renting them a run-down house that's decorated like a rich widow's orgasm. Even if he's the biggest hunk of hot she's ever laid eyes on.

Jake Bentley would love to do nothing but sit back and be amused as the Cassavechia women unwittingly stir up trouble in his uptight town. But something about them thaws out his frozen rescue complex. Especially Sugar's long, chestnut hair and sassy mouth.

Right about the time Sugar figures one steamy night in Jake's bed won't hurt, another skeleton joins the party in the form of a dead body in the "Belle Watling" room. And Sugar must decide if her family's reputation—and her own heart—are safe with Jake.

Product Warnings

No sex in this book. Nope. None. Nada. Honest. Now, if you believe that, the author has an iceberg in Texas to sell you. Better hurry before there's none left to cool the fevered dreams generated by this book.
Buy the book at Amazon or Barnes and Noble.