Welcome to Rin Chupeco as she visits with us as part of her virtual book tour organized by the publisher promoting her debut novel The Girl from the Well, a retelling of the legend that inspired The Ring, told from the point of view of the murdered spirit. Leave a comment for a chance to win a print copy of the book (US/Canada only)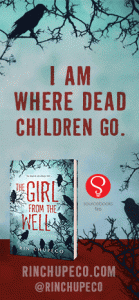 10 things most people don't know about you
1. I have the weirdest fandoms. I'm a huge Phil Harris / Cornelia Marie fangirl, for instance. (bonus points if you know which fandom this is). I have an odd fascination with Louis XV of France, and I'm not sure why. And despite the popularity of the books, I'm having trouble finding a fellow Discworld fan (short anecdote: one of my friends from the UK wanted to meet up for teatime, and I said "It's pronounced 'teah-ti-meh'." and giggled for a solid five minutes while everyone stared). Even harder to find: Dirk Gently fans. Mike Wolf and Frank Fritz fans. (I watch The Pickers all the time.) James Spader fans. Night Vale podcast fans. And is there an Anthony Bourdain or Gordon Ramsay fanclub that I can join? I like my fandoms eclectic, it seems.
2. I never had a Barbie doll. I had Teenage Mutant Ninja Turtles, G.I. Joe, and Ghostbusters action figures instead. My love was so great that I had the Ectomobile, my very own lifesize photon pack, and a huge turtle lair. I was naturally upset when my parents bought me a dollhouse for staying on the honor roll back in elementary. (My sister, on the other hand, was thrilled – until I started moving my G. I. Joe dolls into the house and informed her that Flint and Shipwreck had declared martial law).
3. I can fold my hands length-wise, and it has grossed out a lot of people in the past, husband included. (Let's just say that diving into the shallow end of community swimming pools is a Very Bad Idea.)
4. Recently, whenever I feel the need for inspiration, I take a break and play Cards Against Humanity for an hour or so.
5. I am an avid gamer. How avid? My three-month-old son is named after a fictional assassin from a ridiculously popular game. (It's worth mentioning that hubby is also a gamer.) We go on gaming dates, because that is how we roll.
6. My first childhood memory was watching Remington Steele at two years old. My dad says I used to point at the TV screen whenever Pierce Brosnan was in a scene and screech, "THAT'S MY BOYFRIEND!" Even as a kid, I had pretty good taste.
7. In a lot of ways, TV was my babysitter growing up. I was fortunate to have a television set in my room, and I would wait until the house was quiet before sneakily turning it on and watching my favorite shows, which were for some reason always shown past my bedtime. I remember watching David Letterman and Conan O'Brien and not always getting their jokes given my age then, but those two eventually helped develop my sense of humor. And then there was the MTV Oddities series, back when MTV actually thought about the kind of programs they had instead of the crappy reality shows they've got on now. My love for the very weird started with Oddities, particularly Aeon Flux, The Head and The Maxx.
8. Several people have asked if I'd had any experience with the supernatural, given the subject matter I write. I can honestly say that despite my fascination with ghosts I've never actually believed in them, or seen any evidence for them – it's just something I love to read about. That said, I've had a workmate who claimed that she'd seen a woman dressed in black looking over my shoulder once (it was early morning and I was the only one in the office when she'd arrived). She assumed it was another co-worker, until she saw said co-worker only just entering the premises. She was a bit more freaked out about this than I was, especially since I didn't feel anything strange at that time. I'm happy to report though, that the alleged ghost never bothered me at that job aside from that incident.
9. I am also an avid crime junkie. I love Forensic Detectives and the Crime Investigation channel. I have a million books about serial killers, notable crimes, Mafia books, and the like. I have a large collection of detective fiction, from Doyle to Chandler to Akunin to Christie to Rankin. It's a weird interest for a kid, but I think my main enjoyment was reading about how these criminals and get caught
– if I didn't want to be a writer I would probably have seriously considered being a cop / homicide detective.
10. There are three kinds of food that I can't turn down: crab, fresh raw salmon, and truffles. I once ate three plates of truffle-oil pasta once because I couldn't bear to see it going to waste. My mother also claims my love for crab stems from her own craving for it when she was pregnant with me – it was about the only thing she ate.
Watch the book video:
About the Author: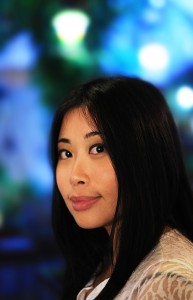 Despite uncanny resemblances to Japanese revenants, Rin Chupeco has always maintained her sense of humor. Raised in Manila, Philippines, she keeps four pets: a dog, two birds, and a husband. She's been a technical writer and travel blogger, but now makes things up for a living. The Girl from the Well is her debut novel. Connect with Rin at http://www.rinchupeco.com.
The Ring meets The Exorcist in this haunting and lyrical reimagining of the Japanese fable.

Okiku has wandered the world for hundreds of years, setting free the spirits of murdered children. Wherever there's a monster hurting a child, her spirit is there to deliver punishment. Such is her existence, until the day she discovers a troubled American teenager named Tark and the dangerous demon that writhes beneath his skin, trapped by a series of intricate tattoos. Tark needs to be freed, but there is one problem—if the demon dies, so does its host.

With the vigilante spirit Okiku as his guide, Tark is drawn deep into a dark world of sinister doll rituals and Shinto exorcisms that will take him far from American suburbia to the remote valleys and shrines of Japan. Can Okiku protect him from the demon within or will her presence bring more harm? The answer lies in the depths of a long-forgotten well.