Tall, Dark & Alpha: An Alpha is Adventurous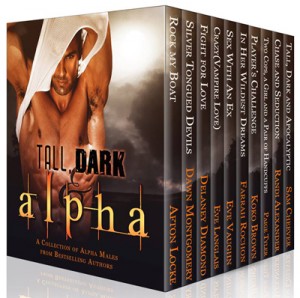 Thank you for hosting us today. We're excited to talk about the alpha trait adventurousness and our stories for the boxed set Tall, Dark & Alpha as we try to figure out: what IS alpha?
An Alpha is Adventurous
The alpha man is always up for an exciting adventure. Don't expect him to sit around all night on the couch and watch you knit. He wants to be in the center of the action. Exotic locales, extreme sports, chasing bad guys—you name it. His adventurous spirit extends to the bedroom and beyond.
In Sex With an Ex by Eve Vaughn, a contemporary romance, the alpha hero is a lawyer. Ethan Boudreaux is down for any type of adventure, especially the sexual kind. He's willing to take on anything as long as Riley is by his side. (When two divorcees reunite in the bedroom, the sex is hotter than ever, but can their hearts survive the second time around?)
The alpha hero for In Her Wildest Dreams by Farrah Rochon is a CEO chocolatier. Gavin uses his sexy, adventurous side to help Erica craft the ultimate Valentine's Day fantasy for her event-planning business, Your Wildest Dreams. (When the woman of his dreams asks him to create a Valentine's Day fantasy, Gavin plans to show her just how sweet their reality could be.)
In Two Cops, a Girl and a Pair of Handcuffs by Paige Tyler, a contemporary romance, the heroes, Reed and Hayes, are both cops. Having a ménage is the definition of adventurous, and Reed and Hayes are nothing if not adventurous. (Working the late shift just got a whole lot more fun!)
The alpha hero in Chase and Seduction: Hot Country Series, Book 1 by Randi Alexander, a contemporary romance, is a musician. When Chase Tanner is tapped to star as a bartender in a film, he jumps at the chance. The adventure pays off when he meets screenwriter Reno Linden and after months of filming together, realizes she's the woman he's been looking for. (Come backstage and get your hands on country superstar Chase Tanner!)
In Tall, Dark & Apocalyptic by Sam Cheever, a paranormal romance, the alpha hero is a bounty hunter. Audie lives in a post-apocalyptic world. Every moment is an adventure. (A grand passion in an apocalyptic world. A love beyond reason and without boundaries.)
The alpha hero in Rock My Boat by Afton Locke, a paranormal romance, is a shape shifter. Simon left home to pursue a life of adventure on the high seas. And he's not afraid to do some dirty-dancing karaoke in front of a crowd or swim in a public fountain. (Once addicted to the sea, you can't escape its pleasures.)
Silver Tongued Devils by Dawn Montgomery, a sci-fi romance, has two alpha heroes. Captain Anderson Na'varr is the last of his royal bloodline on a mission to save his people. He loves the thrill of outwitting his enemies while keeping his people safe. Finding a hot-blooded and gorgeous hacker on his ship gives him a goal to complete. A new future to chase down.
Brom Raine loves adventure. There's nothing better than facing down those who oppressed his people and would ruin those weaker than him. Raesa and Captain Na'varr bring out the animal in him, letting him follow his instincts. (She was always one step from hell until she found redemption in their arms.)
The alpha hero in Crazy by Eve Langlais, a paranormal romance, is a vampire. Zane likes a varied diet with his blood, which is how he ends up at the asylum and meets Ella. (Ella hears voices and they don't like anyone.)
Tall, Dark & Alpha boxed set
Facebook:                          https://www.facebook.com/TallDarkandAlpha
Blurbs/Memes:              http://www.aftonlocke.com/TDA.html
Excerpts:                           http://www.aftonlocke.com/TDAExcerpts.html
Goodreads:                      https://www.goodreads.com/book/show/20482968-tall-dark-alpha
Twitter:                              #TallDarkandAlpha
*Released March 8th from Amazon and other online retailers.*
Blurb
He makes your heart pound and melts your resistance away. He promises you a world of passion and you find it impossible to resist his dark charm. When he catches your eye across the room, you know he means business. He could be an executive, cop, shape shifter, or a bad boy looking for a little fun. Once he has you in his sights, you can't get away—and after one sizzling night in his arms, you won't want to. He's Tall, Dark & Alpha. The alpha male is the ultimate indulgence…the richest dark chocolate…and we're offering him to you in abundance.
Delve into the sensual worlds of award-winning authors: Randi Alexander, Koko Brown, Sam Cheever, Delaney Diamond, Eve Langlais, Afton Locke, Dawn Montgomery, Farrah Rochon, Paige Tyler, and Eve Vaughn. Immerse yourself in the alpha male experience.
Featured Story – Sex With an Ex by Eve Vaughn
Blurb
After a devastating break-up, Riley Mason believed she had moved on with her life. That is until she crosses paths with the one man who still makes her pulse race and knees buckle, her ex-husband Ethan Boudreaux. Though she tries to fight it, the attraction is stronger than ever.
Ethan Boudreaux's greatest regret is walking away from the woman he loved. But when he's presented with a second chance with Riley, there's no way he'll let the opportunity slip through his fingers. He soon devises a plan to get her back into his life and in his bed.
When these two divorcees reunite in the bedroom, the sex is hotter than ever. But can their hearts survive the second time around?
Excerpt
Ethan inched closer.
Riley's mouth fell open. Ethan's powers of persuasion were just as effective as ever and she realized then she'd have to get him out of her house before he convinced her to agree to the other part of his proposition. She backed away, shaking her head. "Ethan, you need to leave. You've gotten what you wanted."
"Not quite." He advanced, his hazel gaze held her hypnotized.
She attempted to move away again, but the backs of her legs came up against the loveseat. Before she could process his next move, Ethan hooked his arm around her waist and pulled her against the hard wall of his body.
He still wore the same scent that used to send her senses reeling. She trembled. No! She couldn't let this happen. Riley pressed her hands against his torso to push him away but Ethan wouldn't budge.
"What are you so afraid of Riley? Of what I'm going to do to you? Or that you'll like it."
She wouldn't give him the satisfaction of answering his question. Riley didn't want him to know how his closeness still affected him. "This is highly inappropriate."
He smirked. "I know. Doesn't it feel great?"
"Ethan, this is crazy. We both know nothing is going to happen. We're divorced."
"I never signed any papers."
"It doesn't matter if you did or not, Ethan. In the eyes of the law we're no longer married, so I'd like for you to let me go and leave. Dealing with you throughout the course of these wedding functions is one thing but what you're suggesting is out of the question."
Ethan seemed unimpressed by her argument, in fact he seem quite amused judging from the way his grin widened as she spoke.
"This isn't funny, Ethan. Let go." Again she pushed at his chest but he was solid like an oak tree.
He nodded. "You're absolutely right. There's nothing funny about this. I'm quite serious of the fact I still want you, and you feel the same way but you haven't given me a valid reason why we shouldn't take what we want. And don't give me that weak argument about us not being married anymore. If anything, the fact that we were once together is a reason why we should do this."
Riley snorted. "You are out of your mind. How do you figure that?"
"Like I said, sex was never one of our problems. Who better than to have sex with than someone who's familiar with what you like. For instance, I remember how you loved being kissed here." Before she realized what he was up to, he pressed a kiss at the pulse of her neck.
Riley's breath caught in her throat.
Eve Vaughn Links:
Web site:                            http://www.evevaughn.com
Facebook profile page:   https://www.facebook.com/eve.vaughn.1
Facebook author page:   https://www.facebook.com/pages/Eve-Vaughn/156372768726
Twitter:                              https://twitter.com/Eve_Vaughn
Yahoo Group:                     https://groups.yahoo.com/neo/groups/evevaughnsbooks/info
Goodreads:                        https://www.goodreads.com/author/show/3280629.Eve_Vaughn
Contest
This post is part of the What IS Alpha? Blog Tour.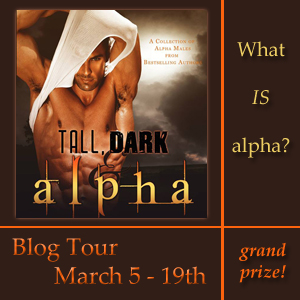 The grand prize for the tour is a $25 Amazon gift card.
To be eligible, leave a COMMENT on this post. It MUST relate to the alpha trait discussed in the post.
The winner will be announced at http://www.aftonlocke.com/tdatour.html on March 20th.