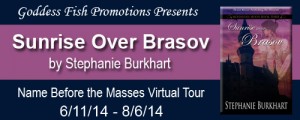 This post is part of a virtual book tour organized by
Goddess Fish Promotions
. Stephanie will be awarding a $25 Amazon GC to a randomly drawn commenter during the tour. Click on the tour banner to see the other stops on the tour.
Tell us about your book.
Sunrise Over Brasov is Book 3 in the Moldavian Moon series. It's set in/near Brasov, Romania, in the 1880's. A wicked werewolf, Clement, and his witch, Cassandra, have kidnapped Rosa, and have been using a drug to make her forget her past so she'll help them. Michael, the hero, is deeply in love with Rosa and he'll do anything to rescue her, but once he does, will things be the same between them or will their past haunt their future?
What began the process for this book? Why did you have to write it?
Book 1, The Wolf's Torment, is about Michael's parents, Mihai and Theresa, and the challenges they face as an evil werewolf threatens their chance at happiness. Mihai and Theresa discover love will overcome any obstacle, but they do pay the price for their poor choices and that price is the curse (or haunting) of their family by werewolves. Michael has been deeply affected by their decisions. The story is about him finding love and the inner strength he needs to break the curse once and for all.
Did you always think you were going to be an author?
In some strange way, yes. 🙂 I used to love making Spiderman comic books when I was six-years-old. I'd go to the kitchen table with my paper, crayons, and markers and draw/write for hours. Writing always thrilled me. I love words. I kept writing as a teenager. My stories continued to be superhero inspired. It wasn't until I found Victoria Holt did I want to become a romance writer.
What books/authors have influenced you the most?
If you want to go way back, the earliest writers would be Chris Claremont of the X-Men and Marv Wolfman of the Teen Titans, who both mastered the balance of character-driven plot and action-driven plot. They taught me that characters need to tap into their emotions or they wouldn't develop past two-dimensional characters. Next would be Victoria Holt and the original VC Andrews. Currently, I enjoy Phillipa Gregory and JK Rowlings.
What is your typical day like?
I work as a 911 dispatcher for LAPD from 6 am to 2:30 pm. I get up at 4 in the morning, shower, pack lunch and I'm out the door by 5. Work starts at six. During downtime, I write with pen and paper. It's a great stress reliever. After work, I usually take my boys to their activities – scouts, dance, gymnastics. On my days off, I go walking at the lake, run errands, catch up on emails, and type up my handwritten notes from work.
What do you enjoy doing when you aren't writing or promoting a current book?
I like helping others. Currently, I've organized a team at work to walk a 5K for Alzheimer's. We've got a fundraising goal of $2,000.00, so I'm always trying to come up with something original. The walk is in September. For vacations, the family and I enjoy going camping and exploring California. We've visited several missions on the 101 Freeway, Yosemite, and camping sites up and down the California coast. I like going to the movies, too.
People might be surprised to know I like…
Superheroes.
What was the last book you read?
Life After Life by Kate Atkinson.
What is the last movie you watched? At home or in the theatre?
Frozen at home, Heaven is for Real in the theatre.
Rosa Getzi lives a life of intrigue at Poiana Brasov with Clement, a werewolf, and Cassandra, the witch. Her past doesn't matter to her – until she discovers what it holds.

Prince Michael Sigmaringen joins his sister-in-law, Caroline, and the vampire prince, Darius, in a daring rescue, igniting Rosa's desire to find her family. However, all is not as it appears. Rickard, Rosa's friend, escapes with her. Clement will go to any lengths to get Rosa and Rickard back.

At Darius' fortress, Michael soon discovers Rickard is a new breed of werewolf – one who can control the change, and Clement hopes to exploit Rickard's abilities.

Michael's courage, strengths, and convictions will be tested like never before. Can Michael and Rosa find true happiness and the rid the lupine haunting of the Sigmaringens once and for all?
About the Author:
Stephanie Burkhart is a 911 dispatcher for LAPD. She was born and raised in Manchester, New Hampshire. After serving 11 years in the US Army she currently calls Castaic, California her home. Stephanie was married in Denmark in 1991 and has two young sons. She adores chocolate, is addicted to coffee and enjoys early morning walks. She's also an assistant den leader for her son's Cub Scout den and is a Boy Scout mom. She writes paranormal, contemporary, and steampunk romance and has two children's books published with 4RV Publishing.
FIND ME ON THE WEB AT:
WEBSITE:
http://www.stephanieburkhart.com
TWITTER:
http://twitter.com/StephBurkhart
FACEBOOK:
https://www.facebook.com/StephanieBurkhartAuthor
GOOD READS:
http://www.goodreads.com/author/show/4031660.Stephanie_Burkhart
YOU TUBE CHANNEL:
http://www.youtube.com/user/botrina?feature=mhee
PINTEREST:
http://pinterest.com/sgburkhart/
Buy the book at Amazon, Barnes and Noble, Desert Breeze Publishing, or All Romance eBooks.