Welcome to Elisabeth Staab who is with us as part of a virtual book tour scheduled by her publisher, Sourcebooks. Leave a comment for a chance to win a print copy of Hunter by Night (US/Canada only please).
Staying in the zone
 Music was my first love. I thought I wanted to be a singer someday, except apparently sometimes when I sing people cover their ears and dead cats fall from windowsills.
It's nice to dream.
Still, music is what I always come back to as a touchstone. I can't write a book without it. Sometimes I do write in silence, if I'm in the middle of a love scene or heavy dialogue, and I really need to hear things in my head. Others, the music is what gets me through. I manage without even trying to gather a list of songs that represent my characters perfectly. Sometimes it's the lyrics that so vividly paint my heroine's backstory, or maybe they're the hero drawing a perfect picture of his love and how he feels. Maybe it's the music itself, and the emotion the song evokes.
Clumsy by Our Lady Peace is my favorite for Lee, because he's a protector. This particular line always spoke to me:
"you will be safe in here"
–      Our Lady Peace, Clumsy
"I know," he whispered. "I'm going to count to three and step forward. I want you to glue yourself to my back. Do you understand? Do not let go."

She nodded. "Okay."

"No matter what. Don't you dare let go."

— Hunter by Night
Titanium is my favorite for Alexia, because she's small but mighty.
Her knees connected with his balls, and he curled reflexively. "Ha. Even evil psychos have squishy balls, asshole."

— Alexia, Hunter by Night
21 Guns by Green Day is what I think of as "their" song, because after all of the fighting with each other, they finally put it all aside and surrender to each other. In fact, I think that's everyone's favorite line in the book:
It was all he needed. Lee did something then he'd never done in centuries of living. Not for any vampire, any enemy, or any human.

Lee surrendered.

— Hunter by Night
Hunter by Night was a special book for me, and the fact that Lee and Alexia's romance had been a slow build over the course of the entire Chronicles of Yavn trilogy made their song choices special as well. I found myself listening to some songs over and over during edits, crying my eyes out, thinking about how much I loved these characters, their story, and how much this music helped infuse an extra layer of feeling into it for me.
I admire singers and songwriters because that marriage of words and music expresses things in a way I can't. So I thought I'd share Lee and Alexia's playlist with you today. Alexia is an old school club girl, and in Hunter by Night he reveals how he would listen outside her door and use the music she was listening to as a means of checking on her mood. I loved that he knew that about her.
I get shivers just typing this playlist. It informs so much of Hunter by Night for me. I hope you enjoy.
Green Day – 21 Guns
OneRepublic – Feel Again
The Offspring – Kristy, Are You Doing Okay?
Matt Nathanson – Faster
Young the Giant – Cough Syrup
Dido – Here With Me
Bush – Mouth
Puddle of Mudd – Spaceship
Adam Lambert – Never Close Our Eyes
Ed Sheeran – Lego House
Josh Groban – Si Volvieras a Mi
Our Lady Peace – Clumsy
David Guetta & Sia – Titanium
TLC – Unpretty
OneRepublic – If I Lose Myself
Boys Like Girls – The Great Escape
Keane – This is The Last Time
Imagine Dragons – Radioactive
Dave Matthews Band – Two Step
Armin Van Buuren – This is What it Feels Like
She wants out

Party girl Alexia Blackburn is only hanging around the vampire compound until her best friend—the queen—has her baby. After that, nothing is going to stop Alexia from getting back to daylight, safety, and feeling like a normal human being. But leaving the vampire world has one big catch…

He needs her to stay

Head of vampire security Lee Goram has hated and distrusted humans for centuries. Feeding on vampire blood has kept him strong…but now it's killing him—and he's horrified to discover that Alexia may hold the key to his cure. He'd rather die defending his king than admit his weakness, but time is running out for the great vampire warrior…
About the Author: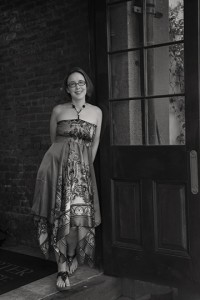 Elisabeth Staab still lives with her nose in a book and at least one foot in an imaginary world. She believes that all kinds of safe and sane love should be celebrated but she adores the fantasy-filled realm of paranormal romance the best. She loves to spend time with good friends, good music, good beverages, and good books (when she isn't making characters fall in love, that is). She lives with her family and one big scaredy-cat in Northern Virginia, outside of Washington DC.
Author Website: http://elisabethstaab.com/
Facebook: https://www.facebook.com/ElisabethStaabRomance
Twitter: https://twitter.com/ElisabethStaab
Buy Links: Amazon | Barnes & Noble | iTunes | Books A Million | IndieBound | Indigo