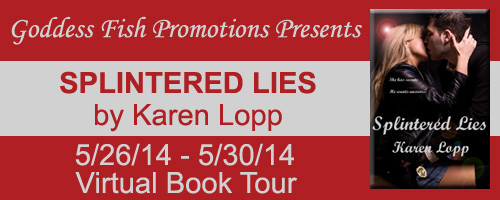 This post is part of a virtual book tour organized by Goddess Fish Promotions. Leave a comment or ask the author a question to be entered into a drawing for a $50 Amazon GC! Click on the tour banner to see the other stops on the tour.
A Day in the life of Rissa Marten.
I thought it would be fun to give readers a peek into Rissa's life that isn't in the book. I hope this helps you get to know her better.

I tossed the pillow off my head and sat up. My cell phone still vibrates on the night stand so I grab it and glance at the screen.
"Cindy, get bananas and bread."
It's my secret code to remind me of what alias I am currently using and what the color of my hair and eyes are. Blonde hair and brown eyes. It was a habit I started when I was fifteen and accidently gave a wrong name to a boy. Turned out he really wasn't interested in me, but was working for the cartel. I have a scar on my arm from that attempt on my life.
I need to hurry up so I trudge to the bathroom for a quick shower. Today I leave for San Diego to assist the chief of police with an investigation that he believes involves someone on the force. The fear pining around inside me refuses to go away. I suspect I have been exposed and that is why I've changed names and appearances for this assignment. This always happens when I'm forced to change my life, but this time, I must walk straight into the territory of the cartel that has sought my life for years. That and risk running into Jerah, who I fell in love with years ago, and can't seem to forget.
But it is that love that spurred me to take this case instead of just disappearing. Jerah's life is in danger.
As I lock the door on my apartment, I don't look back. I am now homeless and will soon be without a career once this case is over. Glancing over my shoulder I spot a suspicion man lurking in a doorway. His eyes follow me as I wave down a taxi. Now I can't go straight to the airport.
Shifting in my seat I tell the driver to take me to a mall. There are lots of people at malls and lots of exits. I can slip away unseen. Detecting tails is just another habit I've developed over the years. Most people go through life never aware of who is around them. I envy them.
It's dark by the time I arrive in San Diego. Crowds are my friend and I weave a crooked trial through the host of people hurrying through the terminal and make my way outside to the line of waiting taxi's.
After three stops and different taxi drivers, I arrive a few blocks away from Chief Montoya's house. It is time to start the end of my life as I've known it.
Detective Rissa Marten sacrificed her only chance for a normal life to put a drug lord behind bars. Now, her life in the shadows has to be brought to life to save the man she has secretly loved for years. With a price on her head can she risk letting him know?

Detective Jerah Qassem has built his career as an undercover agent in the dangerous world of drug cartels. But when a ghost from his past is resurrected can he overcome his bitterness in time to save her life?
Enjoy an excerpt:
Jerah Qassem had never been more grateful for his years of undercover training than at this moment. Fingers tight around the tumbler to stop the tremors, he watched the apparition glide up to the bar, and wondered if someone had laced his drink with a hallucinogen. Mary was dead. He had nightmares or wet dreams about her most nights for the last eight years.
It wasn't only the woman's face that had his insides swirling like a hurricane. It was the way she moved. Long, smooth strides, shoulders straight and eyes darting around like a caged cat. Mary had always been casting looks over her shoulder as if she expected someone to jump out and chase her. But those legs were just as toned and shapely as Mary's had been. She had been athletic and grabbed every chance she could to romp around the beach. Even the hair was the exact same color of ripened wheat and bounced just below her shoulders. Just like Mary had worn it.
Chills erupted all over his body and cold fingers caressed the nape of his neck. Unable to blink, Jerah stared at the ghost of Mary. The girl he had sent to her death in a fit of anger. The girl he had fallen in love with, yet had been too proud and ambitious to acknowledge until she was gone. Forever.
Jerah closed his eyes against the jarring memory of two firemen holding him back from the charred remains of the building he had sent Mary into as three body bags were carried out. A shudder rattled down his spine. He had relived that day too often. When he glanced back at the bar, the woman had taken a seat and smiled at the bartender. Jerah knew that smile. The same smile that once had almost melted his resolve to not get involved. He had had a career to build. Mary had stirred up thoughts of forever and love, things he hadn't been ready for. The temptation had been great. But somehow, he persevered and tossed away the best thing that had ever happened to him.
Air exploded from his chest and Jerah shook his head. He did not believe in ghosts. Prickles sprang up his legs as if his blood had decided to flow again. He tugged his leaden body from the chair and stalked to the bar. "Give me a shot of Wild Turkey." Needing the fortification, he gulped down the amber liquid. Fire burned down his throat. Nope, he wasn't dreaming. Hands braced on the edge of the bar, he turned to the woman at his side.
Stories have always been a part of my life, from books to tales passed down from my ancestors that brought history to life. Danger, struggles and the will power to overcome are all found in the rich legacy of my family tree. Inspiration from their lives inspired me to write what I love. Branching out to contemporary suspense has been another dream come true. I hope my stories bring you entertainment and inspiration.

I live in the heart of the southwest.

I love history of all times and places. And my second but equal love of suspense fills my books.

AMAZON: http://tinyurl.com/SplinteredLies

https://twitter.com/karen_lopp

https://www.facebook.com/authorkarenlopp