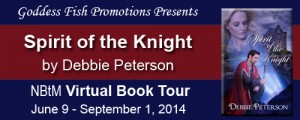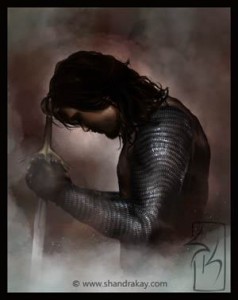 This post is part of a virtual book tour organized by
Goddess Fish Promotions
. Debbie will be awarding one Art print, inspired by the novel, and signed by the artist and an ebook copy of Van Locken's Witch and Shadow of the Witte Wieven (books one and two in the Wieven series to one randomly drawn commenter during the tour.
So, first, tell us about your book.
Spirit of the Knight is a paranormal romance wherein the hero is a ghost, and the heroine is an artist commissioned to paint several portraits of the castle he haunts. While engaged in the work previous to this assignment, Mariah encountered many spirits within the various castles in which she resided, but this ghost is different. This ghost is the handsome knight she has spent an entire lifetime inexplicably sketching and painting. Finding her beloved knight actually exists, if even in ghostly form, means getting involved in the dark and mysterious circumstances surrounding his death. Along the way, as they fall ever deeper in love, they must not only solve the mystery, but overcome the barriers leading to their happily-ever-after.
What began the process for this book? Why did you have to write it?
Sir Cailen has his origins in my previous release, Spirit of the Revolution. Though a minor character in that particular book, the moment he appeared on the page, his story took shape, and I knew he just had to have a book of his own.
Did you always think you were going to be an author?
No, actually I didn't. Like most authors, making up complex stories began in my youth. However, I just didn't think I would ever see any of them published. My husband thought otherwise and finally convinced me to write them down and submit them.
What books/authors have influenced you the most?
Too many to count and each for different reasons. But I would have to say my foundations come from the authors who penned the classics, such as Jane Austen, Emily and Charlotte Brontë, and even to some extent, Mary Shelley. Victoria Holt and Mary Stewart also played a role.
What is your typical day like?
I don't think the majority of my work days are too different from anyone else's. I wake up, have some breakfast, and then write. Somewhere along the way I might stop for a lunch break, and then write some more. If my family is lucky, I might make them some dinner before I spend another hour or two at my desk. Of course somewhere in there I have a house to clean, laundry to do, a yard that needs attention…or maybe I can put that off for just a while longer while I write just one more page… 😉
What do you enjoy doing when you aren't writing or promoting a current book?
I love searching out my family roots and immerse myself in that particular pursuit whenever I get the chance. I discovered a love for the detective work of genealogy at the age of fourteen and have been happily engaged in it ever since.
Now just a bit of fun stuff:
People might be surprised to know I like….
Thunderstorms (love them actually)…
What is the last book you read?
Dracula's Guest, by Bram Stoker (yes, I know).
What is the last movie you've watched? Was it at the movies or at home?
Heaven is for Real. We took my mother to see it at the theater.
If you could be any fictional character from any book, who would you be and why?
I would be Scarlett O'Hara from Margaret Mitchell's Gone with the Wind. Why? So I could correct my ridiculous mistakes, quit whining, stop being a brat, and change that ending. I mean really…why would anyone choose Ashley Wilkes over Rhett Butler?
Oh, I don't know…maybe I'd go outside and dance in the rain…
She fell deeply in love with him in the early days of her childhood. And in return, she captured his heart the moment he first cast his gaze upon her…

Renowned artist, Mariah Jennings hired to paint a thirteenth-century Scottish castle, gets the shock of her life when she encounters the handsome knight who has dominated a lifetime of portraits and sketchbooks.

But Sir Cailen Braithnoch is no ordinary ghost, nor did he suffer an ordinary death. Magic of the blackest kind cast a pall over the knights centuries ago. As the ghost and his lady seek to unravel the paradox surrounding his death, black arts, otherworldly forces, and a jealous rival conspire against them.

Will those forces tear them apart, or is their love destined to last throughout the ages?
About the Author: Debbie has always had a soft spot for fairy tales, the joy of falling in love, and happily ever after endings. Stories of love and make believe filled her head for as long as she can remember. However, it was her beloved husband who encouraged, cajoled and inspired her to take up a pen and write some of them down. Her journey to published author could fill quite a few pages. However, in June of 2010, she submitted her debut novel "Spirit of the Rebellion" to her wonderful, patient, editor at The Wild Rose Press and the rest is history. She now has five published novels to her credit.
When she is not busy conjuring her latest novel, Debbie spends time with the members of her very large family, within the lovely, arid deserts of southern Nevada. She also pursues her interests in family history, mythology, and all things ancient and historic.
Connect with Debbie:
Website: http://dk-peterson.com/

Blog: http://debbie-peterson.blogspot.com/
Twitter: https://twitter.com/DebbiePeterson1
Facebook: https://www.facebook.com/pages/Debbie-Peterson-Author/214882805206529?ref=tn_tnmn

Pinterest: http://www.pinterest.com/debpeterson1/
Buy the book at Amazon or Barnes and Noble