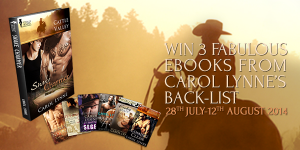 Join Carol Lynne on her blog tour to celebrate the release of Snake Charmer. Find out more about her and her writing as each day she reveals answers to more questions.
Snake Charmer is book 31 in the Cattle Valley series, how do you continue to come up with inspiration for new titles in this series?
I've been writing Cattle Valley for so many years that it truly is a real town in my head. I try to imagine all the people coming in and out, and I believe everyone has a story that needs to be told. The man at the grocery store, the local bartender and the mailman, all have a story. No matter what occupation people have, what they're background is, everyone has a unique life, which ultimately is going to be an intriguing base for a new story. The inspiration comes from the fact that that I have built this town and the men of Cattle Valley are mine and it's up to me to give them the happily-ever-after they deserve.
When the concept for Cattle Valley came to me, I decided I needed a website for the town. I'd hoped it would give the stories an added dimension, and it was so much fun to create. What I didn't realize at the time, was that the website would convince some people that Cattle Valley was literally a real town. For the first several years, I received emails asking for directions because people couldn't find it on the map. They would email the mayor via the website asking political questions. While it made me feel good that people loved the town, it also made me feel bad. I suddenly felt like I was tricking them, something I never set out to do. I still have the website and it gets updated with my new releases. You can check it out at http://www.CattleValley.net.
Snake Charmer is the newest release from the Cattle Valley series and this story explores the relationship between Snake and Riley.
Sometimes it takes finding an opposite to show us the beauty within ourselves.

When security consultant and ex-mercenary, Gabrielo 'Snake' Barbas, thwarts an attack of one of his co-workers, Riley Banks, he takes it upon himself to keep the smaller man safe. His job is made harder when he discovers the attacker is actually Riley's ex-boyfriend, a ruthless man from a very wealthy and powerful family.

After a night of passion, Snake decides to take Riley far away from Richmond, Virginia to a town in Wyoming for the annual Cattle Valley Days celebration. He should have known that sex with Riley wouldn't be enough, but he feels he has nothing else to give such a nice guy. Riley is the sexiest man Snake's ever taken to his bed despite Riley's claim otherwise.

Riley knows he's average-looking at best, so why does Snake continue to flatter him? It's obvious he's not going to kick Snake out of bed, even after Snake informs him that sex is all he has to give. Why does Snake see him so differently than the rest of the world?

While Riley is busy trying to figure out the man who touches him like no other has before, Snake is busy trying to protect him from a monster in a business suit.
Like the sound of Snake Charmer? You can purchase from Totally Bound today: https://www.totallybound.com/snake-charmer?utm_source=longandshortreviews&utm_medium=blogtour&utm_campaign=snakecharmerblogtour
About the Author:  An avid reader for years, one day Carol Lynne decided to write her own brand of erotic romance. Carol juggles between being a full-time mother and a full-time writer. These days, you can usually find Carol either cleaning jelly out of the carpet or nestled in her favourite chair writing steamy love scenes.
Author Link: https://www.totallybound.com/author/carol-lynne?utm_source=longandshortreviews&utm_medium=blogtour&utm_campaign=carollynneblogtour