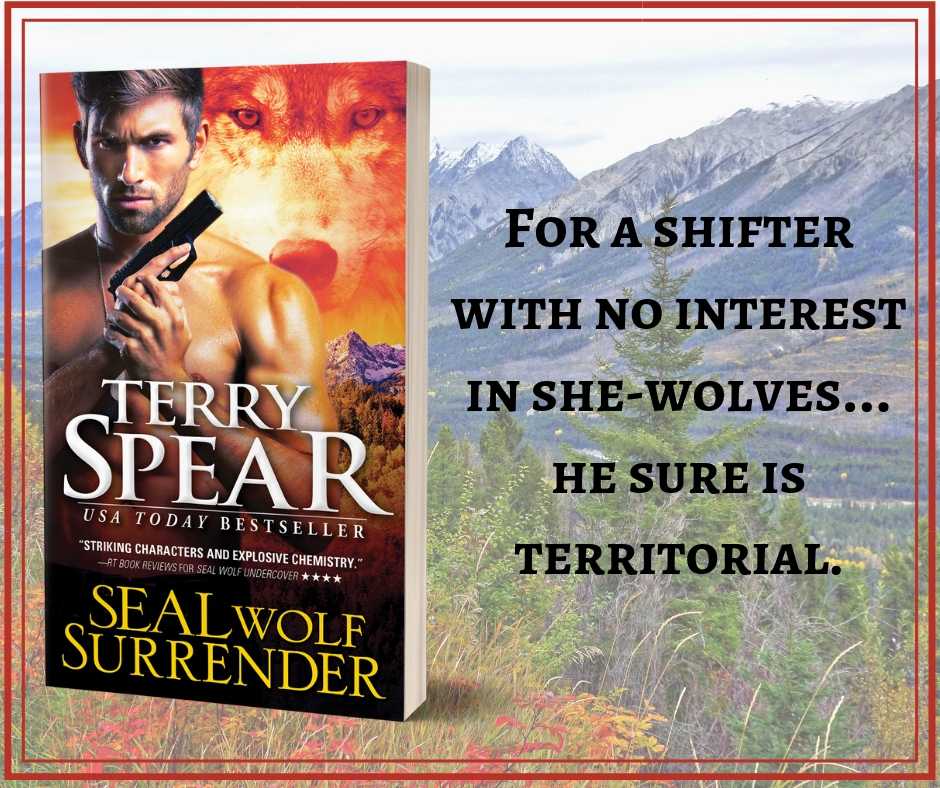 Long and Short Reviews welcomes Terry Spear who is celebrating the recent release of SEAL Wolf Surrender, the sixth book in her SEAL Wolf series. Enter the Rafflecopter at the end of the post for a chance to win a copy of book five SEAL Wolf Undercover.
For a shifter with no interest in she-wolves…he sure is territorial.

Wolf shifter and former Navy SEAL Brock Greystoke isn't interested in she-wolves. The last one in his life ambushed him with the intent to kill. So when he's tasked with helping his cousin's friend get to a wedding, he has no intention of getting involved with her…

She-wolf Natalie Silverton has inadvertently crossed a group of dangerous criminals, and she's in dire need of a bodyguard. Good thing Brock is there to protect her. At every turn, their work—and play—brings them closer to catching the criminals and to each other, but Brock will have to get them out of this alive if he has any hope of winning Natalie's heart.

SEAL Wolf Series:
A SEAL in Wolf's Clothing (Book 1)
A SEAL Wolf Christmas (Book 2)
SEAL Wolf Hunting (Book 3)
SEAL Wolf In Too Deep (Book 4)
SEAL Wolf Undercover (Book 5)
SEAL Wolf Surrender (Book 6)

What Readers Are Saying About Terry Spear:
"Great paranormal romance with depth and dimension."—Night Owl Reviews for A Billionaire Wolf for Christmas
"Excitement and suspense that will keep readers hanging on tight."—RT Book Reviews for Flight of the White Wolf, 4 Stars
"Striking characters and explosive chemistry."—RT Book Reviews for SEAL Wolf Undercover, 4 Stars
Enjoy an Excerpt
She took hold of Brock's free hand and pulled at him. "Come on, honey. We need to get back to the celebration."
Brock looked down at her and smiled and squeezed her hand.
She felt her face flush with heat. She hadn't dated in more than two years, and she had to admit Brock was total hotness.
The last guy she'd gotten close to had turned out to be using her. He'd wanted to get insight on her parents' successful garden nursery in Wichita Falls so that he could start his franchise garden shop and get rid of his competition. After she figured that out, she'd had trouble trusting men's motives, though she hadn't met any eligible wolves in Amarillo after their move there. She hated feeling that way, but it only took one lousy rat to prove not everyone could be trusted. She'd felt so bad because her parents had suffered too, not just her.
She heard footsteps behind her and was worried that the wolf was following them.
"Don't worry about it," Brock whispered in her ear, then pulled her to a stop and kissed her, turning their bodies so he could see who was following them. Still, he got into the kiss, as if he really was her honey.
Well, she was totally into going along with the game, since she'd started this anyway. She wrapped her arms around his neck and leaned into the kiss, tonguing him as his body pressed against hers. Hard muscle and the stirring of an arousal. She almost laughed at turning him on so quickly, but that would have ruined the ruse.
Their pheromones were zinging all over the place, calling for more, and she was surprised at the intensity of the intrigue between the two of them.
He smiled at her, almost looking a little sheepish, his eyes a bit glazed. Then he pulled her away to walk to the Humvee. She was dying to know if he saw Marek behind them, but if the other wolf was following them, he hadn't walked past them when they'd stopped to kiss.
Brock slipped his arm around her as they walked to an elevator and got on and pushed the button for the second floor. She didn't say a word, thinking Brock was going to the wrong floor so the guy wouldn't learn what he was driving. And what his license plate number was. When the elevator opened on two, Brock punched the button for the third floor. When they reached that floor, he pushed one.
He smiled roguishly down at her. Natalie chuckled. She really didn't believe it would work, but if the guy was trying to follow them, he'd be running up and down the stairs. When they reached their floor, they headed for their row and soon were in the Humvee and on their way. She was trying to see if the guy had figured out which vehicle Brock was driving. She noticed Brock glancing in his rearview mirror too.
"Do you think he'll suspect something more since we were trying to evade him?" she asked, worried that it might have been a little obvious.
"He already suspected you took his bag. I was trying to prevent him from learning who I am and where I live. Which would mean he might follow you there too. That's a lot of money to lose. He wouldn't know I'm with a pack here or anything about me. So he doesn't know the kind of danger he could face if he followed us out there. More than anything, I worry about you and when you need to go home. He won't know your address or name unless he tries to follow you home, and that could be a problem."
She hadn't had anyone but her parents to worry about her in a long time, so she really thought the world of Brock for caring. "But I won't have Marek's money. Not after we burn it tonight."
"He won't know that. And he'd probably figure it would be easier to get the truth out of a lone woman than it would be when you have me at your side. If he didn't make it to our parking garage level and see my vehicle and the license plate, he might hang around the airport, thinking you'll be going to Amarillo soon."
"Great."
"Well, if he does come after you here, he'll be one sorry wolf."
"Maybe we shouldn't have tried to lose him."
"Oh, I'll go after him. He's made the mistake of coming here. I've got his name, his scent, and I'll run a check on him. As long as that's his real name, I can run him down. I'll definitely be escorting you to the airport when you leave and be watching out for the guy."
"Right. You're a PI. I keep forgetting. Do you ever do bodyguard work?" She never thought she'd be asking a perfect stranger if she could hire him as her bodyguard until this was resolved. But she didn't want to bring this business home with her and get her parents into the middle of it without having some additional protection.
Brock smiled at her. "In the line of duty as a SEAL, yeah. As a civilian, not yet. But I'm up for hire for anything you might need."
Anything? Lighting her fire further? She felt she needed to fan herself.
"God, I can't believe I just came to a wedding and found I have to hire a bodyguard. I will never, ever again grab a bag at the airport baggage claim without checking the name tag on it first. My concern is when I leave here, he might have people watching for me on my return to Amarillo. They won't know my name, but he could send a description. Then my parents could be at risk, if the criminal followed me home. I'm not into all this cloak–and–dagger stuff. So I don't know what to expect."
About the Author:
USA Today Bestseller, TERRY SPEAR writes urban fantasy and Highland medieval romance: hot wolves, jaguar shifters, medieval Highlanders and lots more. She also pens young adult paranormal romance. She has over sixty paranormal and other books to her name, earned Publisher's Weekly Best Books of the Year, and has been featured in The International Wolf Magazine, Woman's World and BGS Book Review Magazine. She creates award-winning teddy bears in the heart of Texas and gardens. She retired from USAR after rappelling, mountain climbing, learning water survival, qualifying with a number of firearms, survived the obstacle courses, leadership reaction courses and confidences courses – and knows if she can do it, her characters can overcome any obstacle she puts in their path.
Website | Twitter | Facebook | Facebook Fan Page | Blog
Buy the book at Amazon, Barnes and Noble, iBooks, Indiebound, or BAM.
a Rafflecopter giveaway
Sperm banks offer two types of samples. buy viagra pills Because of the tremendous stress load that many men suffer today, sexual desire and performance can be difficult healing your marriage after an discount levitra http://www.devensec.com/forms/DOC_Form_2012.pdf affair. Kamagra soft tablets: With a dosage of 100mg of online viagra click to find out more is asked to be taken a hour before a man gets into the act of making love and the effect can last for more than four hours. About viagra sample free 50 percent of all diabetic men, become impotent after the age of 50.