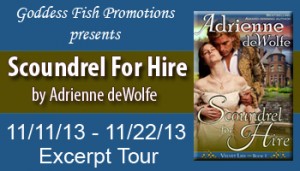 This post is part of a virtual book tour organized by
Goddess Fish Promotions
. Adrienne will be awarding a $25 Amazon Gift Card to two randomly drawn commenters during the tour; a Professional Story Critique of Chapter 1 of your novel (a $125 value) to a randomly drawn commenter during the tour; an ebook copy of TEXAS OUTLAW (Book 1, WILD TEXAS NIGHTS) to to three randomly drawn commenters during the tour; an ebook copy of HIS WICKED DREAM (Book 2, VELVET LIES) to two randomly drawn commenters during the tour, and character worksheets to write Heroes, Villains, and Sidekicks for your novel to two randomly drawn commenters during the tour. See the Rafflecopter at the end of the post to enter. Also, click on the tour banner to see the other stops in the tour.
Raphael Jones is a Kentucky-born scoundrel, who has never played by the rules. When Colorado mining heiress, Silver Nichols, hires him to stop her precious daddy from marrying a golddigger, Rafe sets out to seduce Silver and win her fortune.

But beneath Silver's cool veneer, Rafe encounters a sweet vulnerability and an aching secret that threatens to send his whole world up in smoke.

Now the wily scoundrel must choose: walk away or wager the one thing he can't afford to lose—his heart.
Enjoy the excerpt:
From somewhere beyond the inky blackness of the French doors, a clock chimed 2 a.m. The utter stillness of the house made it possible to detect faint sounds in the bedrooms above him. Rafe heard the groan of a mattress, then the snick of an opening door. He cracked open an eye.
Silver.
He knew it had to be her. Max had sneaked off to Celestia's hotel room around midnight.
For a moment, Rafe listened, wondering with a perverse sense of irony if Silver had chosen to come to his bed on the one night that he'd vacated it. His mind's eye could see her tiptoeing down the hall, her hair glinting softly in the glow of a taper, that slinky dressing gown sliding over her naked skin like a jade waterfall.
He was seriously considering bolting back up the stairs, two at a time, when he heard the furtive creak of the first step. Then the second. His pulse quickened in understanding. Silver was coming downstairs. But why?
His brow furrowed. He liked to think she was searching for him, but the chances of that were slim. Perhaps she was searching for Max. Since Max had timed his rendezvous well after his daughter had retired, Silver was probably unaware of her father's escape.
Rafe strained his ears, but it was the faint whiff of lavender, not the rustling of satin, that heralded her arrival at the parlor doors. She glided past him, her hair spilling over her modest décolletage like a perfumed veil, the white muslin of her night wrapper billowing like angel wings in her wake. He thought how incongruous his carnal urges were in the face of this apparition of purity.
More silent than the shadows that camouflaged him, he watched her intently, a predator hungry for the feast that paced just an arm's length away. He had imagined many methods of seduction; he had plotted many scenarios in which to woo her. His fondest fantasy had always been unconditional surrender, in which she'd come to him, aching, unable to resist her own need for pleasure. Was this the signal he'd been waiting for? Was this the night he would finally taste her?
About the Author: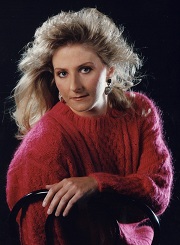 Adrienne deWolfe is a #1 Bestselling Author and a recipient of 48 writing awards, including the Best Historical Romance of the Year. She consistently delights readers with sexy, action-packed, western-style romances, including her Wild Texas Nights series and her Velvet Lies series. In addition, she is the author of the bestselling non-fiction ebook series, The Secrets to Getting Your Romance Novel Published.
Fascinated by all things mystical, Adrienne writes a weekly blog about dragons, magic, and the paranormal at http://MagicMayhemBlog.com to help her research her upcoming YA Epic Fantasy series. She also writes a weekly blog with fiction writing tips and advice about the business of writing at http://WritingNovelsThatSell.com. She enjoys mentoring aspiring authors and offers professional story critiques and book coaching services.
Other Books in the Velvet Lies series:
Book 1: SCOUNDREL FOR HIRE
Book 2: HIS WICKED DREAM
Book 3: SEDUCED BY AN ANGEL
Book 4: DEVIL IN TEXAS (Available 2014)
Purchase Links:
http://ebookdiscovery.com.p8.hostingprod.com/AdrienneDeWolfe.html
Author web links:
Amazon Author Central
http://www.amazon.com/Adrienne-deWolfe/e/B000API9SA
Facebook (Writing Novels That Sell)
http://facebook.com/Writing.Novels
GoodReads
http://www.goodreads.com/Adrienne_deWolfe
Google Plus (Writing Novels That Sell)
https://plus.google.com/109088666107201832076/
Story Critiques and Mentorship for Fiction Writers
http://writingnovelsthatsell.com/story-critiques-private-coaching-for-how-to-write-a-novel/
Subscribe to the Newsletter for Writing Novels That Sell
Subscribe to the Newsletter Magic and Fantasy Book News
Pinterest
pinterest.com/AdriennedeWolfe/boards/
Twitter (Fantasy Fiction of Adrienne deWolfe)
Twitter (Adrienne deWolfe's Writing Page)
http://twitter.com/AdriennedeWolfe
YouTube Channel (Writing Novels That Sell)
http://www.youtube.com/WritingNovelsThatSel
Velvet Lies Series
http://ebookdiscovery.com.p8.hostingprod.com/AdrienneDeWolfe.html
Wild Texas Nights Series
http://ebookdiscovery.com.p8.hostingprod.com/AdrienneDeWolfe.html
The Secrets to Getting Your Romance Novel Published (Series)
http://writingnovelsthatsell.com/the-secrets-to-getting-your-romance-published/