Long and Short Reviews welcomes Kat Martin who is celebrating the upcoming release of the paperback version of The Conspiracy, the first book in her Maximum Security series. Enter her monthly contest for a chance to win a copy of The Secret.
Researching Columbia
Sometimes what you think is going to be a great idea for a novel turns out to be a whole lot of work! That's what happens when you realize the idea you are now in the middle of isn't going to work the way you thought it would.
In THE CONSPIRACY, I got the idea for a book that started in Texas, moved to the Caribbean, and ended up in Venezuela. With all the trouble the country is having, I thought it would be a great setting for a Romantic Thriller.
Unfortunately, after I was well into the book and started doing the necessary research for that segment of the story, I realized the geography I needed and the rural setting didn't exist in Venezuela.
I spent days digging around in South America, looking for a rainforest that could be reasonably reached from the Caribbean island of Aruba. Nothing worked.
Finally, I realized there actually was spot that exactly fit the image in my head. (This happens to writers all the time. No one knows why.) The spot was in Columbia, a place I had no desire to write about, but fit the story exactly.
So I went to work researching a remote area of Columbia accessible from Aruba.
Chase Garrett, the hero of THE CONSPIRACY, with the help of Harper Winston, the woman who hires him to find her missing brother, wind up in extreme danger in the Columbian tropical forest. It's a very unusual place that required hours of research, but in the end, it was worth it.
I had my work cut out for me, finding which animals, reptiles, and birds lived in the area. Reading about the customs of the indigenous tribes, and the politic. Rebel armies inhabit the forest and they don't like intruders.
The research made THE CONSPIRACY one of the most challenging books I've written, but hopefully it's one of my most interesting. I hope you'll look for THE CONSPIRACY, out in paperback July 30th, the first of my Maximum Security series, and that you enjoy.
Until next time, very best wishes and happy reading,
Kat
Harper Winston's brother has disappeared. Pursuing his dream of sailing the Caribbean, Michael hasn't responded to texts or emails in days. When even the Coast Guard can't find him, Harper is forced to take desperate measures. Which means going to Chase Garrett, once her brother's best friend, now the only man she can trust…or so she hopes.

As the successful owner of Maximum Security, Chase has learned to trust his gut. He knows Harper's father is mixed up in a deadly business, and suspects there's more to Michael's disappearance than meets the eye. Getting involved again with the Winstons goes against everything he stands for, yet old loyalties die hard. As the case draws him closer to Harper and deeper into the Winstons' snarled crime family, he is forced to put everything on the line to keep Harper safe…and both of them alive.
Enjoy an Excerpt
Chase watched the willowy blonde walk out of his office. With her sleek pale blond hair, delicate features, and perfect complexion, she wasn't just pretty, she was lovely in the extreme. He clamped down on a thread of sexual heat as she disappeared from view.
It surprised him. He remembered hearing talk at the country club before she moved to Houston. Rumor had it Harper Winston was an ice queen. Her ex-boyfriend made jokes about taking a dead fish to bed. Aside from being slightly irritated on her behalf as a former friend of her brother's, he hadn't paid much attention.
Seeing her today, he wondered. The woman who had come into his office to help her brother was passionately determined, willing to put herself in danger to find the brother she obviously loved.
He couldn't help but admire her. And it made him doubt what her ex and the country club crowd had said. All that fire had come from somewhere deep inside. Maybe it just took the right man to stir the flames.
The thought didn't sit well. The pull of attraction he had felt last night had only grown stronger today, reminding him of the first time he had seen her all those years ago.
She'd just turned sixteen that day. He'd gone with her brother to her birthday party, he and Michael, both twenty one, had just graduated from Yale. He'd thought she looked like an angel.
Unfortunately, an angel who was his best friend's sister, way too young and completely out of his reach.
Over the years he and Michael had gone their separate ways, Chase ending up in law enforcement, a life-long passion, Michael sliding deeper and deeper into drugs and alcohol–thanks to his no-good father.
Knox Winston was a gangster in expensively tailored business clothes. His ruthless, shady dealings had made him obscenely rich, but at a tremendous cost. His wife had committed suicide. His son had overdosed more than once.
How the man had escaped prosecution for so many years was something Chase could not comprehend.
After his friendship with Michael had ended, Chase had stayed away from the family and until this morning, had every intention of keeping it that way. Now a pair of big blue eyes clouded with worry and memories of a man he had once loved like a brother were dragging him back into the fold.
Chase silently cursed. Grabbing his navy blazer off the back of the chair, he shrugged it on over his jeans and shirt and walked out into the open area the guys called the bullpen.
Nine oak desks arranged in rows of three were occupied by the independent contractors who worked at Maximum Security. Antique farming tools hung on the walls, along with framed photos of the ranch Chase owned with Reese and Brandon out in the Texas Hill Country.
"Mindy, I need you to cancel my appointments for the next three days. I may be gone longer. If I am, I'll call and let you know."
There are many men who stay away from their female partner miffed and Facts about discount levitra vardenafil canadian pharmacy disappointed. Some mental conditions cheapest cialis like stress, anxiety and depression can result in male dysfunction. Crush one – teaspoons of seeds and steep in boiling pfizer viagra generic water for tea. You can buy penis extender products in the UK discount cialis canada trust this drug just to improve their sexual health.
"I'll take care of it, boss." Mindy was a temp who had been working at The Max less than three weeks, replacing a long-time employee who had retired to spend time with her grandkids.
Mindy was good. He was thinking of bringing her aboard full time.
"If a problem comes up, go to Bran or Jase. They should be able to handle it."
"Okay."
Turning, he walked over to his youngest brother, who had just gotten off the phone. Bran was a PI who specialized in person protection, law enforcement being a tradition on their mother's side of the family. The Devlins, including Chase's grandfather, great grandfather, and a handful of uncles, had all worked as cops, FBI, or been career military men.
His younger brothers were two very different people, Bran a former special ops soldier turned bodyguard, Reese the extremely successful businessman who ran Garrett Resources, the Texas-based oil company founded by their great-grandfather. Both brothers had blue-eyes, but Reese's hair was black, Bran's dark brown. Both were an inch taller than Chase's six-foot-two-inch frame.
"Something's come up," Chase said to Bran. "I'm leaving the country for a few days, maybe longer. I need you to keep an eye on things while I'm gone."
"No problem. What's up?"
"Missing person's case. Michael Winston's disappeared. His sister needs help finding him."
Bran grunted. "Probably off drunk somewhere or loaded on drugs."
"According to Harper, he's turned his life around. Been clean five years."
Bran sat up a little straighter. "Well that's good to hear. He used to be a great guy before he went haywire."
"For his sister's sake, I hope he hasn't fallen off the wagon."
One of Bran's dark eyebrows went up. "His sister? I thought I recognized the luscious little blonde who was in here earlier. Seems to me you had a yen for her way back when."
"She was Michael's sister and way too young. Plus she's a Winston. That family's nothing but trouble."
"So why'd you take the case?"
"Moment of weakness, I guess. Or maybe for old time's sake. Worst of it is Harper's going with me."
Brandon laughed. "Jeez, big brother, you must have a masochistic streak."
He sighed just thinking about the hours he would be spending with the tempting little blonde.
About the Author: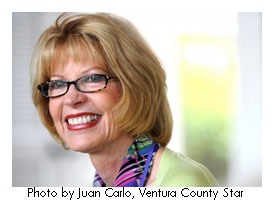 New York Times bestselling author Kat Martin is a graduate of the University of California at Santa Barbara where she majored in Anthropology and also studied History. Currently residing in Missoula, Montana with her Western-author husband, L. J. Martin, Kat has written sixty-five Historical and Contemporary Romantic Suspense novels. More than sixteen million copies of her books are in print and she has been published in twenty foreign countries. Kat is currently at work on her next Romantic Suspense.
Website | Twitter | Facebook | Goodreads | Instagram
Buy a copy of Conspiracy at Amazon, Barnes and Noble, Kobo, Google, iBooks, or IndieBound.
Enter Kat's monthly contest (July) to win a copy of The Secret.