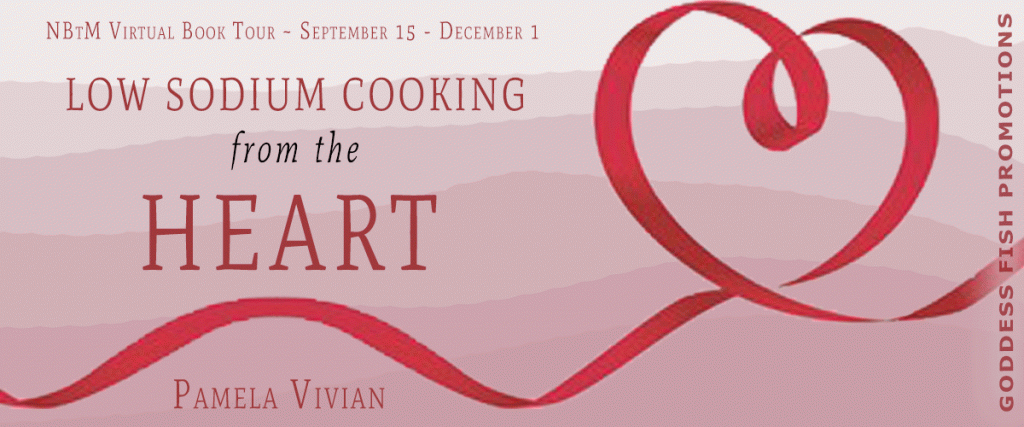 This post is part of a virtual book tour organized by Goddess Fish Promotions. Pam Vivian will be awarding a $15 Amazon/BN GC to a randomly drawn winner via rafflecopter during the tour. Click on the tour banner to see the other stops on the tour.
*****
I put a lot of research into my book "Low Sodium Cooking from the Heart". It began with gathering ideas for recipes and picking some that could be adjusted to be low sodium. The biggest recipe challenge was the cakes. Cake recipes use salt to rise and make them light and fluffy. I came up with an alternative using eggs differently.
Once I had my recipes together I rented an app to calculate the sodium in each recipe. There are some free ones now but I could not find any when I needed it.
My next step was to get input from experts in the field. I sent my book out to the University of Alberta to one of our leading Hepatologists and Gastroenterologists. She thought it was amazing and is currently setting up a clinic based on nutrition as well as an app for liver disease. She has asked to use some of the recipes for this. The other people consulted on this were the nutrition researchers and nutritionists at the Canadian Liver Foundation. They gave a thumbs up to the book also and inserted a page discussing liver disease and the importance of limiting daily sodium intake. I was asked to participate in a teaching video for liver disease and the Neurologist I worked with on the video was very enthusiastic about the cookbook and one of the first in line to purchase one upon publication.
My wish is that everyone who purchases the cookbook "Low Sodium Cooking from the Heart" enjoys cooking and eating the recipes included in it as much as I do.
Low sodium cooking including family favourites. I have tried to include interesting little bits of the history of recipes or whose favourite it is. The book contains recipes from basic daily meals to a few gourmet ones.
Enjoy an Excerpt
It is quite shocking to be given the news that you have hepatitis C and cirrhosis of the liver. Yes, you know you have not been feeling up to snuff lately: tired, lethargic, not sleeping well and your stomach has been a little off but nothing you feel you should really go and bother your doctor about. Doesn't everyone go through these stages once in a while?
Then all of a sudden your belly swells and there is a war going on in there and off to Emergency you go. Next comes the diagnosis of hepatitis C and cirrhosis.
After that, all chaos breaks out in your body. For those that also suffer with this and are wondering what symptoms other people have, the following are some of mine:
Inability to think
Pain in muscles, joints and bones
Dizziness and poor balance
Reduced vision
Hair loss
Terrible skin and nails
Itchy skin and stinging red spots
Muscle cramps and twitching
Restless legs
Shaky
Weight loss
Not sleeping
Extreme tiredness
No energy
Cold
Inflammation especially in pelvic area at night
Upset and very noisy stomach (Oh the agony sometimes, sharp pains, dull ache, etc.)
Nausea and vomiting
Fluid retention and swelling
Memory loss – forget people, places and thing.
The whole world revolving when you lay flat in bed – holding on so you don't fall off.
About the Author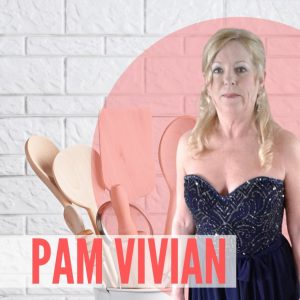 Although I have spent my life working in business management and finance the things I love to do are cook, bake and quilt.
Health conscious cookbook author. Read her new book "Low Sodium Cooking From the Heart" Now available on Amazon & Indigo.
Facebook
Buy the book at Amazon, Amazon CA, Bookshop, Indigo Chapter, Barnes and Noble, or Book Depository.