Long and Short Reviews welcomes Amy Craig, who is celebrating the upcoming release of Remaking a Man, the second book in the Sun Valley Mafia series. Enter for the chance to win a $50.00 First for Romance Gift Card! Competition hosted by Totally Entwined Group.
A one-night stand turns serious…

Nina's neighbor sets her up on a blind date with a handsome insurance salesman. After a candlelit dinner, Nina hooks up with him in a posh New York hotel room, but she writes off the date as a one-night stand. Returning home, she discovers her neighbor's death, her dog's abduction and the salesman's possible involvement.

Traipsing across the city with her date in tow, she realizes he's a quarrelsome billionaire and that her dog may never return. Grieving her losses, she accompanies her date to a 'billionaire summer camp' in Sun Valley, Idaho, but the idyllic setting revolves around his whims—and the person who took her dog follows them.

Reader advisory: This book contains scenes of violence and murder.
Enjoy an Excerpt
Standing on the marble front step of her family's Miami mansion, Gisella tapped her designer footwear, adjusted her sunglasses and blocked out the bright spring day. She breathed deeply and shuffled the bags hanging from her toned arms.
At the end of the driveway, her brother Antonio revved his red convertible's souped-up engine and pounded the dashboard in time to blaring rock music. Miami traffic streamed past the estate. People stared.
Why can't he just leave? She marveled at his arrogance, but she kept her expression neutral and her phone in her pocket. He was the youngest of her two siblings, and he had the stocky, tan physique her male family members prized. He also had a propensity to wear outlandish suits, a revolving door of girlfriends and a sophomoric sense of humor. If he caught her taking a selfie in front of the house, he would turn it into a meme, but her account depended on dance stills and teasing hints of glamour. The minute he left the estate, she would take the picture while her hair looked good.
Flexing her toes, she rifled through the bags on her arms. One duffle held her ballet kit, another tote functioned as a purse and the bags from her morning shopping spree hiked her credit card bill. Instead of feeling guilty for the extravagance, she admired her long, lean legs.
Her form allowed her to excel as a professional ballerina, but she worried she had the coltish naivety to match her legs. When would she work up the nerve to demand a driver's license and stop relying on Antonio for transportation? Every time she talked about her license, her father pouted and asked what more he could do to ensure her comfort.
If her mother had lived, Gisella's life might be so different.
A car horn honked. A woman blew kisses. "Antonio!!"
He ignored the entreaty, let the engine rumble and scanned the beachside traffic. His muscled forearm hung over the door, and he tapped his fingers against the expensive paint job. Milky fingerprints marred the convertible's finish.
A second Miami driver slowed to gawk at the handsome, moneyed mobster. A trailing car smashed the vehicle's lights. Horns blared and doors flew open.
Releasing the engine's pent-up energy, Antonio took advantage of the distraction and roared across two lanes of traffic.
Gisella rolled her eyes and snapped the picture she needed, but she doubted her high-gloss smile was worth the price of the photograph.
Riding home with her brother from dance rehearsals and a shopping spree, she had stared out of the window and listened to him complain about women and their fickle ways. His problems never changed, but the consistency soothed her. If he spent more time listening to the women, he would have fewer problems with them.
For instance, she had wanted to close her eyes and rest, but Antonio couldn't take a hint. As soon as she made Principal Dancer, she could move out of her father's house and make rent, but she would have to stop shopping like a mafia princess.
Squaring her shoulders, she faced her father's front door. Most Miami residents painted their doors to ward off humidity's warping effects. Papà imported Cocobolo heartwood and exposed the precious wood to the elements. His house could grace the cover of Architectural Digest, but his acceptance in local society depended on discretion. Biscayne Bay would freeze over before he opened the mansion's doors to gawking strangers.
Every piece of furniture came with a decorator's commission, authenticity papers and a cataloged serial number. The insurance company knew the exact cost of her father's investment, and if the house burned, they'd be wise to pay up.
She appreciated the wealth, but its origins bothered her. Her sweet Papà, Gregorio Vitella, ran drugs from South America up the Eastern shoreline. She feared that enjoying the proceeds made her complicit in his crimes.
Pressed by a tipsy ballet friend, she'd admitted the concession that let her sleep at night. Her father's legitimate insurance company probably covered her bills, but how could a person separate good money from bad people—and where did that distinction place her?
Pushing open the door, she scanned the marble foyer and dropped her bags, but a green potted palm, a black concert piano and an excruciatingly expensive console table provided little company. The console table rested on acrobatic loops of brass. Beneath a glass top, python skin gleamed with a subtle sheen, and she wondered if the piece's black crystal pulls would make an interesting jewelry set. Opening a drawer, she checked for mail and flipped through the family correspondence. "Come stai, Papà?"
Her question echoed.
Raising her head, she set down the mail and waited.
A hidden white paneled door opened. Martin, the butler, emerged, wearing the formal black suit and crisp white shirt required for his service. He'd perfected the practiced, subservient gaze on his own. She'd grown to like him, but she wondered how long he would last in the household.
"Signorina Gisella, your father is in his study."
Keeping a bright smile on her face, she handed Martin her shopping bags and kept her purse on her shoulder. "Thanks. I'll freshen up and join him."
"Yes, Signorina."
The man couldn't speak ten words of Italian. As soon as staff members picked up a basic understanding of the language, her father fired them. Smart members played dumb. Gisella found her allies among them, but she'd learned to mind her comments, too.
Ducking into the gilt-papered bathroom off the foyer, she pinched her cheeks, added lipstick and prepared to act like a dutiful daughter. Her life revolved around the Miami Ballet Company, beachside runs and formal dinners, but in her father's house, she would forever be 'Gigi'.
Bracing her hands on the sink, she tilted her head. Her loving father owned Florida's biggest commercial real estate company, Cosmica Insurance Holdings, but he also ran the Florida branch of the Italian mob.
He wore a suit to school functions, but when business soured at home, he rolled up his shirtsleeves, and the gentlemanly look faded. When she had been ten, she'd witnessed the reality of his business dealings through a crack in the study door. She'd never seen his victim again, and she'd kept her observations to herself—but she listened.
When classmates at her parochial school asked what her father did for work, she parroted the company line. "CIH offers property insurance, casualty insurance and value-added insurance services across twenty southeastern states."
They looked impressed.
Why shouldn't they? Every new homeowner in Florida received a direct mailing touting CIH's low rates and friendly staff. The mailings glossed over the company's potential money laundering credentials, but who read the fine print?
Leaving the bathroom, she made her way to the back of the house and to her father's study. The caviar-black masculine room had views of the pool and heavy leather furniture. Despite a sparking oasis waiting beyond the windows, the room looked like a cave.
Last fall, her father's interior designer Lisette had joined the family before Sunday dinner. Wearing a pantsuit, she'd sipped a dirty martini and made vague references to former clients. "I prefer to create a visual impact by mixing wood species and texture. That movie star I mentioned"—she sipped her drink—"had a thing for ebony."
Gisella had wanted to like the woman, but her influence on the house's décor leaned toward gilt and Hollywood glamour. Having a thing for ebony shocked her as much as Lisette's cosmetic surgery bill. Once a woman immersed herself in wealth, keeping life entertaining required novelty and a steady flow of cash. "How do you plan to tackle the study?"
Lisette had wrinkled her surgically enhanced nose. "The hospitality industry uses black to create glamour, drama and intimacy. Everyone's doing it."
Gisella had sipped her wine and assumed Lisette was doing her father.
Walking across the room, Gisella admitted the study's black walls created drama, but if her father wanted to scare his minions into compliance, he could pull out the handgun he kept in the desk's top drawer. To keep her in line, he deployed guilt. 'What would your mother think?'
She wrinkled her nose.
Walking around the polished walnut desk, she leaned down and pressed a kiss to his cheek. He smelled of black tea, Damascus rose, tobacco and leather. At sixty-five years old, he looked ten years younger. Faint silver streaks threaded his black hair. He could wear chinos and he would still smell like old manners and aged wine caves. "Come è andato il lavoro, Papà?"
"It is what it is." Continuing in Italian, he set aside his papers. "How was your shopping trip?"
She sat opposite him and crossed her legs. "Fruitful."
He laughed.
Pulling a stack of receipts from her purse, she slid them across the desk. "The rest will come by email."
Shrugging, he leaned back in his chair and left the crumpled slips on the table. "Gigi, you're old enough to drink and old enough to marry."
She picked at her nails. "Is that so?"
"More than old enough. In the home country…"
Looking up, she tilted her head. "We're not in the home country."
He held up a hand. "But if we were, you'd be a bride, and I'd be a grandpa."
"Ursula is older."
"Your sister wants to be a nun."
"So she says." Looking past his full head of hair, she regretted her outburst and second-guessed her decision to come home after rehearsal. If she'd stayed out and shared a drink with Antonio, she'd have to listen to his stories and give up her evening run. She couldn't hide from her father. He financed her life and provided patronage for her art. Looking at him, she softened her expression and recalled the sunlit days he'd spent with her and Ursula. "You're too young to be a grandpa."
about the Author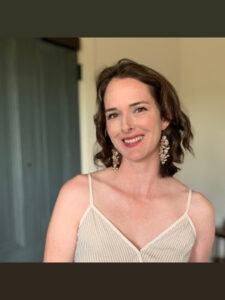 Amy Craig lives in Baton Rouge, Louisiana USA with her family and a small menagerie of pets. She writes women's fiction and contemporary romances with intelligent and empathetic heroines. She can't always vouch for the men. She has worked as an engineer, project manager, and incompetent waitress. In her spare time, she plays tennis and expands her husband's honey-do list.
Website | Amazon | BookBub | First for Romance
Buy the book at your favorite online venue or First for Romance.