This post is part of a virtual book tour organized by
Goddess Fish Promotions
. Annie will be awarding a $25 GC for either Kindle or Nook to a randomly drawn winner via rafflecopter during the tour. Click on the tour banner to see the other stops on the tour.
Suffer the hunger.

Pia Blyton wants it all. A steady boyfriend, love and her independence. But to ignore her succubus nature is to welcome chaos. Every three days she must orgasm to feed. Bad sex isn't an option. Stave off the hunger for too long and her demon side peeks out, and its tastes are much less discerning than hers.

One bad day, one wrong decision, and her demon takes control of her libido and kisses all her best intentions goodbye.

Brokenhearted and ashamed, Pia is dragged home to Lake City by Zur-Sin, a vampire her father paid to find her. Caught in a world where mortal desires are seen as a weakness, Pia needs to figure out how to protect her heart from her deepest longings.
Enjoy an excerpt:
Dialing my boyfriend's number on my cell phone, I paced our small apartment, chewing my thumbnail ragged.
"Hey, babe." His voice caressed me. I loved it when he called me babe.
"Can you come home?" The receiver trembled in my hand.
"Uh, now?"
"Yes, I'll make it worth your while." I hated the pleading quality to my voice. Begging a human to feed from him. What would my parents think? That I deserved to be starving for not listening to their warnings? For thinking I could live off sex with one man—one human man?
I shouldn't feed from Pierre twice in one day. I'd taken more from him this morning than I normally did. If I wasn't careful, I'd kill him. Humans were so fragile. "Pick up some chocolate frosting on your way here." What other option did I have but to use him again? I'd committed myself to Pierre heart and soul.
He moaned but it sounded more like regret than passion. "I can't leave work right now, but I'll skip lunch so I can duck out early, ok?"
My stomach sank. "Sure." It took all my acting skills to make that single word sound happy and content. How was I going to live through the next few hours? I couldn't even masturbate. Wiping the sweat from my brow, I stared at my reflection in the window.
The succubus who stared back was too skinny. Her cheeks hollow and the tendons in her neck stood out. A predatory lurked within her gaze, something demonic that didn't care about hurting people.
About the Author: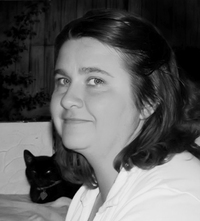 Annie Nicholas hibernates in the rural, green mountains of Vermont where she dreams of different worlds, heroes, and heroines. When spring arrives the stories pour from her, in hopes to share them with the masses one day. Mother, daughter, wife are some of the hats she happily wears while trudging after her cubs through the hills and dales. The four seasons an inspiration and muse.
Annie Nicholas writes paranormal romance with a twist. She has courted vampires, hunted with shifters, and slain a dragon's ego all with the might of her pen. Riding the wind of her imagination, she travels beyond the restraints of reality and shares them with anyone wanting to read her stories. Mother, daughter, and wife are some of the other hats she wears while hiking through the hills and dales of her adopted state of Vermont.
Annie writes for Samhain Publishing, Carina Press, and Lyrical Press.
Website ~ Blog ~ Facebook ~ Twitter ~ Goodreads ~ Pinteret ~ Newsletter