Welcome Rachel Brimble to Long and Short Reviews. She has come to talk with us about some of her work.
*****
I am lucky enough to live a small market town in southwest England that allows me access to some of the most historical places in the world. Just a short half an hour drive in one direction brings me into the center of the famous Georgian city of Bath––an hour's drive in any other direction brings me into Salisbury or the Cotswolds and beyond.
So it's hardly surprising that I moved from writing only contemporary romance novels into writing historical romances too.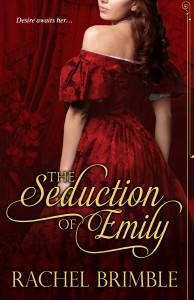 Right now, I have two Victorian novels published with eKensington and contracted for two more. This particular series is set in and around Bath and linked by a secondary character in one novel, becoming the hero or heroine in the next.
I know Bath well and in the first book (THE SEDUCTION OF EMILY), the characters spend a lot of time at the heroine's home in the infamous Royal Crescent, as well as the Assembly Rooms and many other places.
For book two (THE TEMPTATION OF LAURA), a lot of the action takes place against the backdrop of Bath's Theatre Royal and the more poverty-stricken areas of the city during the 19th century. I love writing about the lower classes of Victorian society rather than the gentry. After all, poor people deserve to find their happy ever after too!
Having so much history on my doorstep it fuels my imagination and makes me want to write about the many places I have access too––and over many eras. Once I have fulfilled my contract of four Victorian novels set in Bath for eKensington, I am keen to fast forward a few years into the Edwardian period. With the explosion of popularity of such shows as Downton Abbey and Mr. Selfridge, I am inspired to write a series of novels set in my most favourite village in England, Bourton-on-the-Water.
Located in the heart of the beautiful Cotswolds, Bourton is the prettiest and on of the most quintessentially English villages I have ever discovered. I close my eyes and imagine the Edwardian clothes, people and etiquette…yes, I would most definitely love to write a series set there next. Let's hope my editor agrees!
Which is your favourite era and why? Tell us and you might win!  Rachel is giving away a PDF of either The Seduction of Emily or The Temptation of Laura as well a tote bag featuring the cover of The Temptation of Laura to one lucky reader! Open internationally.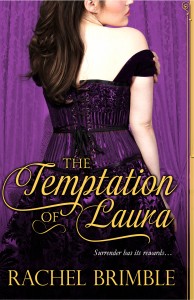 Laura Robinson has always been dazzled by the glamour of the stage. But perhaps acting and selling one's favors are not so different—for Laura must feign pleasure with the men she beds to survive. Now, with her only friend at death's door and a ruthless pimp at her heels, escaping her occupation seems impossible. Hoping to attract a gentleman, she attends the theater. Yet the man Laura captivates is no customer, but a rising star and playwright…
Adam Lacey has been driven to distraction since the moment he saw Laura. She is his ideal leading lady come to irresistible life—and so much more. Certain they can make the perfect team on and off stage, he is determined to win her heart—and discover her story. But that is precisely what Laura fears. And she has no idea that Adam harbors shameful secrets of his own. Will the truth free them to love—or destroy all their dreams…?
About the Author: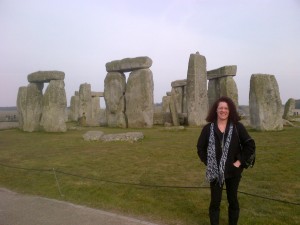 Rachel lives with her husband and two young daughters in a small town near Bath in the UK. After having several novels published by small US presses, she secured agent representation in 2011. In 2012, she sold two books to Harlequin Superromance and a further three in 2013. She also writes Victorian romance for Kensington–her debut was released in April 2013 and she has since signed for three more.
Rachel is a member of the Romantic Novelists Association and Romance Writers of America. When she isn't writing, you'll find Rachel with her head in a book or walking the beautiful English countryside with her family and beloved black Lab, Max. Her dream place to live is Bourton-on-the-Water in South West England.
She likes nothing more than connecting and chatting with her readers and fellow romance writers. Rachel would love to hear from you!
Links: