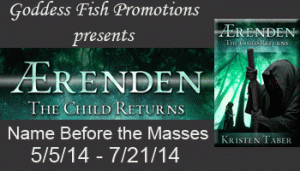 This post is part of a virtual book tour organized by
Goddess Fish Promotions
. Kristen will be awarding a $25 Amazon GC and 10 copies of The Gildonae Alliance (Aerenden #2) Audible Book.
So, first, tell us about your book.
My most recent release is the third book in my Ærenden series, The Zeiihbu Master. Meaghan and Nick, the protagonists in the series, are now on opposite sides of the kingdom. While Meaghan is travelling into neighboring Zeiihbu to rescue an ally's son, Nick is training Ærenden's villagers to fight against the self-proclaimed king. Filled with danger, love, adventure, and magic, The Zeiihbu Master offers something for fans of every genre.
What began the process for this book? Why did you have to write it?
I love that you used the words "have to write" because it's so true! Writing the Ærenden series is a need, a compulsion that will not quiet until I'm documenting my characters' lives. This series has actually been haunting me for a while now. Initially it started as a joke in high school, though the tale my friend and I imagined only holds a loose comparison to the kingdom I write about. Over the years, the story revisited me in my daydreams and at night, until I had a clear picture of Ærenden, its war and its people. Since then, the characters have kept me as a constant companion, and if I don't write about them, they visit my dreams until I can no longer sleep. I like to sleep, so I write ;-).
Did you always think you were going to be an author?
I've always wanted to write and have written in some form or another (short stories, poetry, plays) my entire life, but I never dreamed I'd write novels until about seven years ago. That's when the Ærenden series sought me out again. The characters from my Molly's Tears romance series also started visiting me at that time, so I've been working on those books, too (though they're currently unpublished).
What books/authors have influenced you the most?
J.R.R. Tolkien, of course. The Hobbit and The Lord of the Rings were instrumental in getting me hooked on epic fantasy. David and Leigh Eddings carried that passion through high school and my college years. And Stephen King has always been my author-hero, partly because I love his books and partly because I grew up not far from his home in Bangor.
What is your typical day like?
My one-year-old gets up sometime between six and seven in the morning. She's my wake-up call. I typically check Facebook, Twitter, my blog, and my emails to see if anything needs a response, then I eat breakfast. I spend the day chasing after my daughter, taking her to play dates, grocery shopping, etc. and then hand her off to my husband after he gets off work. That's when my jobs begin. I have a part-time job compiling reports, so I do whatever's needed for that job first, then I sit down to write (blogs, books, etc.), edit or attempt some form of marketing, depending on where I'm at in my current book's life cycle. I try to get to bed by midnight, but usually it's closer to 1 or 2 am. I also try to work out at least three times a week, but some weeks (like this one) aren't so forgiving. Then the next day I get up and do it all again.
What do you enjoy doing when you aren't writing or promoting a current book?
I love to run. I raced my first half-marathon in February (yay!) and I'm on track to collect 12 race medals this year (my New Year's resolution). I also love to hike, so if my schedule permits, I head out to Shenandoah National Park at least a few times every summer. And I love wine. I took a couple of certification courses for it and once ran a blog called Sip A Day that covered wine and beer articles and reviews. I had to retire the blog when I started writing books, but I still make sure to enjoy a good glass of cabernet or a hoppy IPA whenever I can.
Now just a bit of fun stuff:
People might be surprised to know I like….
Contradictions: heavy metal and classical equally; vegan food and steak tartar; noisy concerts and quiet libraries; juice fasts and sinful buffets; foreign experiences and the familiar. I love looking at life from all extremes. It makes each day exciting.
What is the last book you read?
I recently finished Aristotle and Dante Discover the Secrets of the Universe by Benjamin Alire Sáenz for my Goodreads book club. Mr. Sáenz is an amazing author with a gift for imagery and philosophy. He's also written one of the most thought provoking novels I've read in a long time. I highly recommend it.
What is the last movie you've watched? Was it at the movies or at home?
The Lego Movie and I watched it at a theater called The Alamo. It's my favorite place to go for a date, since they bring food and craft beer to your seat, and they make the most divine chocolate chip cookies I've ever had.
If you could be any fictional character from any book, who would you be and why?
I've always thought it would be awesome to be an Elf from The Lord of the Rings. I'm not sure which one I'd pick, but I'd definitely be a kick-butt female warrior with a bow and arrow.
What would you do differently if you knew nobody would judge you?
I'd go back to school for a degree in creative writing, which is what I wanted to do when I was 18, but didn't have the courage to attempt. I took the path that would offer better employment opportunities when I graduated, but I've regretted it ever since. Even if people rolled their eyes about the wasted money and time (because there's still is no guarantee of earning after graduation), I'd go back in a heartbeat if I could afford it.
Anything else you'd like to include/mention?
Thank you for the interview! I've enjoyed the questions and your time. And thank you to everyone reading for taking the time to visit with me and check out my books. Feel free to reach out if you have any questions. I always enjoy talking with fellow book lovers!
Book One: The Child Returns

Seventeen-year-old Meaghan has no idea her perfect life has been a lie — until she witnesses her parents' brutal murders at the hands of red-eyed creatures.

After nearly sharing their fate, she escapes with her best friend, Nick, who tells her the creatures are called Mardróch. They come from another world, and so does she. Now that the Mardróch have found her, she must return to her homeland of Ærenden or face death.

Left with little choice, she follows Nick into a strange world both similar to Earth and drastically different. Vines have the ability to attack. Monkeys freeze their victims with a glare. Men create bombs from thin air. Even Meaghan's newly discovered empath power turns into a danger she cannot control.

But control becomes the least of her worries once the Mardróch begin targeting her. When Nick confesses he knows the reason they want her, she learns the truth behind the kingdom's fifteen-year civil war — a long-buried secret that could cost Meaghan her life.

Book Two: The Gildonae Alliance

Several months after Meaghan's return to Ærenden, the kingdom's war has taken a turn for the worse. The Mardróch army hunts the new King and Queen, destroying villages in its wake. And Meaghan and Nick, training for battle in their remote section of wilderness, are far from safe. Danger hides in shadows and behind innocent faces. Allies become foes. Each day is a fight to survive. But in the end, only one threat matters. And it's a threat they never see coming.

Book Three: The Zeiihbu Master

Separated and on opposite sides of the kingdom, Nick and Meaghan face different pursuits which could change the balance of power in Ærenden forever.

While Nick trains the villagers to be soldiers, Meaghan and a small rescue party venture into Zeiihbu to find Faillen's young son, before Garon can use the boy's power to destroy those still fighting against his rule.

Everyone knows Meaghan could be on a suicide mission, but when Nick stumbles upon a secret concealed in one of the southern villages, he realizes that Garon might not be Meaghan's greatest foe. The enemy most likely to kill her is someone who has also promised to keep her safe.
About the Author: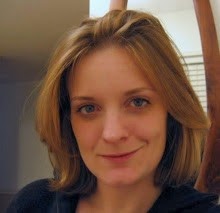 Kristen spent her childhood at the feet of an Irish storytelling grandfather, learning to blend fact with fiction and imagination with reality. She lived within the realm of the tales that captivated her, breathing life into characters and crafting stories even before she could read. Those stories have since turned into over a hundred poems, several short tales, and five manuscripts in both the Young Adult and Adult genres. Currently, Kristen is completing the five-part Ærenden series from her home office in the suburbs of Washington D.C.
Website ~ Blog ~ Facebook ~ Twitter ~ Google + ~ Pinterest
Buy the Books:
Book One: The Child Returns: Amazon Barnes and Noble
Book Two: The Gildonae Alliance Amazon Barnes and Noble