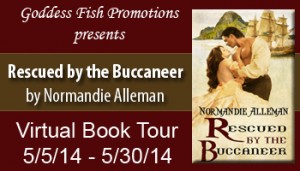 This post is part of a virtual book tour organized by
Goddess Fish Promotions
. One randomly drawn commenter will win a $50 Amazon or Barnes and Noble gift card.
What project are you currently working on?
I'm currently editing the second book in my Daddy's Girl series – "Daddy's Game," and I'm in the middle of writing the second Pirates of the Jolie Rouge book – "Bound by the Buccaneer." One of the things I love about this Trilogy is that I expect to have all three books released this year.
How would you spend ten thousand bucks?
I'd take my family on a vacation, probably to Disney World.
What is your favorite television show?
Oh I love so many! Right now my favorite is Reign but Game of Thrones and The Blacklist are right up there too.
What is something you've lied about?
What haven't I? Age and weight probably top the list.
Who is the last person you hugged?
My husband.
What is the story of your first kiss?
I don't remember my first kiss, but when I first kissed my husband it was in my truck and I got the biggest butterflies ever which was wild because I'd known him for probably ten years before we got romantic, and I really didn't know that could happen.
Do you like kissing in public?
Sure, why not?
When Frederica Beauchamp boards a ship for the Americas, she dreams of a life filled with adventure, but she gets more than she bargained for when her passenger ship is attacked by pirates. The heartless men kidnap her and force her to serve their captain—a fate that might be worse than death, since though he does not have his way with her, the captain delights in baring her, shaming her, and thrashing her bare bottom as punishment for every imagined disobedience.

After the pirates bring aboard an injured man found floating in the sea, Frederica tends to his wounds and learns that he is Gaston Galette, a survivor of a shipwrecked vessel. Gaston seeks her help to overthrow the vile captain, but when their plan goes awry he is forced to use all of his wiles to save them. As the naïve girl and the seasoned sailor navigate one perilous situation after another, he informs Frederica that the only way they can survive is if he is in command, and that if she thinks things can be otherwise, she will be taken over his knee for a bare bottom spanking.

As he watches the proud, willful Frederica bow to his authority, however, Gaston worries that her growing hold on his heart will be his downfall. He knows he cannot take a woman with him when he returns to his ship and crew, but when Frederica accepts his lustful dominance completely, submitting to him with grace and beauty no other woman could match, Gaston realizes that he may never be able to let her go.

Publisher's Note: Rescued by the Buccaneer is the first book of the Pirates of the Jolie Rouge trilogy. It is an adventure and erotic romance novel that includes spankings, sexual scenes including elements of BDSM and humiliation, and more.
About the Author: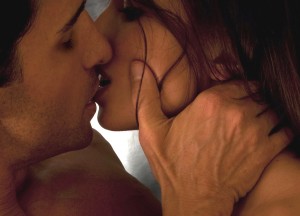 A former psychologist, Normandie has always been fascinated by human behavior. She loves writing quirky characters that are all too human. Fiber arts, baking, and Pinterest are a few of her favorite pastimes. She lives on a farm with a passel of kids, an adorable husband, and a pet pig who's crazy for Red Bull.
Twitter ~ Pinterest ~ Facebook ~ Amazon Author Page ~ Goodreads ~ Website
Buy the book at Amazon, Amazon UK, Barnes and Noble, ARe, or Kobo.
a Rafflecopter giveaway