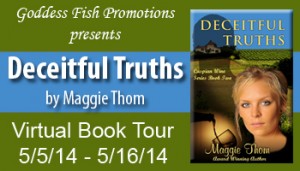 This post is part of a virtual book tour organized by
Goddess Fish Promotions
. Maggie will be awarding a $15 GC to Amazon or B&N to a randomly drawn commenter during the tour, and a ecopy of Captured Lies (Caspian Wine Series Book One) to three randomly drawn commenters during the tour. Click on the tour banner to see the other stops on the tour.
Tell us something about your newest release that is NOT in the blurb.
In Deceitful Truths, Tarin has a secret that is blowing her mind. She doesn't know who would play such a sick joke on her but what really scares her is why they would have done it. Her dad, although overbearing and controlling has always dealt with any problems that have come up in her life. Now that she finds herself in the most difficult situation she's ever encountered she realizes that to run to her dad would mean that he'd start running her life again. And she's not so sure that he isn't part of the problem. Did he do this just to bring her back home? Did he do it because he wanted to force her hand? Or does he really not know anything about what has happened to her?
What are you reading now?
I'm reading a Fantasy series called the Aerenden Series by Kristen Taber. There are three books in the series, I'm just on book 2 but loving it so far. Meaghan not only saw her parents brutally murdered but soon finds herself in another world, where there is so much more to whom she is than she ever would have guessed.
How do you come up with the titles to your books?
Usually when I start a new book, I write down a title so that I can call it something. I don't stress about the title until I'm done the book. Having said that, sometimes the title will come to me early on or half way through writing it. I have to say it's getting easier to come up with what to call my stories that is interesting and intriguing. I used to struggle a lot. With Captured Lies (originally called Life of Another – rather boring), the first book I published, I knew it needed a different name but I couldn't come up with anything. So I asked a few people for help. I told them what the story was about, I think one had read it, anyway I had them toss out words that they felt described it or were catchy. I then wrote them all down on a big sheet of paper and started playing around with the words I'd been given and the ones I'd added. I came up with a few titles but as soon as I wrote Captured Lies, I knew that was it. The title for Deceitful Truths actually came to me while I was editing Captured Lies and I'd decided I was writing a sequel.
Do you hear from your readers much? What do they say?
I do and I love it. I hear things like:
– wow I love the twists and turns, how do you come up with them?
– I can so relate to Sam, her journey was mine (Tainted Waters)
– I can't believe someone from rural Alberta can write like this
– when is your next book coming out?
– you put just enough romance in to keep me happy
– how did you come up with the idea for…
– I can't believe you had Sam throw coffee in her boss's face
– I think Deceitful Truths is your best book yet
– I love that your books are different and don't use a cookie cutter formula
How do you do research for your books?
I do a combination of things. I usually start out by searching out information online but I also try to find someone who works in that industry or knows about what I'm looking for. I like to talk or at least email someone to get their take. For Deceitful Truths, I was very fortunate to come across Shawn McCormick of UnCork Ontario, who was a huge help with explaining not only wine making but the industry as well. Also, I approached a local computer store – Northern Computer Logic – who were wonderful in answering all my questions about computers, hacking, back tracing, etc. Let me tell you that was an interesting conversation. 🙂
How do you keep your writing different from all the others that write in this particular genre?
Interesting question. I read a lot so I'm pretty clear on what's out there in most genres and I know what I like to read and so that's what I like to write. My books actually cross a few genres – suspense/thriller, mystery and there is some romance but it doesn't drive the story. I try to put in those things that I enjoy – twists and turns, puzzles, mystery, things that keep you guessing as to who's the guilty party. I weave clues throughout the book so when a twist happens, earlier events make total sense. I try to find a story line that is different than anything out there or anything I've read.
If you were stranded on a desert island and were only allowed to have five modern conveniences with you, what would they be?
Now wouldn't that be interesting. I'd have to say I'd want to take along the following:
– my tablet
– a power source
– a large tarp to keep my things dry
– a blanket
– a hunky man, to keep me warm at night and to catch all the food
Do you listen to music while writing? If so what?
Music is a must when I write. Not sure why but I like the company, I think. When my kids were little and I was running them to sporting events, practices, etc., I would always take my writing with me and do it while I waited for them (yes I did pay attention to them in their activity 🙂 ) so I think I got used to there always being noise. So now I love to listen to music. Most often I have the radio on but I do like to play my own collection of soft rock, pop, soul music, really almost anything. So bands and singers like – Great Big Sea, Eagles, Pink, Beyonce, Katie Perry, Lorde, Jimmy Buffet, Bare Naked Ladies, Front Porch, etc.
What are you passionate about these days?
I'm very passionate about women stepping into their own, recognizing their worth, supporting each other rather than tearing each other down, believing in each other, seeing the good in everyone and forgiving ourselves and each other when we don't always show our best side, loving who we are, rewriting our future so that our past no longer limits and controls us. Believing there is more for all of us. 🙂 Just being and seeing the positive in life.
Say your publisher has offered to fly you anywhere in the world to do research on an upcoming book, where would you most likely want to go?
I would choose South Africa. I've always wanted to go on a safari and see those magnificent wild animals in their natural habitat. Wouldn't that be so cool? Of course I'd purely be going just for research, not that I currently have a storyline involving that but I'm sure I could find something that would spark a book idea. 🙂
Do you write in multiple genres or just one? If just one, do you ever consider straying outside your genre?
The three books I currently have published are all suspense/thrillers but I have written children's books, young adult books, romance books – I just haven't done anything with them. However, the genre that I would love to write in one day is fantasy. I love to read about dragons, wizards, elves, hobbits, trolls, etc. But if I was going to write in this genre I'd want to write something a bit different and although I have some ideas nothing has really come to me yet. So for now I will stick to writing suspense/thrillers as I love creating stories that are full of twists and turns and you're not sure who the guilty person is until the end.
Favorite color?
Teal. I love that rich green/blue color. I also really like burnt orange, though.
Weather: Hot or cold?
You know when I was younger I loved winter. I was out playing in it all the time. I still love to be out active in the cold but on temperature decent days (-10 ish). Since we had such a long winter this year, I'd have to say I'd take hot right now. To be honest I'm kind of a mid temp person – between -15 to +25 is my perfect range.
Favorite place to read?
I love curling up beside the window and read with the natural light and the sun shining on me. Love it. I do also like to read out in nature. I love to go and sit by a creek, river, some sort of moving water and read. I really don't get to do this as often as I'd like and to be honest I get way too distracted when I'm out there to really do much reading. 🙂
He created a legacy that no one could imagine…

Tarin has lost a week of her life. She doesn't know what happened but not long after she returns to work she is suspended from her job. Confused and pregnant, she quits and agrees to marry Stephen, only to be thrown into a whole new nightmare. Desperate, she grabs her son and moves across the country to get away from her abusive husband and to avoid her unforgiving father. Thrilled at getting the job at Knights Associates, where she'll help them solve cyber crimes but also be able to use their connections and resources to find her own answers. Who stole a week of her life? And will they return to steal the secret she is now protecting?

Graham and his partner Guy, can't keep up with the demand. They are being flooded with requests at Knights Associates, where they offer a combined service of private investigator and that of solving cyber crimes. It appears that someone wants to get their attention as not only have they been hacked but Guy's family business, Caspian Winery, seems to be under attack as well. Hiring an assistant seems to be the answer but when Graham discovers she's been accessing their high-security accounts, he realizes the cause of their predicament might be closer then he thought. Is there new assistant behind the problems they're having? If she's so innocent why does someone want to abduct her?

Tarin and Graham discover that although they don't trust each other, they are forced to work together to solve several seemingly unrelated crimes that may lead to one disastrous conclusion. Can they figure it all out before Tarin's nightmare plays out? An eighty year old woman pays with her life? Or before Tarin learns a truth that may seal her fate and be the one secret that will keep her and Graham apart as neither one of them may be able to forgive or forget…

(Caspian Wine Series, Book Two – Standalone but is a Sequel/Companion Novel to Captured Lies)

Maggie Thom's talent for mixing mystery, intrigue and romance becomes a masterpiece begging to be read. Dii at Tome Tender
About the Author: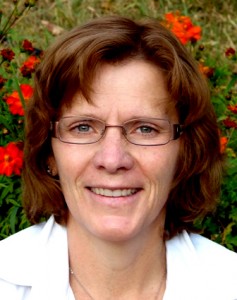 Award winning author, Maggie Thom, took the challenge and leapt off, leaving a fulltime, twenty year career in management, to write full time. After publishing her first suspense/thriller book Captured Lies, October 2012, she published her second novel, Tainted Waters, April, 2013. Tainted Waters went on to win 2013 Suspense and Thriller Book of the Year through Turning the Pages Magazine. She is excited to publish her third novel, Deceitful Truths, March 2014. An avid reader and writer her whole life, she decided to break the monotony of wishing to be an author by making it happen. She is an avid nature lover and likes nothing better than to take a book, hike to a remote spot by a river or waterfalls and read. Married to her best friend, she is learning that humor, love and patience help her navigate her way through her twins' teen years. Her motto: Escape to read and Read to escape. "Maggie Thom writes a fast paced thriller laced with romance that keeps the reader interested and on edge!" InDtale Magazine
She can be found at:
Website: www.maggiethom.com
Facebook: www.facebook.com/authormaggiethom
Twitter: www.twitter.com/maggiethom2
Goodreads: www.goodreads.com/author/show/6549592.Maggie_Thom
google +: google.com/+MaggieThom
Pinterest: pinterest.com/maggiethom2/
Goodreads: www.goodreads.com/book/show/18744447-deceitful-truths
Buy the book at Amazon, Amazon.ca, Barnes and Noble, Diesel, iTunes, Kobo, or Smashwords