Long and Short Reviews is glad that Joanne Kennedy stopped by to talk with us to celebrate the release of her newest book, How to Handle a Cowboy. Leave a comment for a chance to win a print copy of the book (US and Canada only).
What advice would you give a new writer just starting out?
First of all, read everything! Second, write a lot. If you want to write novels, don't spend your time journaling or writing short stories. Plunge right in and write a novel. Chances are you'll have to write more than one before you get the hang of it, and nothing can teach you to write a novel except the process itself.
Also, go to writers' conferences. I've never been to one that wasn't worth the price of admission. Keep an open mind, attend every workshop you can, and ask questions.
What, in your opinion, are the most important elements of good writing?
I think the number one element of good writing is great characters. When we remember books we loved, we don't remember plots; we remember people, like Scarlet O'Hara and Jane Eyre. You have to give those characters great challenges to face as well, and the higher the stakes, the better the story. But everything comes from the characters. The plot is a result of their actions and reactions, which are driven by their personalities and their pasts.
Tell us something about your newest release that is NOT in the blurb.
About a third of the way through writing this book, I was diagnosed with breast cancer. I wrote the rest of it through surgery, chemo, and radiation. I tried to make sure I wrote at least a little bit every day. I didn't feel like I got much done, but somehow I ended up with a book I'm very proud of.
I'm so glad that I never stopped writing. It helped me feel normal, as if the world was still turning and I'd come out of the treatments okay. And I did!
Are you working on anything at the present you would like to tell us about?
I just finished the second book about The Cowboys of Decker Ranch. This one's Brady's story. He's the youngest brother, and the most charismatic and carefree. His life is all about buckles, babes, and beer—until he accidentally injures a barrel racer who's his polar opposite. Suze Carlyle is driven and ambitious, and being knocked out of the running for a season is a disaster for her.
Brady's determined to accept his responsibility for the accident and help Suze until she's back in the saddle again, but the disastrous one-night stand in their past makes him the last person she feels she can depend on.
How do you come up with the titles to your books?
My publisher helps a lot. I write down every title I can think of that has the word "cowboy" in it, and they choose the ones they like. Often they come up with something new, like this time. The "Cowboy How-To" books were their idea. I think it's great!
Describe your writing space.
We just moved, and I now have a beautiful office with floor-to-ceiling bookcases, a beautiful mission desk and credenza, and pictures of my covers and awards hanging on the walls. It looks out on the hill behind our house, and a herd of mule deer often pass by my window.
So where do I write most of the time? At the kitchen table, of course! From there, I can look out of floor-to-ceiling windows at the little canyon we live in, and there's plenty of room for my three dogs to lay around and "help."
What is the hardest part about writing for you?
Definitely the last few weeks before a deadline. At that point, I've lost all objectivity and I'm convinced the book is terrible. I worry that it's a career-ender, and that my publisher will decide to cancel all my contracts because I've obviously lost my talent somehow and written a terrible, terrible book. Fortunately, I eventually get over this, and it's never been true!
What did you want to be when you grew up?
I wanted to be a writer. But after years of submitting bad adolescent poetry to literary journals and writing awful short stories, I decided I didn't have any talent. As it turns out, that wasn't the problem.
The problem was that I wasn't being myself. I was trying to be all literary and serious and angsty, and that's just not me.
I gave up and went into bookselling. I sold other peoples' books for twenty years before I finally realized I should try my hand at popular fiction.
Even then, I got it wrong. I tried to write a mystery, but the hero and heroine kept flirting and falling into bed. I finally figured out that romance was my niche, and I've been happy ever since.
Are you a plotter or a pantser?
I am a pantser. I don't want to be one. I would love to plan my books carefully and outline them in great detail, so that I knew exactly what I was going to write every day. But when I do that, my stories fall flat. I have to outline pretty loosely, and let the story play out through the character's responses to the situations I put them in.
If you had to do your journey to getting published all over again, what would you do differently?
I wouldn't have wasted my time on poetry and short stories. If you don't enjoy writing a particular form, chances are you're not very good at it. If I'd moved on to popular fiction right away, I'd have been a writer all my life. That's my greatest regret: that I didn't start sooner.
How do you keep your writing different from all the others that write in this particular genre?
I try to write about real people in the real West, facing modern problems through the lens of their old-fashioned, traditional values. Wow – thanks for asking that question! I've never managed to define my books so well before!
My books have a conscience – both a social conscience about those less fortunate, and a conscience about some of the challenges facing the West. But I never let those issues overwhelm what matters most, which is the story of two people learning to love and trust each other.
Tell us about the absolute BEST fan letter you have received.
I received a letter from a woman who had read One Fine Cowboy, my second book. She said that the hero, Nate, reminded her of her husband. Like Nate, her husband could show that he loved her, but had a hard time saying the words. She said she felt like I'd brought her husband back to her while she was reading the book.
On the day she wrote the letter, she'd just buried her husband, and she thanked me for writing a beautiful book.
That letter still brings tears to my eyes. If I never write another word, I'm happy I could ease someone's grief and offer that kind of comfort.
HOW TO HANDLE A COWBOY BY JOANNE KENNEDY – IN STORES APRIL 2014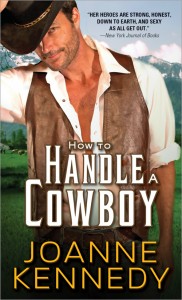 His Rodeo Days May Be Over…
Sidelined by a career-ending injury, rodeo cowboy Ridge Cooper feels trapped at his family's remote Wyoming ranch. Desperate to find an outlet for the passion he used to put into competing, he takes on the challenge of teaching his roping skills to five troubled ten-year-olds in a last-chance home for foster kids, and finds it's their feisty supervisor who takes the most energy to wrangle.
But He'll Still Wrangle Her Heart…
When social worker Sierra Dunn seeks an activity for the rebellious kids at Phoenix House, she soon learns she's not in Denver anymore. Sierra is eager to get back home to her inner-city work, and the plan doesn't include forming an attachment in Wyoming—especially not to a ruggedly handsome and surprisingly gentle local rodeo hero.
Praise for How to Handle a Cowboy
"Realistic and romantic… Kennedy's forte is in making relationships genuine and heartfelt as she exposes vulnerabilities with tenderness and good humor." —Booklist STARRED Review
"The sex scenes are juicy… Each character is essential to the storyline and the plot moves seamlessly." —RT Book Reviews, 4 Stars
ABOUT THE AUTHOR
Joanne Kennedy's lifelong fascination with Wyoming's unique blend of past and present inspires her to write contemporary Western romances with traditional ranch settings. Her books include Cowboy Tough, Tall, Dark and Cowboy, and the RITA-nominated One Fine Cowboy. At various times, she has dabbled in horse training, chicken farming, and bridezilla wrangling at a department store wedding registry. Her love of reading led to careers in bookselling and writing. She lives with two dogs and a fighter pilot in Cheyenne, Wyoming. For more information, please visit http://joannekennedybooks.com/.
To Purchase How to Handle a Cowboy: