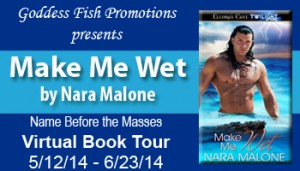 This post is part of a virtual book tour organized by
Goddess Fish Promotions
. Nara will be awarding a $20 EC gift card plus a reader residence in Reader Cove at the Virtual Greyville Writer's Colony to one randomly drawn commenter during the tour.
Reader Cove is part of the Virtual World at Nara's Nook. Check out a slideshow about the colony for readers and writers and see a Flicker set of images from Reader Cove.
You can click on the tour banner to see the other stops on the tour.
Putting on a Character's Skin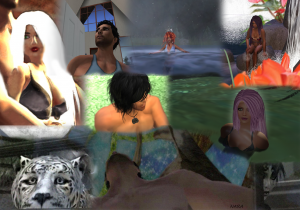 When actors want to prepare for a role, they'll often put themselves in a similar setting to the character they will portray in a movie. The cast of "One Flew Over the Cuckoo's Nest" checked into a psychiatric ward. Val Kilmer spent a year living like Jim Morrison—wore his clothes, learned lyrics to all his songs, hung out in his favorite haunts—to prepare for his role in "The Doors". To prepare for his role in "The Crucible", Daniel Day-Lewis lived in a recreation of a 17th century house without running water or electricity.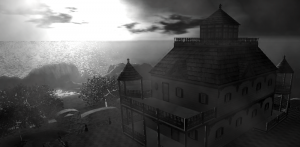 While I don't have the resources or access to settings that movie stars do, I do similar things to get in character for a story. In fact in some respects, I can go further into character than an actor can. In writing
Make Me Wet
, I learned to shift shape, turned myself into a seal and explored a magical underwater world in that seal body. To do that I used open source software called open simulator. It allows me to build the setting for my story and then explore it as an avatar, in the body of the characters I create.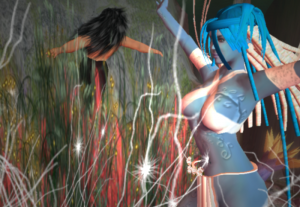 I often begin with a ready-made setting I can then modify to suit my story. Then I create the character, which involves me putting on an avatar and choosing hair, shape, eyes, clothing to create the avatar I will clone and interact with. When I have trouble with a scene I can put myself in the same place as a character, perhaps sit fireside on a beach and listen to the hero tell me his story. Or as I did with both Maille and Ronin, I can put on that skin and walk, or ride, through a scene giving me trouble.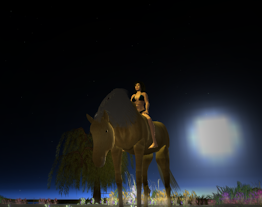 Why go to all this trouble?
Authenticity.
When I build a scene and character right my imagination fills in missing senses. When I sit in a virtual coffee shop with the sounds of dishes clattering, voices murmuring, and the whir of coffee machines, I can smell brownies baking. My mouth goes dry and I crave the feel of the warm ceramic mug touching my lips, scented steam tickling my nose. Had I not spent hours in coffee shops those details might not occur to me. When it comes to painting a scene and taking you to a place you've never been before, I need details that feel authentic to connect you to worlds and beings that only exist in fantasy.
If you'd like to visit some of the settings and characters I've created you can get details on how to do that
here
.
Seven tears cast upon the water summon the selkie, summon seal across the ocean, summon man from beast—liquid keys to break the curse. Freed one night every seven years, Ronin is doomed to repeat that cycle into eternity. Unless he can find a woman powerful enough to resist a selkie's irresistible pheromones and sex magick.

Maille believes she lost reality between Maine and New Mexico. Between where she is now and where she should be. She believes in facts, not magick. But facts can't explain how she wound up naked on a beach with the sexiest man she's ever laid eyes on. Or how she knows in her bones that losing herself in the passion Ronin offers is a path to disaster.

It's going to be a long, hot, wet night. Caught between sex magick and a sexy selkie, disaster is inevitable for Maille. To break the enchantment she has to rely on the oldest magick of all—the power of love-drenched hearts.
About the Author: Whether it's a shifter romance exploring the primal power of the wild feminine, or BDSM romance where love digs into a character's shadows, Nara believes romance should open the door and push lovers into a new dimension: sexually, emotionally, and sometimes physically.
You can learn more about Nara and her books at: www.naramalone.com.
You can learn more about Nara's virtual worlds and how to visit them at: www.narasnook.com.
You can contact her through the following social media links:
Twitter @nara_malone ~ G+ ~ Facebook ~ Pinterest
Buy the book at
Ellora's Cave
,
All Romance eBooks
,
Amazon
, or
Barnes and Noble
.