Enjoy these answers from a host of erotic romance authors — then enter the Rafflecopter below for a chance to win a $100 Amazon or BN GC and more!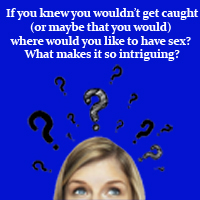 Desiree Holt
Crazy as it sounds in a janitor's closet or whatever at a football stadium. I love football and I can just imagine the pumped up crowd cheering and screaming while we have hot fast sex.
Melissa Schroeder  The office. I have no idea why it is so intriguing time me but I like the idea of office sex. It is in a lot of my books, lol. Maybe it's because hubby is military and there would be no way of doing that. And so, it would be on the forbidden fruit list.
Brenna Lyons  Um…I've already had sex most of the places I wanted to when I was young and adventurous, so there aren't many left for me to choose from. Grin…
Erin M. Leaf  In the middle of the woods in the middle of winter. On top of a really tall building. In our new car on a race track. Oh, the spark of danger and discovery! I can just imagine the look on the cop's face when he realizes he's hasn't discovered some teenage couple…
Wendi Zwaduk  An elevator. Cramped space, not a lot of time, why not give it a shot.
Sandra Bunino  In a coat closet at a restaurant. That seems so naughty!
Megan Slayer  With Chris Evans on the set between scenes. Yep, I've got a thing for Chris Evans. Why there? Because we could get caught and it's probably against the rules.
Renea Mason  The courtyard of PPG Place in Pittsburgh. The echo and reflections would would be so cool.
Jessica Jayne  On an airplane. I think it's intriguing because it's close quarters and there are so many people around. With all the regulations on airlines, it would be a challenge to get into the bathroom with your partner and get it done in enough time to not draw attention from the crew. But it would be challenge and I like a challenge! 🙂
Jessica E. Subject  Beside a waterfall. Though, I worry about bugs.
Avril Ashton  Anywhere in public. It's the whole what if and the unknown of getting caught.
Maxine Mansfield  Is there a bad place to have sex? I thought perhaps the beach would be cool, but then sand got embedded in certain places and it wasn't pleasant and took forever to get totally off. And, I thought perhaps beside a camp fire would be loads of fun, but that was before the bear showed up and we had to run for the safety of the car… naked. I even once thought that practicing a little… umm oral teasing while my partner drove down the highway would be interesting, but that was before the truckers passing us started honking their horns. I stay behind doors now, unless very well disguised anyway. 🙂
Julia Talbot  I don't care about getting caught, really, for me it's more about not getting a weird parasite and doing it in the water
BA Tortuga  Oh, y'all. I'm not worried about that. I've had relations in barns, elevators, corn fields, trucks, graveyards, playgrounds, haunted hotels, roofs…
Denyse Bridger  On an outdoor balcony, during a ritzy party, hidden in the shadows, but close enough to have an edge of danger… It would be sudden, desperate, intense, and risky, but absolutely needed at that moment…
Anya Richards  I saw a video once, shot by a Scandinavian erotic film maker, of a couple up on a bluff with a seascape behind them. It was as though they were making love in the sky, with the world spread out beneath them. It was erotic, arousing and beautiful, and I'd love to re-create that with my honey.
Diana Hunter  In nature, preferably in the woods. It's so primal! Two people making love surrounded by life? What's not to love about it?
Of course, I'd put a blanket down. I'm not that keen on bugs…
Lynne Connolly  On a roller coaster. The G-force!
Charlotte Boyett-Compo  We weren't caught but I wouldn't mind going back to a certain section of the beach in Gulf Breeze, FL. where my husband and I spent a couple of hours one night looking for..ah…UFOs. Never saw any but I did see stars a couple of times even though it was thickly overcast. I made sure my husband saw them, too. 😉
Sharita Lira  On the streets in the French Quarter during Mardi Gras. I think the intrigue is all those people walking around. They might stare or not. I wouldn't care. If only I was that bold. *laughs*
Cameron D. James  In a hot tub, outside, at a ski resort in the winter. The mix of hot and cold, and the outdoor setting, would make for an intriguing and exciting experience. Hmm… I should look up vacation packages to Whistler… *opens new browser tab and visits Expedia*
Christie Butler  Definitely outside- maybe the beach or along a river. I love the idea of the sounds of water and nature. It would be intriguing because it would be comfortable and very From Here to Eternity. I wouldn't mind getting caught, but from a distance! I don't want any up close peeping Toms!
Sabrina York  I love the idea of a warm wet tryst in a hot tub beneath a full moon, preferably in a place that has no mosquitoes.
Rory Ni Coileain  Well, I've already managed Grand Central Station (the statute of limitations has run on that, right?) So next on my list would probably be a library. The older, more revered, more hallowed the better. There's something about all those books (of course!), but also the absolute need not to make a single sound, at a time when one would want, need, to pant and moan and scream and… well. You get the picture.
Lucy Felthouse  Ha. I've already had sex somewhere pretty damn risky. At Alton Towers (the UK's most popular theme park) I sneaked off with my boyfriend at the time (this was many years ago) and we went into part of the castle and got it on in there. I looked out of the window and could see hundreds of people milling around, just feet away. It was pretty risky!
Eden Bradley  At night lying on the grass in Shakespeare's Garden in Golden Gate Park in San Francisco. When I lived there it was one of my favorite spots to visit. It's sort of tucked away, and it's such a beautiful, romantic spot, with roses everywhere. Plus, I'm a romance author and it's Shakespeare's Garden, after all-how romantic can you get? Hot sex is even hotter when there's a romance involved-and if I'm doin' it in public it has to be with someone I trust. Or…yaknow…Johnny Depp and Lenny Kravitz.
Cassandra Carr  I always thought someplace like the middle of a field in a park (like the outfield on a baseball diamond) would be pretty cool. You're out in the open, it could be night or day, so there's a possibility of being caught. But since the area you're in is bigger you might be able to hide what you're doing. 😉
R.G. Alexander  In the second story of Possess Me, in Marley in Chains, and in one or two other stories, exhibitionism is my word of the day. Restrooms in clubs or restaurants (those nice clean ones lol) And in Burn With Me, up against a building in a small alleyway. I think the forbidden is always intriguing. The idea that you cannot wait to get behind closed doors, or to a bed. That you're so lost in the moment that it doesn't matter, or even better, that a part of you kind of wants to be seen. Revels in the idea. Makes you feel like a teenager making out on the couch with your parents asleep upstairs, trying to see how much you can get away with before the lights turn on and you're grounded. Not that I know anything about that. I'm a good girl. I just have a bad girl's imagination.
Lainey Reese  I have this reoccurring fantasy where I'm making love in the back seat of a car while it's being driven down the freeway. It's night and the car is repeatedly lit up by all the other headlights and I can see over the shoulder of the man I'm with that the driver can hardly keep his eyes off us.
Then we get pulled over. By a very hot officer and then some very exciting things happen there on the side of the road…very exciting indeed.
Katalina Leon  Personally, I love taking risks and I've followed or led my husband into a few risky positions. In the past we've had fun on airplanes, parking structures, beneath palm trees on a beach at night next to a bar, stairwells etc.. I hope I can continue to be sneaky and enjoy this stuff into my old age.
MK Schiller  Love in an elevator is more than a song. That seems the most risky, especially with the possibilities of time elements and hidden cameras!
Victoria Blisse  Oh, definitely a public park, in the bushes, just as people walk past. That's why I'd love to do it, it's naughty and risque and really sexy!
Jennifer Leeland  My office where I work. My husband and I always joke that we'll do that someday. LOL! I'm not sure why that seems so arousing, but it does.
Kate Deveaux  Elevator. The thought of getting caught.
Ayla Ruse  In a nice restaurant. I'm not sure why it intrigues me. Maybe because I love food and I love sex. Put the two together – along with the dim lighting and background music – I think it'd be amazing.
Fiona McGier  I like sex in unexpected places, like in a shower at a campground, while the kids were sleeping. Or at a concert where I was sitting on his lap wearing a skirt and no one could tell what was going on under it. The danger of being caught made it double exciting because we were being naughty, even though we were married at the time!
Sarah Castille  Seat of a biker's chopper. Who wouldn't want all that muscle?
Anna Alexander  I've had sex in some pretty unusual places, but I think in the stairwell of an office building would be interesting. It'd have to be fast and intense to avoid being caught, and you'd have contort in to all sort of fantastic positions. Then there's the whole sound issue. Could you keep quiet?
Cathryn Cade  I love to put my characters in risque situations, and my new series debuting next fall includes sex in a Portland, Oregon BDSM club, which as you may know often has an audience. The hero likes to show off his lady.
But only in my dirty girl imagination! I'm a romance writer, not a sexual provocateur, lol.
Lila Shaw  I'd like to be a spy for my country and seduce top secret information out of an international enemy…who happened to be really cute and a stud in bed. Heh-heh. The ultimate patriot who asks not what her country can do for her, but what she can do for her country…in the bed, in the shower, against the wall, in a limousine, etc.
Kate Hill  I'd like to have sex in an outdoor hedge maze, preferably on a warm summer evening. The maze itself is both beautiful and eerie. That's what makes it intriguing to me. It would be fun to have sex with someone you completely trust in a place that's a little bit creepy.
Heather Long  Where wouldn't I? And having nearly been caught inflagrante delecto once or twice, I'm pretty adventurous
Jean Hart Stewart  On the beach on a moonlit night. How to you avoid the sand getting in intimate places would be a challenge. Somehow the thought turns me on.
Desirée Lee  I don't know if there is a specific place, but I think it would be cool to have experienced the act of lovemaking on every continent – even Antarctica. We'd have to take care not to get frostbite on any of our naughty bits though!
Nina Pierce   I love having sex outside, especially in the summer on river banks. There's something sexy about slipping into the cool water naked and snuggling up to Mr. Nina. Though no one's ever actually spoken to us, I suspect we've been seen/heard enjoying an afternoon interlude by other hikers on a couple of different occasions.
Bobbi Brattz  My lover would be building his workshop, standing on a ladder. I come up to him from behind and press my naked body against him. We have lots of company visiting but we are alone together.
The intrigue is the fear of being caught. When I kiss his lower back he shudders…enough said.
Kay Dee Royal  I'm a rustic kind of girl and like it in the woods – it's wild and free, open and ambient;) There's always a chance at getting found, but not likely…although once on a wooded hillside of a lake, a boater (with wife and child) came floating by and captured the backside of my DH *grins*
Yes, there were trees, but apparently not much underbrush. Don't think the kid saw a thing, but his parents got an eye-full.
AND, to be honest, I stayed buried beneath…mortified! Although, I looked down at them a couple times to see if they were still looking…
Tonya Renee Callihan  In a dressing room! I've always wanted to, you could get caught, be watched or heard. It's a rush.
Gale Stanley  Sex on a rooftop, under the stars. And if the building was in Bangkok, that would be even better. Did I mention Bangkok Love Story is one of my favorite movies?
Naomi Bellina  Something about museums after hours is very sensual to me. I would love to do the deed in a room full of fine art, knowing the guard could walk by at any moment. How scandalous!
Kemberlee Shortland  I don't think location is as important as the person you're with. Outside is always more exhilarating, I find. All that fresh air, the breeze on your skin . . . something primal about it. I'm a fairly private person when it comes to my intimate exploits, so I'd REALLY need to know we were the only two out there. Cars are fun though 😉
Hurri Cosmo I have always liked to "do it" where I work. Most of the time in the past my husband and I have owned our own businesses so it has been doable and not illegal. But I loved "christening" our offices!
Lyncee Shillard  I skipped this question…thought about it and came back. Really, I'm fairly unimaginative here. It would be a movie theater. Why? because you're surrounded by people who are so engrossed in something else they miss this really bizarre thing happening just a few seats away.
Angelina Rain  I always wanted to do it outside by a campfire. It seems so romantic to be on a warm blanket, looking up at the stars, and the warm flames giving enough light to see what you are doing. If only there were no mosquitoes.
Trina Lane  I assume you're asking about public places? Again this kind of goes back to my love of nature. I'd have to say that having sex outdoors, maybe in the middle of a forest or a field would be scintillating. There's enough privacy to make me feel safe, but just a hint of possibility of being seen.
If you're asking about non-public locations then I always thought it would be cool to do it in space. Maybe pressed up against a window looking down at earth. I suppose some form of artificial gravity would be necessary in order to obtain optimal force, but anti-gravity might be fun to place with too.
Elyzabeth M. VaLey  If I knew I wouldn't get caught I'd like to have sex in the office, on a conference table (you know, one of those really big ones where executives get together to discuss important matters). It's intriguing because it's sex in a place were you aren't supposed to be doing it!
THIS IS THE RAFFLECOPTER FOR TUESDAY. DON'T FORGET, THERE'S A DIFFERENT RAFFLECOPTER WITH NEW PRIZES TOMORROW.  AND, CHECK OUT THE RAFFLECOPTER ON MONDAY'S ANNIVERSARY POSTS.
a Rafflecopter giveaway