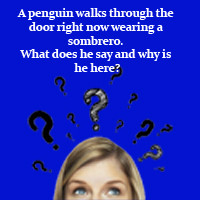 Desiree Holt  Hola, senora. I have come to take you away from this heat. Have you ever been ravished by a penguin?
He's here to give me a new plot for a story.
Heidi Lynn Anderson  Honey, Im home! what's for dinner?
Brenna Lyons  Well, many penguins make a braying sound, hence the nickname of "Jackass penguins." Only a few species (like Emperor Penguins) vary from that, and since life isn't a cartoon, we'll just assume he's not speaking English or Spanish.
Why is he here, and what does the braying sound mean? "Where's the fish, b(&%#?" Penguins are fairly simple creatures with simple tastes. The answer, of course, is "In the freezer." I wouldn't feed them my husband's fish from the tank. That would be mean…and not enough to feed a penguin anyway.
Marie Tuhart  Hey Amigo, why is it so hot in here 🙂
Wendi Zwaduk  Hey baby, want to samba?
He's there because it's time for the international samba competition.
Sandra Bunino  Does this getup score me one of your famous margaritas, Ms. Bunino?
Megan Slayer  The sign said welcome, so he stopped by. The first thing he says is, where's the party?
He's ready to boogie down with his sombrero. He also smelled fish and what penguin passes up fish? Not him!
Renea Mason  Damn that tequila's strong. If the Night Manager from Don Pablo's offers you a fish taco, just say, "No."
Jessica E. Subject  He's here to tell us we've won a vacation to anywhere in the world we want. I can hope, right?
Adriana Kraft  "I heard it was hot in here!"
He got cold and he's looking for a way to turn up the heat. Nope, not having sex with a penguin (and we don't write shapeshifters) but I'll happily sell him a hot book to heat things up.
Valerie Twombly  "Chiquita! There's a party next door and we need more Tequila. Grab your bottle and come join the fun." His tail does a quick wiggle.
I grab my bottle and a sombrero and together we cha-cha out the door. In my world nothing seems strange.
Amber Green  He asks which way to the can, because he's obviously here to see the cats. I can't really claim to be surprised because the cats have obviously been up to something lately. The penguin's in for a surprise, though, because the cats speak even less Spanish than I do.
Maxine Mansfield  "Whew, it sure is good to be back home in Alaska. Those senorita's were a whole lotta fun, but nothing beats hot lady Polar bear putang out on the middle of an ice-float. Mind giving a guy a ride to the tundra?"
Julia Talbot  He says, Como esta frijoles. How you been? (get it? hee) I don't know why the penguins come for me
BA Tortuga  "One by one we penguins steal your sanity." And he's really not here for me, he's here to play with the puppies.
Kayelle Allen  "Hola, amiga!" He looks around, sniffs the air, and then smiles. "I know you have fish and chips in here. I can smell them! I brought the salsa. Bring out the goodies and I'll show you how to make fish tacos to 'dive' for." With that, he whips off his sombrero, revealing the salsa, which he hands to me. It's a big red bowl full of brightly colored black beans, corn, tomatoes, and jalapenos. What else can I do? I hand over the fish and chips, and say, "Let's get this party started!"
Anya Richards  "I knew I should have taken a left turn at Albuquerque!" He's been on vacation with Bugs Bunny, and now their both lost. I'd give him some ice and point him in the right direction!
Dee Brice  "Take off your clothes. I swam all this way and cannot wait any longer to posses you." Of course he says this in Spanish and his accent melts all my resistance.
Diana Hunter  He says: "Hey, chica! Let's get it on!"
Why he's here: Because I had too many Tequila Sunrises
Lynne Connolly  "Have you seen Nick?" (my friend Nick is with the British Antarctic Survey. and he has an unusual wardrobe!
Charlotte Boyett-Compo  He's here because Chris is throwing Antony a party to celebrate the renewal of Banshee for a second season. There are ten other guys out there…Tym Olyphant, Bradley Cooper, Anson Mount, Wes Bentley, Scott Speedman, and a few others…sitting on the deck watching the tide come in. Chris put the penguin…his name is Pedro…in charge of making the Bloody Marias for everyone. Pedro says, "Ai, chihuahua, mamasita! We've run out of José!" I tell him to go tell Chris. He has the Audi out front and since he's the Canadian version of The Transporter, he can just hie his cute little ass down to the liquor store and get more tequila. I'll just keep sitting here in Ant's lap until he returns.
Cameron D. James  "Where da party at, bitch?" he says, as he chugs a sardine martini.
Christie Butler  "Hola, amiga!" He is looking for a flamenco partner and he's had it with the ice and cold
Sabrina York  He says, "Hola! Donde esta los Margaritas?" And you know he's there to party!
Lucy Felthouse  He says it's bloody hot in here. And he's here to bring me the winning lottery ticket. Thanks, penguin!
Cassandra Carr  So a rabbi, a minister, and a penguin walk in the door. Wait, where did those guys get to? Keep running away… *grumbling, he walks back outside, presumably to look for the other two pieces of his joke*
JB McDonald  Clearly, he stumbled in from the Mexican joint on the corner, which is EXTREMELY popular in this area. He's had too many margaritas, and forgot where on the curb he parked his car. Poor thing!
He didn't get a chance to say any of this, though — I'm just assuming — because his drunken stupor cleared up a fair amount when four dogs amounting to 260 pounds leaped up and charged. He just screamed like only penguins in sombreros can, and went flapping back down the walkway!
Tracey H. Kitts  "Drugs are bad." Because someone clearly spiked my coffee.
R.G. Alexander  "Here's a tip. If you ever have the chance to travel with a Mexican rodeo…pass" Wait that's from a b-science fiction movie with Charlie Sheen. I can't take credit for that, but its the only thing I can think of at the moment. *G*
Lainey Reese  "I knew I should have taken that left turn at Albuquerque."
Leah Braemel  He says "'Allo, mate!" in a broad Australian accent. (I know I know, penguins aren't from Australia, but for some reason I always hear them with an Aussie accent.) Why is he here? Because it's tea time!
Victoria Blisse    "I took a wrong turn in Albuquerque."
He's really Bugs Bunny in disguise, clearly.
Jennifer Leeland  "NOW the party can start! I brought the ice……"
Kate Deveaux  "Where's the party?" He's on his way to Cinco De Mayo but he's six months late as he's been waddling up from the South Pole for the past months.
Ayla Ruse  (In a heavy accent) "Congratulations! You won a trip to Tierra del Fuego. We leave now. Come, follow, and all will be taken care of for you."
Fiona McGier  "Ah, señora, I told you that you cannot learn español simply by owning the entire Rosetta Stone series. You must listen to and go through each CD and all 5 levels! Only then will you become fluent!"
Then he shakes his head at me and beats me with his flippers, to make me see the error of my ways. I scream out, "¡Lo Siento!" Then I wake up in a sweat, wondering where that water in my bed came from.
Sarah Castille  It's raining cats and dogs out there and I'm looking for my chick.
Cathryn Cade He says 'Cathryn, I hear you write red hot romances about shifters. Here I am, senora.'
I say, 'Sweetie, if you shift into a man, you'll be too small to find a heroine for.'
He says, 'I love tall women. And you are looking very fine.'
I say, "I have another girl for you to meet. Here, Daisy.' She's my golden retriever puppy and a bit rambunctious.
He says, 'I just remembered there's an ice bar in the next town. Adios, ungrateful one.'
Kate Hill  "Hey! Yeah, that's right. I'm talking to you. Listen up because I feel really stupid wearing this sombrero but I can't take it off until you come with me. It's a transport device. You heard what I said. Get off your butt and take my wing. Yup. Just like that. Whoa, you have nice, warm hands. You smell good too. Baby, you're gonna enjoy this. Don't worry about the blinding light and the spinning sensation. It'll be over in a minute. Yup. See. Told ya. What's the matter? Haven't you ever been on the deck of a spaceship before? The captain sent me for you. He's right there, the tall guy with the big gun. Don't worry, he's not here to hurt you, baby. He's here to learn about Earth and he wants you to teach him."
Heather Long  I'm pretty sure he'd scream "help me!" as my dogs flipped out and started chasing him and my house would turn into a disaster area of looney tunes proportions and I'd likely never find out why he was here…
Jean Hart Stewart  He says "Let's party, girl." And he's here to make me think I'm insane.
Desirée Lee   "Is this where the auditions for 'Happy Feet goes to Mexico' are being held?"
He's just looking for his 15 minutes of fame!
Nina Pierce  You've been working long and hard … I've made a batch of margaritas and we're going to enjoy them by the pool. (I love this penguin.)
Bobbi Brattz  "Where is the party, mi amigos?" He's looking for a formal tuxedo Mexican party.
Kay Dee Royal  Hey, little missy…*wiggles little eyebrows* Let's go party 'til the sun comes up. *grins, and holds out a fin* LOL And, of course, I take it in hand…after all, how often does a girl get asked out for entire night…by a talking penguin?
Tonya Renee Callihan  I'm looking for the Mexican Fiesta! LOL I'm not good at jokes!
Gale Stanley  Everybody knows penguins can't talk, but he's probably looking for a party.
Naomi Bellina  He says "I bet you wish you hadn't polished off that pint of ice cream. Having sugar overload hallucinations, are we?" He's here to remind me to put the treat away and not be such a pig next time.
Kemberlee Shortland  ¿Qué estás mirando? Estoy aquí por los tacos de pescado. ¿Qué estás haciendo aquí, y dónde está TU sombrero?
Hurri Cosmo  Kiss me, I'm really a prince
Lyncee Shillard  Where's the tequila? He'll be carrying a drink tray of Taco Bell's frozen drinks because they rock with tequila. And why is he here??? Because few understand the goodness of Taco Bell's frozen drinks and tequila.
Sherrie Henry  "I took a wrong turn at Albuquerque. Got a map?" The penguin looked down at his watch. "I seem to be very late for Cinco de Mayo."
Trina Lane  "Good Afternoon. Do you know where I can find a frozen margarita?"
He's was a pilgrimage from the south island of New Zealand to the Galapagos when his plane was hijacked by a rogue tuatura. The tuatura was tired of his exclusionary life in New Zealand and wanted to see the world. The two of them got drunk in Rio de Janeiro during Carnival and somehow ended up in a cargo plane heading for the United States. They bailed out using on board parachutes and are hitch hiking across country to get to the coast and find a way back home.
Elyzabeth M. VaLey  A strange noise catches my attention and I look around, searching for its source. I glance at the clock. It's way past midnight and maybe I'm starting to hear things. I try to shrug off the sound but it only seems to come closer. Finally, I look to my right, My eyes widen as a penguin walks through the door wearing a colorful sombrero. I stare.
The penguin glares at me, "What are you looking at?"
Wordlessly, I switch off my computer and walk past the quiet animal. It's definitely past my bedtime.
THIS IS THE RAFFLECOPTER FOR FRIDAY. DON'T FORGET TO CHECK OUT THE RAFFLECOPTER ON MONDAY, TUESDAY, WEDNESDAY, AND THURSDAY'S ANNIVERSARY POSTS.
a Rafflecopter giveaway