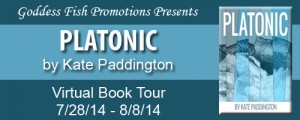 This post is part of a virtual book tour organized by Goddess Fish Promotions. The author and publisher will be awarding a $25 Barnes and Noble GC to a randomly drawn winner via the rafflecopter at the end of this post. Please click the banner to visit other stops on this tour.
Kate, thanks so much for stopping by. So, why don't you tell us a little about yourself?

Happy to be here! Thank you so much for the chance to talk about myself and my new book. I'm a 26-year-old Australian, currently living in Melbourne but planning on moving myself to the USA or Europe next year for work. Work is science. I just finished up a PhD in biophysics that had me directing high-powered lasers as cancer cells and Rabies or malaria infected cells on a daily basis. That's my day job but to off-set it I've been escaping into romantic stories for over a decade. Only now I've gone and written a novel! Besides that, I have two sisters, just slightly younger than me, and a 17 year old dog has the most judgmental eyes of anyone I've ever met!
How did you get started writing?

When I was about 12 years old I started writing fan fiction about a show called Farscape (an Australian TV show), and then it just progressed, it became a hobby and I found people at school who liked the same shows and loved that I wrote extra stories on top of them. Ultimately, it was about escapism and attention seeking, in equal parts I think. As a 12-year-old girl, I thought I had something to add. Over time, the writing and themes improved, got more complex, and I realized that what I was really doing was writing my own stories but making them fit pre-determined characters so that I would have an audience. Then this offer for a novel came along and there was no way I could say no.
What was the inspiration for your book?
Platonic originated as fan fiction. Actually, as two separate works of fan fiction that were inspired by a show with young characters with such youthful flaws, whose growth into adulthood and a real ability to love I was overly eager to see. I was frustrated and wanted to write a love story where high school sweethearts broke up, grew up and really figured themselves out, and then came back together to try again, Ultimately I wanted a happy ending love story for two imperfect, young individuals and to do that, with the original characters I came up with, I had to have them apart for almost a decade. By the time I was done, I had a novel on my hands.
What's the one genre you haven't written in yet that you'd like to?
Platonic is my first novel so there are many genres I haven't written in. But I'd love to delve into something paranormal. I used to write fan fiction for the TV show 'Doctor Who' and I wrote a lot of alien stuff and I would really love the chance to write a novel in a world like that. I need to come up with one of my own first, of course.
Are there any genres you won't read or write in? Why?

No… Not that I can think of. I haven't really delved into erotic romance fiction so there might be some out there but, in general, I'll try anything once, twice just to be sure, and characters are the thing that usually grab me… I am yet to come across a story without characters.
So, what are you working on right now? Got any releases planned, or still writing?

Once Platonic was written and edited into the story I wanted, I flung myself into the last six months of my PhD and that's pretty much all over now as well! On top of that I have something like five scientific articles out under review at the moment. So all that science feels like it is done and the novel is done — so what's next? I'd be lying if I said there wasn't another story ready to be written. It's been there ever since I realized storytelling was possible. But I haven't dared to actually begin putting it into words on the screen so I don't really want to say what it is or that it's 'next'. Suffice to say that it's another growing up to fall in love story, but set in Australia this time, and who knows, maybe it'll happen.
All right, now for some totally random, fun questions. Favorite color?

Black. No. White. Anything color can be found in white. No… proper answer. Blue, like a deep turquoise with purple fringes.
Favorite movie?
Maybe… Pirates of the Caribbean? That got me through Year 10.
Book that inspired you to become an author?

My senior yearbook in which my English teacher told me not to relegate myself to science, but to keep playing with words and art as well.
Okay, you have one superpower. What is it?

Two-way telekinesis.
You can have dinner with any 3 people, dead, alive, fictitious, etc. Who are they?

Someone I could be romantically attached to, married to, in love with, until death (because it would handy to meet said person now, please). Plato, the Greek philosopher, so I could ask him what the hell he meant by all the stuff he said because no one really has a clue these days. Ryan Murphy, the dude behind Glee, American Horror Story, and Nip/Tuck just because I'd love to poke at his brain.
Last question: Which of your characters are you most like and how/why?

Mark. Mark except probably without the influence of Patrick. I took a different route. But we are the same with all the strict upbringing and people-pleasing, the never knowing what I want or how to ask for it. Letting things get to me for ages but never complaining until it all boils over and I fall apart. The relentless need to work and succeed. Yeah, I am Mark.
That's all from me, thanks so much for taking the time to stop by!

Thank you for so many fantastic questions! Some of these really made me think and I've had a lot of fun talking about my book!
Mark Savoy and Daniel O'Shea were high school sweethearts who had planned their forevers together. But when Mark goes to college in California rather than following Daniel to New York, he embarks on a decade-long search for independence, sexual confidence and love.

When Mark lands a job in New York and crosses Daniel's path, they slowly rebuild their fractured friendship through texts and emails. If they finally agree to see each other, will they be able to keep it platonic? Or will the spark of a long-lost love reignite just as Daniel accepts a job overseas?

Platonic is a story of trials, growth, and knowing how to learn lessons from the past to build a future.
Now enjoy an excerpt:
"Why did you ask me?" Daniel asks, genuinely curious.
"That's unfair. I've been asking you all night why you came."
Daniel holds his gaze. "You know that night in the bar, when I ran into you?" Mark tilts his head—he remembers. "You asked me to email you and your eyes were wide and pleading and there was no way I was going to be able to say no to you. I remember wondering if you used the same face on juries, to get your way in court. I guess what I'm saying is that I still don't know how to say no to you. I still don't know how anyone does."
Time stops around them, stutters and then kicks back in when their eyes slip away from each other. Neither one of them knows what this is or what to do with it. Neither of them walked into this dinner tonight thinking "seduction" or "relationship" or "date" or anything like that. They were far too busy not thinking it.
"Did you want to say no?" Mark asks.
"Of course not. I wanted to come. Of course I did, Mark." And then somehow they're touching. Without giving it any conscious thought, Daniel has reached across the space between them and caught one of Mark's hands in his.
The realization that they are touching comes slowly to Mark; his nerves feel sluggish, his brain has trouble processing the simplicity of the touch, just skin on skin, not intimate or unwelcome or leading to anything. But Daniel is touching him—and not briefly, not fleetingly, he's holding on—and suddenly it all rushes back through Mark and he never, ever wants to let go.
Not ever. This is it. Daniel is it. He always was.
"You broke my heart."
ABOUT THE AUTHOR: Kate Paddington wrote her first work of fan fiction at age 12. Today, at age 26, she has degrees in philosophy and chemistry, and is currently completing a PhD in biophysics. A native of Australia, she has published numerous academic papers as part of her research. Platonic is her first novel.

Links:

https://www.facebook.com/pages/Kate-Paddington/1488275144718727

https://twitter.com/KatePaddington

Buy link:

http://store.interludepress.com/products/platonic-by-kate-paddington