Writing a Magical World by Molly Ringle
I've written paranormal fiction before, but with my novels Persephone's Orchard and its sequel Underworld's Daughter, I've had to go farther into magical world-building than ever. The series is set in the real world, but it's an Earth with an expanded supernatural side involving Greek deities. (And since it's part modern day and part Bronze Age Greece, there's been some historical, or more like prehistoric, research to do as well.)
With any story involving magic, it's important to set rules about how the magic works, and to stick to them. So here are some of the current magical rules I'm using for my series:
Magic can't fix everything. This is the big important one. My immortals can only do so much–in fact, even their immortality can be defeated if their enemy tries hard enough. And there's no fixing death. In general, there aren't many miracle cures. For the most part, the magic in my series is hard to obtain and tricky to use. This makes my characters' problems more challenging. Yes, in traditional mythology, the Greek gods can pretty much wave a hand and fix stuff at their whim, but we modern novelists have to make obstacles more difficult to defeat than that, or the story won't be very interesting.
The Underworld has its own rules that you can't do much about. The Underworld, where all souls go when they die, is a really cool and mystical place. But I diverged again from traditional myth by deciding that Hades and Persephone (or similar immortals) do not personally rule over it and sort out all the souls. Logistically, that would take an impossible amount of time, since I'm going with a basically realistic time system–no "time works differently down here" in these stories. Therefore, in my version, the Underworld takes care of itself: it sorts evil souls from good in silent and mysterious ways, and infuses certain plants with certain types of magic that people can use if they can get to them. My immortals are thus more like stewards of the spirit realm and the living world, rather than rulers of it–because I don't know about you, but I'm not prepared to explain why everything happens the way it does everywhere on Earth, in all its egregious unfairness and cruelty. Nope. I do not have those answers, and neither do my characters.
No magic jewelry. This was arbitrary of me, but in quite a lot of fantasy/paranormal fiction, jewelry contains magic in some way important to the plot. (Frodo and the Ring, Harry Potter and various rings and amulets; heck, rings or amulets in so many things…) And I wanted to be just a bit different. So I've stuck mainly to magical plants, which is in keeping with Persephone being a goddess of spring, and also with the myth in which she's bound to the Underworld by eating pomegranate seeds. However, I should add that this series isn't done yet, and it's possible that in the third book, which I'm now working on, I'll end up writing about some jewelry-like item that's magical.
Relax. As long as it's a good read, people will forgive any potential magical plot holes. In some of my absolute favorite series, whether TV or book, I can poke holes in the plot and go, "Come on, why didn't they just use magic spell/device/loophole X?" But it doesn't make me love those series any less. In fact, as any fan knows, it's actually fun to ruminate upon the plots that deeply. So creating stories that enthrall, and characters people can love (or hate), is really the only important rule. A good book is its own magic!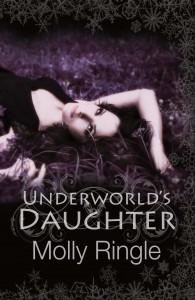 If you like Greek mythology, New Adult romance and a touch of the paranormal, check out The Chrysomelia Stories by Molly Ringle. The story centers around Sophie Darrow – a normal college freshman – who is abducted by a man she's never met before and tricked into eating some pomegranate. What follows is her realization that she is no other than Persephone and her kidnapper – Hades himself.
As the official release date (June 27) of Underworld's Daughter approaches, the second book in the series after the very successful and well received Persephone's Orchard, we are very happy to point you towards an awesome giveaway!
The lucky winner will be receiving:
• Signed copies of both books
• 1 oz Persephone's Pomegranate Blend looseleaf tea by Dryad Tea (black tea with pomegranate and vanilla)
• 25 plantable paper mini-flowers with wildflower seeds, by PaperSprouts (on Etsy)
• $5 Starbucks card
• Pegasus Greek coin pendant necklace from PartsForYou (on Etsy)
To enter, just fill out the Rafflecopter and hopefully you'll win. If not, never fear, apparently the publisher will be offering more awesome giveaways like this one in the coming weeks.
And if you haven't read Persephone's Orchard yet, there's good news there too since the ebook will be only $0.99 on all major bookstores for a limited time starting on June 27!