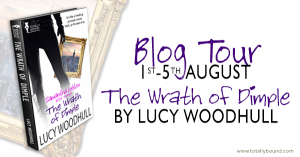 This post is part of a virtual book tour organized by the publisher.
One Kiss, Two Kiss, First Kiss, Who Are You? Kiss
Hi, I'm rom com author Lucy Woodhull, and I'm here to talk about first kisses that aren't.
There's a reason I gave Sam, the hero of my new book THE WRATH OF DIMPLE, amnesia. Excuse me—Samnesia. It wasn't to torture him because I'm a wicked writer, although that is a nice bonus, bwahahahaaaaa. (That's my evil laugh. Good, right?)
Sam and Samantha are the hero and heroine of my Samantha Lytton series of romantic comedies. He's an art thief, she's a secretary turned movie star, and they drive each other nuts in the hottest way possible. They experience ups and downs from Los Angeles to Bruges, but have a lovely happily-ever-after at the end of the second book.
So naturally, I had to ruin it!
Here's a blurb for the third book in the series, THE WRATH OF DIMPLE:
Unforgettable. That's what she's not.

Life is perfect for Samantha Lytton, big-screen superheroine. Her acting career flourishes, the bad guys from her past are in prison, and she's married her true love, be-dimpled ex-thief Sam. Everything is so rosy and idyllic, it's like a freaking princess movie. Well, an R-rated one. Nothing could mar Sam and Samantha's fairy-tale romance!

Except the moment in the emergency room when Sam, his head cracked open, turns to his beloved wife and asks, "Who the hell are you?"

He's suffering from…Samnesia! (At least he still laughs at Samantha's stupid puns.) How on earth did that happen? If Samantha is going to live her very own soap opera, she'd choose an evil twin over amnesia any day.

With no idea who has attacked Sam or why, Samantha is left in the depths of despair with a hunk who doesn't remember her, a creepy film director who's getting more threatening by the minute, and, oh yeah, the people who continue to try to murder Sam. How do you solve a mystery wrapped in a head bandage inside an empty skull? Nothing a little Norwegian fish porn and a lot of cleavage can't fix. Hopefully.

Samantha needs every ounce of her courage to win her husband back before their enemies catch up to finish them both off. She thought their love was written in the stars, but it might just be scribbled on an Etch-A-Sketch.
Wiping out my poor hero's brain allowed me to explore his relationship with Samantha all over again. The first two books, THE DIMPLE OF DOOM and THE DIMPLE STRIKES BACK, were about Sam convincing Samantha that he could be the man of her dreams, even if he's a thief and a little bad. Medium bad at worst. But the third story, THE WRATH OF DIMPLE, is all about flipping that script. It's now Samantha's turn to woo her man all over again; if she can't convince him they're made for each other, he might leave her behind to return to a life of crime.
The fun part for me was all the firsts that happen in a relationship. First for one character, but not for the other (repeat evil laugh). Here's an exclusive excerpt from THE DIMPLE STRIKES BACK—it's Sam and Samantha's first kiss post-Samnesia. They've just been visited by the FBI, who thinks that Sam was up to no good when he got bopped on the head. Samantha fights to keep him out of a secret government prison by name-dropping, a questionable strategy at best. But it totally works in Hollywood!
As soon as the door had closed, Sam shot to his feet. He swayed for a moment, but got his bearings pretty fast. "Steven Spielberg?"

I walked back to the couch. "You think he couldn't rescue you from a secret prison? He's the most powerful non-evil man in the world! And then Josh Holloway would earn an Oscar for playing you."

He uttered a strangled laugh/sob, swept me into his arms, and held my head to his chest. Aw, I hadn't known he was such a Spielberg fan.

I sighed, or maybe I moaned, and sank into his smell, his heat, nearly dizzy from it. We held each other, tight, for a long time. Such a small, giant thing, a hug is. On tiptoe, I pressed my face into his neck—the pulse jumped there, and he rubbed his cheek against mine.

He pulled away, and I whimpered.

"I'm sorry," I immediately countered, because it wasn't fair that I should subject him to my neediness. Him, who didn't know me from—

He kissed me. He grabbed my face and held me when I would have pulled back. I couldn't fight him, though, not for more than a token second before I gave in like the weak-willed, love-starved hussy I am.

So warm. He was so warm, and he warmed me. He went after me—almost like this was the millionth time we'd done this—firm and sure and wanting. But it wasn't the millionth time—it was the first. He seemed to realize it after the fact, pausing, hovering over my open mouth. I held there, my eyes searching his, until he melted into me again.

Slow now. He brushed his lips over mine, licked me with just the edge of his tongue. Tasting me. His arms tightened and dropped lower, low on my back to pull me harder against him. He explored my mouth with every millimeter of his, rubbing, teasing. My knees lost their purpose, and he held me up.

His discovery of me turned me on. I ground my hips against his, knowing what came next, knowing what I'd been missing. God, he smelled divine, and he tasted like coffee. Like sex. I reached up to play in his hair—but there was none. I worked my fingers into the hard muscles of his neck instead, and he grunted. He picked me up off my feet and nearly threw me on the couch beside us. He was on me in a flash.

"Wait—" I whispered.

"What?" he asked, bewildered, on his knees between mine.

I put my hand on his chest. "Wait. I can't— I can't." Haltingly, I disentangled myself to sit out of reach. "You don't— I'm a stranger to you. For all I know, you'll leave me because you can't remember and why would you stay? For all I know, in your head, you have another girlfriend. Someone you care about—"

"Samantha…" He sighed and sat down.

He absentmindedly pressed a hand to his erection, and I had to bury my face in my knees or else I'd help him with it. "I'm sorry. I started it."

"I wanted it."
Damn, girl. We all know what she's been missing (nod, nod wink, wink), even if he doesn't remember!
Thanks so much for reading! If you'd like to learn more about Sam and Samantha's adventures, you can find all three books at Totally Bound.
Love, Lucy
Lucy Woodhull