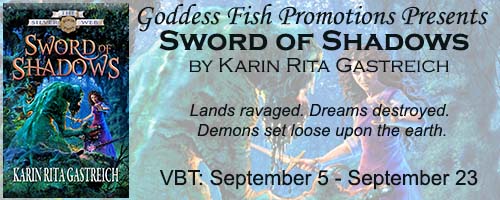 This post is part of a virtual book tour organized by
Goddess Fish Promotions
. Karin will be awarding a $15 Amazon or B/N GC to a randomly drawn winner via rafflecopter during the tour. Click on the tour banner to see the other stops on the tour.
My take on critique groups
The first advice I give to any aspiring author is this: Find a writers group that can provide you with honest, supportive feedback on your work.
The critique group is the ideal place to vet those early drafts. You benefit from multiple perspectives at once, and you will often find authors familiar with your intended market and able to speak to specific expectations of readers. Most importantly, a critique group is made up of people who are writers, like you. They not only understand the craft, they get how difficult and courageous it is to show your work to someone for the first time. They will lift you up if you've earned it, and let you down easy if you haven't. If that first draft needs work – and it probably will – they will provide the necessary guidance to become the best writer you can be.
Critique groups can also be a source of support during querying and publishing. Most writers groups offer workshops on the business of writing, covering everything from securing the interest of an agent to marketing your published novel to managing your tax returns. When your novel is released, often your critique partners will be the first to post Amazon reviews, giving you a small but important nudge toward visibility. They may host you on their blogs or talk about your novel to their friends. They will visit you at book signings and keep you happily distracted in slow moments when no one seems interested in your book.
Critique partners can become good friends and essential advocates as you begin publishing. I've lost count of the number of important contacts I've made through my different writers groups, but they include agents, editors, and well-known authors that I might never have had the opportunity to interact with otherwise. For authors taking the self-publishing route, critique partners can provide tips on cover artists, free-lance editors, and other professionals that you will have to work with along the way.
Issues can come up with critique groups, so you want to be careful about selecting the right group for you. Look for writers familiar with the genre you work in, but don't shut yourself off to the possibility of receiving critiques from writers outside your genre. Good story telling is good story telling, and many useful ideas and techniques can come out of cross-genre fertilization.
Make sure the critique group members are more-or-less at or above your writing level. If you are an intermediate writer, you will learn very little from beginners. If you are a beginning writer, a super-advanced group might leave you feeling lost and discouraged. Find a group that will push you to constantly improve your technique while setting realistic goals every step of the way.
Finally, pay attention to chemistry. Critique partners should be able to "get" what you're trying to do, even if that first draft is poorly written. Their advice should center on how to strengthen your voice and reach your own goals as a story teller. If you start to feel like your vision is getting lost inside the advice of others – that they are trying to get you to write their story, not yours – then you may want to think about shopping around for a new writers group.
That's my take on critique groups. What about you? What experiences have you had, both positive and negative, with the writers groups that you've joined?
Sisters in magic, Eolyn and Adiana seek to revive a millennial tradition once forbidden to women. When war strikes, their fledgling community of magas is destroyed; its members killed, captured or scattered.

Determined to defend her people, Eolyn seeks to escape the occupied province and deliver to King Akmael a weapon that might secure their victory. Trapped by the invading army, Adiana is taken prisoner and placed at the mercy of the ruthless Prince Mechnes.

Even as their world is torn asunder, Eolyn and Adiana cling to a common dream. Courage and perseverance guide them toward a future where the Daughters of Aithne will flourish in a world set free from the violence of men.

"War propels the story forward, and the characters are at their best when circumstances are at their worst." -Publishers Weekly

This is the second book in THE SILVER WEB trilogy. It can be read as a stand-alone novel, or as the sequel to the first book, EOLYN.
Enjoy an Excerpt:
A hush of wings on the windowsill interrupted Eolyn's thoughts. She looked up to see a Great River Owl, its proud silhouette outlined by moonlight.
Eolyn rose to her feet in surprise, keenly aware of its penetrating gaze, though she could not see its round eyes in the dark. A breeze ruffled its feathers. Its aura was impossibly familiar: intense shades of gold, burgundy, and forest green, shot through with streaks of deepest indigo.
She held her breath and let it go in a whisper. "Akmael?"
More than a question, it was a hope, a fear, an invocation.
A shimmer passed through the owl, followed by a flash of white light. Suddenly Akmael was with her, the heat of his hand upon her throat, the strength of his fingers intertwining in her hair, the demand of his lips upon hers, warm and full of passion. The magic of the South Woods blew through the window in a humid gust, swirling about them, begging Eolyn to remember who she was and what she once meant to him.
Akmael kissed Eolyn until she had no more breath to give. Then he paused and held her close, their foreheads touching as her fingers traced the familiar prominence of his cheekbone, the line of his jaw, the curve of his full lips.
All she could hear was his desire, carried on the rhythm of his heart. She dared not speak, for if she did, she might stumble upon words of caution or prudence or common sense, and none of that had any place here. Not when he was so near, nearer than he had been in such a painfully long time, closer than he might ever be again.
This is a gift from the Gods, Akmael had once said. To deny it would be an insult to them.
"Eolyn, I—"
She hushed him with a kiss.
About the Author: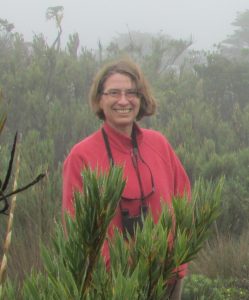 Karin Rita Gastreich writes stories of ordinary women and the extraordinary paths they choose. She lives in Kansas City, Missouri, where she is part of the biology faculty at Avila University. An ecologist by vocation, Karin has wandered forests and wildlands for over twenty years. Her past times include camping, hiking, music, and flamenco dance. In addition to THE SILVER WEB trilogy, Karin has published short stories in World Jumping, Zahir, Adventures for the Average Woman, and 69 Flavors of Paranoia. She is a recipient of the Spring 2011 Andrews Forest Writer's Residency.
Website | Twitter | Facebook
Buy SWORD OF SHADOWS, Book Two of THE SILVER WEB at Amazon.
Buy EOLYN, Book One of THE SILVER WEB at Amazon.