A special welcome to Marie Harte who is visiting with us today as part of her virtual book tour organized by her publisher, Sourcebooks. Leave a comment for a chance to win a print copy of her newest book Troublemaker Next Door. (US/Canada only)
My Ideal Writing Space
I thought it would be fun to share my ideal writing space with you. I'm a bit of a voyeur in that I like to see where authors write. What surrounds them? Does it inspire them? Do they keep a reference shelf near? How many pencils do they have on hand? Do they even use pencils anymore?
My writing space is this.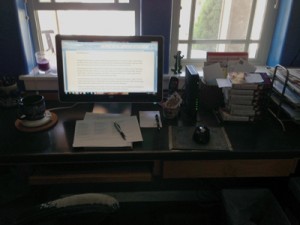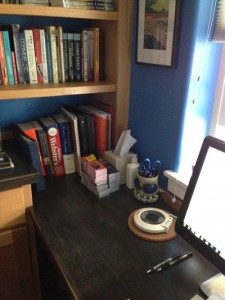 This is a typical day. To the right you see books I have to mail (I hate going to the post office!). There's my must-have coffee warmer complete with fresh coffee. And of course, Godzilla, who has been with me since I was a kid. Note: he scares away writer's block. Below, there's a funky pencil holder, a dictionary, thesaurus, and CMOS (Chicago Manual of Style) on standby.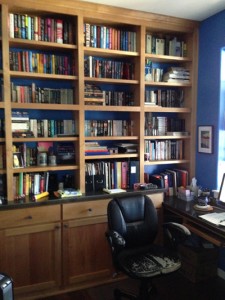 The worst part about my office is the awesome view into a beautiful day outside. I swear, I love the winter time because there is nothing better than huddling inside with a hot cup of coffee, the fire going, while outside it snows like a mother. This…this terrible sunshine is killing me!
Okay, so my ideal writing space is a better writing chair than I have, a pull-out keyboard, and keeping my arms and hands typing at the proper angle to prevent carpal tunnel syndrome. From here I can work the magic…and keep organized. (Yes, I need a new chair, stat!)
I write using MS Word, but I organize my stories by typing out the characters' details, printing them out, then writing in a spiral bound notebook. Without that notebook, I can't write. Weird, but that's how I roll. LOL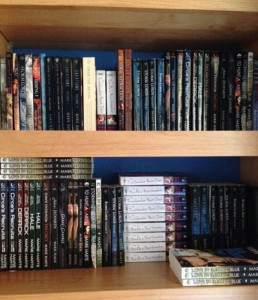 To top off my writing experience, I had floor to ceiling bookcases built into the place, so I'm surrounded by books while writing. Two of those shelves are dedicated to moi. (Check out the mass market copies of The Troublemaker Next Door and How to Handle a Heartbreaker—the white books!)
And that's my ideal writing space! Thanks for having me, LASR!
He can fix her sink, but can he wrench his way into her heart?

Flynn McCauley never thought he'd be so cliché as to fall for the girl next door. But when Maddie calls him over to help fix her faulty sink, he's a goner. Too bad she wants nothing to do with him. Even worse, he's got to rely on the advice of his brothers—and his five-year-old nephew!—to figure out how to make her give him a shot. Day by day, one home repair after the next, he'll bring down her defenses and work his way into her heart…for good.

USA Today Bestselling Author Marie Harte has over sixty romance titles to her name. She has a BA in English, served in the USMC, has worked in IT and gathered a rich background of experience from which she writes. She loves to think outside the box. Marie lives in Oregon with her family and loves hearing from readers. Learn more at www.marieharte.com.

Buy the book at:

B&N: http://www.barnesandnoble.com/w/troublemaker-next-door-marie-harte/1116882553?ean=9781402287343

Amazon: http://www.amazon.com/Troublemaker-Next-Door-McCauley-Brothers-ebook/dp/B00HFDVOGO/ref=tmm_kin_swatch_0?_encoding=UTF8&sr=&qid=

Kobo: http://store.kobobooks.com/en-US/ebook/the-troublemaker-next-door