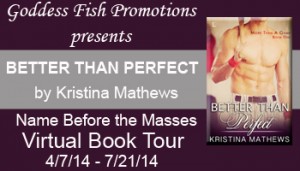 This post is part of a virtual book tour organized by
Goddess Fish Promotions
. Kristina will be awarding a $10 Amazon GC plus a digital copy of the book to a randomly drawn commenter during the tour. Click on the tour banner to see the other stops on the tour.
My Favorite Sport
I love baseball. I love watching it, listening to it, and when I was nine, I loved playing it. My stepfather bought be my first glove. I still remember going into our front yard and playing catch. It was a couple of years after girls were first allowed to play Little League. My mom worried I'd get hurt, and the boys told me I should be a cheerleader. I told them there aren't cheerleaders in baseball, duh.
When I was first married, we couldn't get cable where we lived, so we listened to a lot of baseball games on the radio. I fell in love with the game even more by listening to broadcasters like Mike Krukow, Duane Kuiper, Lon Simmons, and Jon Miller. In between pitches, they would weave stories about the players, the history of the game, and tips for little leaguers who might be listening.
Baseball has a long history. My Giants won their first National League Pennant 100 years before I graduated from high school. They faced their rival Dodgers for the first time on April 18, 1884. They've survived wars, one cross-country move (while escaping a second move to Florida in 1993), a strike, a major earthquake that postponed game three of the 1989 World Series, and steroid scandals. One of the things I love most about baseball is that it is never over until it is over. Perseverance is the most important trait a baseball player can have. Not size or strength or superhuman talent. Sure, those things help, but the biggest asset a player has is the ability to never give up.
Baseball is not a fast paced game. I like the fact that it does not rely on a clock. The only time that is recorded is the time of the first pitch. After that, the clock doesn't matter. Some games it seems like time actually stands still. And in this crazy, moving at the speed of light world, I find that refreshing. When my kids were playing baseball, I loved just sitting on the bleachers watching the game unfold in front of me, eating sunflower seeds, and becoming a family with the other parents.
More than any other sport, baseball is a family game. I took my oldest son to his first game when he was three months old. I took my father-in-law to a game for his 76th birthday. Nothing warms my heart like a parent explaining the game to their kids while they munch on peanuts and Cracker Jack. If you bring your glove to the ballpark and catch a foul ball, you give it to the nearest kid. Then you hope the kid doesn't follow his or her natural instinct to throw it back.
I've sat through bitter cold nights at Candlestick Park and the empty post-strike ballpark where they had guest vendors Ben and Jerry toss out their wares to try and draw crowds. I've been to one Opening Day, and one postseason game. I've only left a game early once, when my two-year-old realized he wasn't going down on the field to play with Marvin Bernard. I have been to sell outs at AT&T Park and watched Barry Bonds break Babe Ruth's intentional walk record. Last year I watched Angel Pagan's inside-the-park-walkoff-homerun. Talk about an exciting finish.
Baseball has long stretches where it seems like there isn't much happening, but if you pay attention, you notice the little things. The battle between the pitcher and the hitter. The way an outfielder will shift as the ball leaves the pitcher's hand. The beauty of a well-turned double play. Although I've only seen it on TV, the suspense of a perfect game has got to be one of the most exciting moments in sports. In the long history of the game, only 23 pitchers have thrown one. My father-in-law called me after Matt Cain's perfect game in 2012. We celebrated together over the phone
I love the way the game brings people together. Co-workers bond over last night's game. Parents who would otherwise pass each other in the parking lot, stop to chat about the great game over the weekend. I've met friends and found readers on baseball fan pages on Facebook. Seeing others wearing your team's colors turns strangers into comrades. And in my books, baseball brings two people together who otherwise wouldn't find true love.
The woman he left behind and the son he never knew are tougher opponents than any he's met on the field.

Pitcher Johnny "The Monk" Scottsdale has won awards, been named an All-star and has a perfect game to his credit. Known for his legendary control both on and off the field, his pristine public image makes him the ideal person to work with youth players in a preseason minicamp. Except the camp is run by the one woman he can't forget…the woman who made him a "monk."

Alice Harrison's three strikes include an unexpected pregnancy, a marriage of convenience and young widowhood. She once traded her dreams so Johnny could have a chance at making it to the Majors. Johnny comes back into her life just as she's ready to resign as foundation director and pursue her own dreams of finally earning her teaching credential. Her plans may go on hold, though, depending on the reaction when she confesses she may have kept a major league secret from Johnny and her son.

With the minutes ticking by until Johnny will leave for spring training, they'll need to let go of the past and work together in order to win the game of love.

CONTENT WARNING: Some strong language, consummated love scenes
About the Author: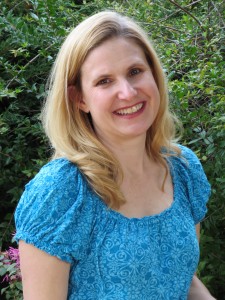 Kristina Mathews doesn't remember a time when she didn't have a book in her hand. Or in her head. But it wasn't until 2010 that she confessed the reason the laundry never made it out of the dryer was because she was busy writing romance novels.
While she resigned from teaching with the arrival of her second son, she's remained an educator in some form. As a volunteer, Parent Club member or para educator, she finds the most satisfaction working with emergent and developing readers, helping foster confidence and a lifelong love of books.
Kristina lives in Northern California with her husband of twenty years, two sons and a black lab. A veteran road tripper, amateur renovator and sports fanatic. She hopes to one day travel all 3,073 miles of Highway 50 from Sacramento, CA to Ocean City, MD, replace her carpet with hardwood floors and serve as a "Ball Dudette" for the San Francisco Giants.
Website www.kristinamathews.com
Facebook: www.facebook.com/kristinamathewsauthor
Twitter: https://twitter.com/KristinaMathews
Buy the book at Lyrical Press, Amazon, or Barnes and Noble.