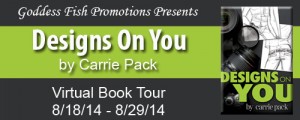 This post is part of a virtual book tour organized by
Goddess Fish Promotions
. Carrie will be awarding a $25 Barnes and Noble GC to a randomly drawn winner via rafflecopter during the tour. A free download of an Interlude Press eBook title or an author/book swag pack (US ONLY) will be awarded to one randomly drawn winner via rafflecopter at each stop during the tour.
My Favorite Place to Write
Most writers have quirks. I am no exception. Possibly my most infamous quirk—at least within my inner circle—is my inability to part with my ancient desk chair. Its been parked at my desk as long as I can remember, and it's my favorite place to write.
This at-least-40-year-old behemoth of metal and vinyl saw its best days when polyester was the height of fashion. It's been an eyesore since harem pants were "in" the first time around. It's followed me to no less than five residences in two states, and before it became my prized possession, it belonged to my older brother. No one in my family remembers where it came from, and until recently, I had assumed it had been my grandfather's. The chair's origins remain a mystery.
It's broken in, though. And then some. The stuffing—what little there was of it—is long gone. The vinyl seat cover and back rest are cracked and it squeaks and groans when I lean back. The "damned thing," as my husband calls it, is heavier than your average supermodel. But as far as I'm concerned, it's the best seat in the house. It's sturdy, reliable, and also really great for sitting in backwards, which to me will always be "that cool way that A.C. Slater used to sit in chairs at The Max."
When we lived in our first house together— a small log cabin that was less than 800 square feet—my husband and I shared a desk. He begged me to get a new chair. He didn't like sitting in it, claimed it was uncomfortable, ugly, and a piece of junk. But I refused, promising him a brand new desk chair all his own when we moved. I was not giving up my chair, not when it is my "writing chair."
So when we bought our first house, the infamous chair came along too. Of course, the husband got his own chair (and his own desk) in a separate room, and the only complaint I ever heard was when he had to carry the "damned thing" up the stairs in the first place. But I got to keep it. In fact, it's proudly propping up my bum as I write this in my office.
My chair. The best writing spot in the entire house. It's where I worked on Designs on You and where I'll write my next novel. Who needs coffee shops or fancy cafés to write from? I have a half-century-old, heavy-as-sin, worn out, "damned thing" that is the absolute perfect place to pen a novel.
If graphic designer Scott Parker has to design one more cupcake company logo, he might lose it. So when he is tasked with retouching photos for a big fashion client, a stunning, lanky model mesmerizes Scott and occupies his fantasies long after the assignment is finished.

When the model is assigned to one of Scott's projects, Scott discovers that the object of his desire is nothing like what he imagined. Despite Jamie Donovan's aloof and dismissive behavior, Scott struggles to forge a friendship with him, all the while trying to keep his attraction at bay.

Will Jamie follow through on signals that he may be interested, or will he forever be the beautiful man in the photograph, an untouchable fantasy?
Enjoy an excerpt:
"Jamie, just make sure you maintain eye contact with the camera," Scott says. "Direct it all at the lens." What he means is, take all that anger, desire, passion, frustration, whatever it is that is holding him back, whatever he's feeling, and channel it into his work. Let it go. He lowers his voice and leans in so only Jamie can hear him. "Direct it all at me if you have to."
Jamie seems to understand because he nods, his eyes fixed on Scott's as his breathing picks up, and if it weren't for the camera and all the lights between them, Scott would swear they're back outside that bathroom, suspended in the second before Jamie kissed him. Then Jamie locks his gaze on the camera lens three feet from his face, determination apparent in the set of his jaw, and a hushed anticipation settles over them. Jamie blinks twice and relaxes into the posture that Scott instantly recognizes as his model's stance; he's ready to go.
Scott smiles and ducks behind the camera, using the viewfinder rather than the digital display. There's an intimacy in it, seeing Jamie through the focused view of the lens, and Scott is awestruck. It's like seeing Jamie for the first time, all of his emotions raw and his soul laid bare—and it's nothing like the pictures Scott used to get off to. This is Jamie the person, the one who is Scott's friend, not Jamie the model or the insane erotic fantasy that Scott had created around him. In that moment of realization, the shock of Jamie's beauty shoots through Scott like fireworks—a sharp point of light that erupts into a shower of sparks in his chest. He holds his breath and snaps the shutter. Zach had left it on a rapid-fire setting, so he shoots about ten frames at once, catching the subtle changes in Jamie's expression.
He glances down at the display; even at only three inches wide, he can tell the shots are what they're looking for. Scott lifts the camera back up and smiles. "All right, Jamie, let's try that again, and this time I want you to really take a risk. Try something new and don't hold back."
About the Author: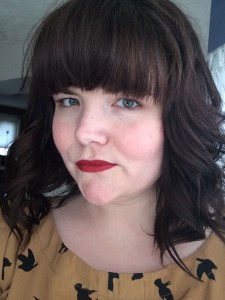 A former graphic artist, Carrie Pack turned to her early career experience as the backdrop for her first novel. She lives in Florida with her husband, where she teaches advertising writing at a local college.
Website ~ Facebook ~ Twitter
Buy the book at Interlude Press.