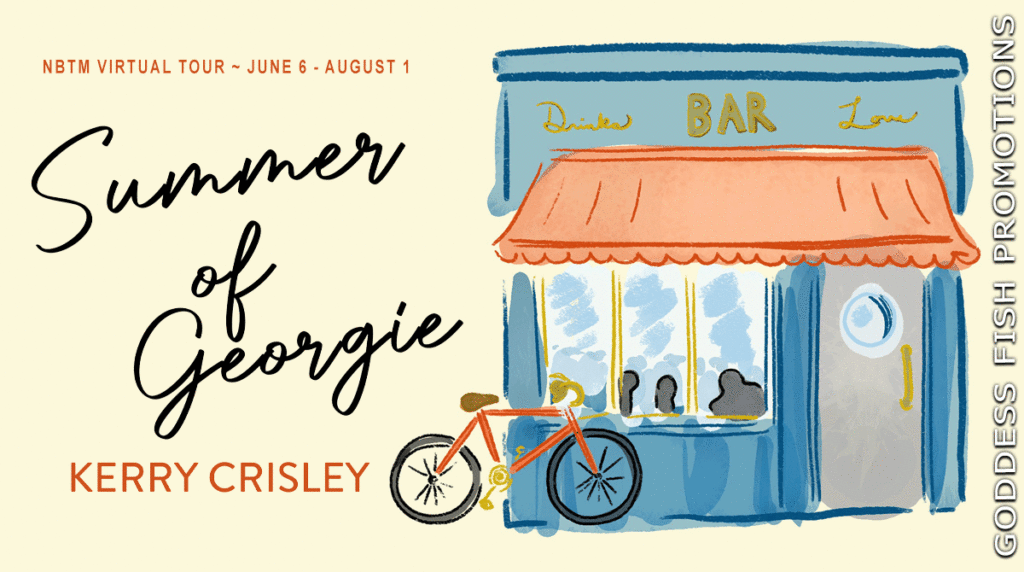 This post is part of a virtual book tour organized by Goddess Fish Promotions. Kerry Crisley will be awarding a $50 Amazon or Barnes and Noble GC to a randomly drawn winner via rafflecopter during the tour. Click on the tour banner to see the other stops on the tour.
My Do-It-Yourself Writer's Retreat
Here's how – and why – I planned it
Last Christmas, my husband's gift to me was a weekend away to write. I'm planning on taking it this fall, and it will be my second writer's retreat. I use the singular form of writer's as I was the only at the first one in 2021.
I planned it for two reasons. First, I was stuck with my second book. I had a general idea, but I wasn't getting anywhere. Why? That brings me to my second reason.
At the time, I hadn't been alone in my house for more than a year. My husband and I had been – and still are – working from home during Covid, and our kids were learning remotely. The writing nook that I had carved out for myself when writing my first novel was now where I did my day job. My home wasn't the same, and it was not an environment conducive to kick-starting my creativity.
I fantasized about a writing retreat, one that was free of distractions and offered guidance to get me past my writer's block. But the cost – upwards of $1,000 or more for travel, hotel, meals, and conference fees – was simply out of my reach. At least, until I can get this book written and sold (optimism!).
One Saturday afternoon, as I sat at my writing-desk-turned-work-desk struggling with Untitled Book Two, an image of myself clacking away on my laptop with the ocean outside my window came to mind. It occurred to me that a change of scenery might be the solution. If I couldn't attend an official writers' retreat, I'd create a budget version of one for myself. As I started planning, I thought about what I wanted and needed in order to call it a success. Keep in mind that these are the things I wanted and needed. Your wants and needs will be different for your own retreat, but the process I followed in planning mine may be helpful.
What I wanted
● A room with a view not too far from home. I didn't want to purchase a plane ticket or spend hours in a car, nor did I want to be so close that it would be tempting to pop home and check in on everyone. And the view? Well, it is a wish list after all.
● Comfortable – and separate – spaces to sleep and write. For me, this meant a room with desk or table for my laptop and notebooks.
● Access to nature. If I was going to write successfully, I'd need a rejuvenating break in between sessions. For me, that meant time outdoors in the woods or near the ocean, preferably close enough to walk.
● Minimal distractions in the form of chores. A hotel stay appealed to me over renting a cottage or condo. For the cost savings, yes, but also for one embarrassingly trivial reason. I just didn't want to spend my retreat doing dishes. The idea of two days free of standing over a kitchen sink scrubbing mugs and silverware felt like a vacation in itself.
What I needed
● Goals. In order to justify bidding my family farewell for two days and spending my limited rainy day fund on this retreat, I needed something to show for it. What would satisfy me was 4,000-6,000 words of solid writing that moved my story forward.
● Structure and a schedule that worked for me. There's so much good TV out there, isn't there? And being alone with no one to swipe the remote was going to lead to temptation. If I stuck to a schedule and met my daily writing goals, a movie or a few episodes of whatever show I was currently into would be an evening reward.
● A coach. Part of the draw of a writers' retreat was the access to experts and keynote speakers. Since there wouldn't have a live expert in my hotel with me, I brought a paperback one: Story Genius by Lisa Cron. It turned out to be an excellent choice for me.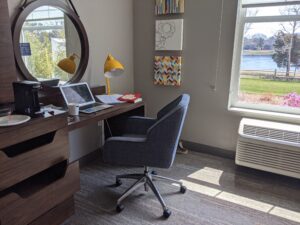 I ended up at the Hampton Inn in Bourne, Massachusetts, an hour's drive from my house and just steps from the Cape Cod Canal, which is lined on both sides by a seven-mile walking and biking path. The rate was within my budget, the stay included breakfast, and the room came with a coffee maker, a microwave, and a refrigerator, which allowed me to bring my own supplies for lunch and dinner.
In a perfect world, I'd have two full days on retreat. But since the world isn't perfect, I had to get creative. I arrived at 3pm on the dot for check-in, and arranged for a late check out of 1pm two nights later. Over the next 46 hours, my retreat unfolded as follows:
Day 1:
● 3:00-4:00pm: Check in, unpack, settle in.
● 4:00-6:00pm: Write
● 6:00-7:00: Walk on the canal path
● 7:00-bed: Dinner, movie (The Next Three Days – not bad!), journaling, reading
Day 2:
● 8:00-10:00am: Breakfast, coffee, an episode or two of Arrested Development
● 10:00am-1:00pm: Read Story Genius/Write
● 1:00-2:00pm: Canal path run. Lunch.
● 2:00-5:00pm: Write
● 5:00-bed: Dinner, movie (The Car – hilariously campy 1977 horror film with James Brolin and Ronny Cox), journaling, reading
Day 3:
● 7:00-8:00: Breakfast, coffee, another episode or two of Arrested Development
● 8:00-10:30: Read Story Genius/Write
● 10:30-11:30: Canal path run.
● 11:30-12:30: Write
● 12:30-1:00: Pack up and check out
Cost:
● Two-night hotel stay: $313
● Groceries: $20
● Gas (four gallons): $12
● Housekeeping tip: $10
● Total: $355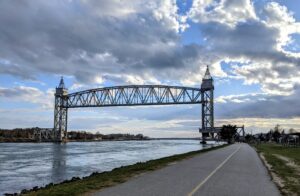 On a scale of 1-10, my retreat was an 11. My room was sunny and comfortable, the canal path was a welcome mental and physical break, my schedule afforded me the right blend of writing and relaxation, and the coaching and guidance within Story Genius gave my novel the jump start it needed. I drove home excited and empowered, which was precisely how I wanted to feel.
Deep into her 40s with a lackluster career, Georgie wonders how she became so…underwhelming. If she's not battling her micromanaging boss and egotistical CEO, she's trying to quiet her inner voice, the one whispering that she hasn't lived up to the cool, funny and creative person she used to be.
When she's fired for finally pushing back on her CEO's questionable business practices, Georgie – with the support of her husband and book club friends– uses her free summer to rekindle latent talents and redefine success. But just as she figures out what's next, an unexpected hurdle threatens to turn her summer of opportunity into a zero-sum disaster.

Summer of Georgie is a fresh and likably snarky take on the "middle age do-over," with an authentic portrayal of friendship, marriage, motherhood, and that inner critic inside us all.
Enjoy an Excerpt</b.
"Hey mom, if we won the lottery, could we go to Godzilla Fest?" Max asks, starting one of our favorite mealtime conversations.
"Yes," I say definitively. "We'd fly first class, and stay in the largest, nicest room in the whole hotel, and you would get any figure you wanted, no matter how much it cost."
"And then," Shannon picks up the thread. "We'd go to Paris and ride to the top of the–" she pauses to consult my phone. "Eiffel Tower!"
I turn back to the stove as Dan joins the kids at the breakfast bar to make plans for our imaginary future. Right, I think. Chicago and Paris. With my 22 hours of vacation.
At the thought of work, a small knot forms in my gut. My sizable gut, the criticism comes before I can stop it. It'd been coming a lot since discovering early on that my job move was a profoundly bad one. How much have you gained this year, Georgie? Ten pounds? Twelve? Is it worth it? The weight? The pay cut? Lena? The complete and utter misery?
"Oh, shut up," I mutter quietly to my inner commentator, shifting the pan on the stovetop so Dan can't hear me. At least it's Friday. And yes. As a matter of fact, it is worth it.
I give my head a small shake and turn around, smiling. "And then, we would find a beautiful house on a lake and spend the rest of the summer in it. Nothing but swimming, kayaking, and paddle boarding all day." I pause. "Except if it rains. Then we'd have movie marathons or read on the porch. Because there would definitely be a screened porch."
Shannon gets up from her stool and puts her empty bowl in the sink. "Would we invite Nana and Bop Bop?"
I place my hands on her small shoulders and plant a kiss on the top of her head. "Well, duh," I say. "Of course we invite Nana and Bop Bop!"
"Better stock up on gin," Dan offers, goading me.
"Helpful," I say, swatting him on the shoulder.
About the Author: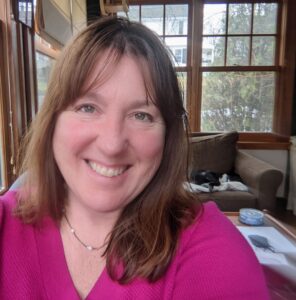 Kerry Crisley is a communications professional, with a focus on the nonprofit sector. Fiction, however, is her first love; she wrote and directed an original play performed by her second grade classmates and has been writing ever since. She lives in Wakefield, Massachusetts with her husband, their children, and their (very spoiled) rescue dog. When not at work, Kerry can usually be found reading, hiking, or getting into a wide variety of shenanigans with her book club. Anything to avoid housework.
Kerry is a current member of the Women's Fiction Writing Association, and also muses about life as a writer, autism mom, dance mom, and rescue dog mom on Lazy Sunday Days. Summer of Georgie is her first novel.
Website | Facebook | Amazon | Twitter