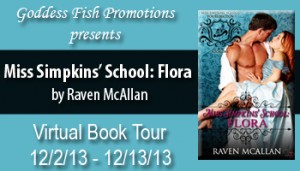 This post is part of a virtual book tour organized by
Goddess Fish Promotions
. The author will award a $10 Breathless Press GC to one randomly drawn commenter, 5 eBooks from Breathless Press (publisher's choice) to one randomly drawn commenter, and 2 eBooks from Breathless Press (publisher's choice) to one randomly drawn commenter. Click on the tour banner to see the other stops on the tour.
Welcome to Raven McAllan who stopped by to answer a few of our questions!
What would we find under your bed?
Dust Bunnies, a whole extended family of them.
Say your publisher has offered to fly you anywhere in the world to do research on an upcoming book, where would you most likely want to go?
My list is endless. I'm very fortunate to have traveled around a lot. I'd like to go to Langkawi and to the South Island of New Zealand though.
Do you have a favorite quote or saying?
Think positive, don't send negative waves.
What is something that you absolutely can't live without? (Other than family members)
I think if you have to give stuff up you just do, so nothing, apart from water and food. I might mump about it though.
What is a talent you wish you had, but don't?
To sing in tune. My primary school teacher told me I sang like a frog. Harsh but true.
Weather: Hot or cold?
Hot, always hot.
Favorite place to read?
Somewhere hot.
Favorite non-alcoholic drink.
Earl grey tea (somewhere hot).
About the Author: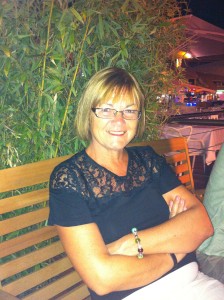 Raven lives in Scotland, along with her husband and their two cats—their children having flown the nest—surrounded by beautiful scenery, which inspires a lot of the settings in her books.
She is used to sharing her life with the occasional deer, red squirrel, and lost tourist, to say nothing of the scourge of Scotland—the midge.
Her very understanding, and long-suffering DH is used to his questions unanswered, the dust bunnies greeting him as he walks through the door, and rescuing burned offerings from the Aga. (And passing her a glass of wine as she types furiously.)
Why Raven? EASY!
The Raven is the harbinger of change. My Raven was around a lot after I sent Wallflowers Don't Wilt off to Breathless Press. And then, I was offered a contract. Thanks Raven.
McAllan? EASY!
I live in Scotland. McAllan is a variation of the name of the BEST single malt in Scotland.
What else could I pick?
So O.K. It's a pen name, but one with deep meaning for me. I hope you enjoy reading Raven's books.
Why don't you drop me a note and say Hi?
Looking forward to meeting you.
http://www.ravenmcallan.com/
https://twitter.com/#!/RavenMcAllan
http://www.ravenmcallan.blogspot.co.uk/
http://www.facebook.com/ravenmcallan
http://pinterest.com/ravensramblings/
http://www.amazon.com/Raven-McAllan/e/B00694RHJI/ref=sr_ntt_srch_lnk_1?qid=1384299829&sr=8-1
http://www.barnesandnoble.com/c/raven-mcallan
http://www.breathlesspress.com/index.php?main_page=index&manufacturers_id=99
Miss Simpkins' School. Where seduction's the game, and success is the aim. Let your classes commence.

Ex mistress to an Earl, who better than Molly Simpkins to show Flora how to ensure she gets what she needs from her marriage?

Flora's intended has an idea she doesn't agree with. Angus thinks she should be happy to live at their Scottish estate while he spends his time in London. It may be the way of the ton, but it isn't going to be Flora's way. This is her chance to show Angus what he'd miss if he leaves her alone. There's only one thing—she doesn't know how.

Luckily Miss Simpkins does.