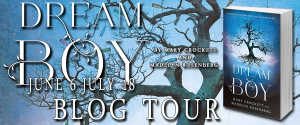 This post is part of a virtual book tour organized by the publisher. Leave a comment for a chance to win a print copy of
Dream Boy
by Mary Crockett & Madelyn Rosenberg (US/Canada only)
Mary and Madelyn
Mary Crockett and I have been friends for a long time. Here are some things we have in common, along with some things we don't…
Things in Common
Mary and I both played alto saxophone when we were in high school. Viva la band geek! (You can see a high school picture of me playing sax on this Dear Teen Me post).
We both grew up in southwest Virginia. I grew up in Blacksburg and Mary grew up in Salem, about 35 miles away. We didn't meet until after high school, though I suppose there's a pretty chance we competed against each other in marching band competitions, or that we were in opposing pep bands during football games. Because we grew up so close in proximity, we both knew a lot of the same landmarks, so when we sat down to write Dream Boy, we knew exactly where everything was.
We both love the mountains and feel kind of naked when we're not around them.
We are both lousy housekeepers.
We both get migraines and our editing/writing would have been in huge trouble if we'd gotten them at the same time.
Differences.
Mary likes the Yankees, I like the Red Sox. (I lived in Boston for a time. Not sure what Mary's excuse is.)
Mary is tall and I am decidedly NOT, as evidenced in some of our publicity photos. We had to arrange ourselves on rocks so we were on the same plane.
Mary is blonde, I'm a brunette.
Mary is a poet, I'm a journalist.
Mary is a dreamer and an optimist. I'm a realist and more of a pessimist than I care to admit.
I am Downton Abbey. Mary is Downton Abbey + Walking Dead + Sherlock.
If dreams can come true…then so can nightmares

One night Annabelle dreams of the perfect boy: tall and handsome with impossible blue eyes. Then, just as suddenly as he appeared, he's gone…until he walks into her science class the next day. Perfect and REAL. The boy of her dreams. And when he brushes past her, he whispers "Annabelle." Suddenly, Annabelle's got the perfect boyfriend and a date to homecoming. Her life is like a dream come true…until her dreams stop and the nightmares begin.
Watch the book video:
Enjoy an excerpt:
I've always been a dreamer. Daydreams. Night dreams. Dreams of grandeur and dreams of escape. If I were an onion and you peeled back the papery outside, you'd find layer after layer of eye- watering dreams. And in the center, where there's that little curlicue of onion heart? There'd be a puff of smoke from the dreams that burned away.
It was all just brain waves, I thought— disconnected, like the notebook that my friend Talon keeps. She draws a line down the middle of the page; on the right she writes everything she remembers about a dream, and on the left she puts notes about the stuff that's happening in real life, things that might trigger her subconscious. Reality on one side, dreams on the other—a clear line between the two.
But it turns out there are no clear lines, just a jumble of what is and what might be. And all of it is real.
About the Authors: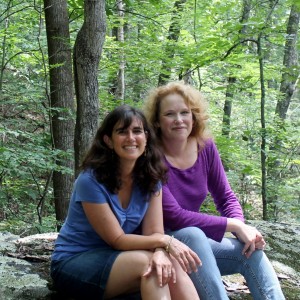 Mary Crockett likes turtles, licorice, and the Yankees. Madelyn Rosenberg likes cats, avocados, and the Red Sox. Luckily they both like the weirdness of dreams (and each other) enough to write novels together. The friendship has survived three moves, six kids and countless manuscript revisions. Madelyn lives just outside of Washington, D.C. Mary remains in the mountains near their hometowns in southwestern Virginia. You can find them on Twitter @marylovesbooks and @madrosenberg or their blogs at www.marycrockett.com and www.madelynrosenberg.com.
Buy the book at Indie Bound, Amazon, or Barnes and Noble.