Welcome to an excerpt tour for Love and Let Spy by Shana Galen. Enter to win a Love and Let Spy gift basket.
What else did her aunt require?

Her actual appearance, she supposed. Bonde glanced up at Butterfly again and noted the woman seemed to have her footing now. She did not have far to go, and there was a window ledge under her, which made the last few feet child's play. Bonde crawled, spiderlike, down the rest of the building and jumped neatly beside Baron and her uncle.

"What the devil was that?" Baron asked. "Are you part ape?"

Bonde smiled. "I assume you meant that as a compliment. Some ladies might take offense."

Baron raised a brow. He was handsome with those green eyes and that unruly brown hair. Not that she cared whether men were handsome or not. She had never been swayed by appearances. She knew well how often they might deceive.

"Some ladies do not descend walls as though they are part monkey."

"Hmm." Bonde inspected her gloves for any traces of dirt. "Another questionable compliment."

"He excels at those," Butterfly added from her perch above the window.

"Will you concentrate?" Baron barked and moved underneath his wife. Bonde glanced at her uncle. The idea of two married spies working together was still a novelty to her. But then, she insisted upon working alone.

"He's a bit overprotective," her uncle murmured. "That's why I called you in. I didn't feel he was challenging her to reach her full potential."

"She's good," Bonde acknowledged. "She has natural instincts."

"I'm pleased you agree."

Baron caught his wife around the waist and set her down, rather than making her descend the last few feet. She looked spent and relieved. Bonde would have flayed him for such presumption. If she started something, she finished it.

Butterfly all but skipped over to them, smiling from ear to ear. "I did it. I really did it!"

"Of course you did," Bonde said. The alternative had been to splat on the stone paving on which they now stood.

"You performed beautifully," Baron said.

"Not as beautifully as Bonde. I don't think she has a hair out of place or a wrinkle in her gown." Butterfly looked down at her own wrinkled gown and her ruined gloves. "You made it appear so completely effortless."

"That is why she is the best," her uncle said.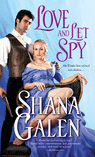 Her name is Bonde, Jane Bonde…
A beautiful and eligible member of the ton, Jane has more than a few secrets: she's one of the Crown's most elite agents. She may be deadly, but she doesn't know a thing about fashion, flirtation, or love…until Dominic Griffyn shakes up her carefully stirred world and asks her to be his bride. He's exactly the kind of man she's not looking for. And he's dangerous, because falling into his arms is so much more satisfying than saving England from her enemies.
He's an improper gentleman who needs a wife…
Tall, dark, and tortured, Dominic Griffyn is haunted by demons from his past. When his stepfather insists that he marry, Dominic allows himself to hope that the beautiful but mysterious Miss Bonde might help him forget his troubles. As they grow closer, it's clear that there's more to Jane than danger. She might be just what his neglected heart needs.
Pre-order Love and Let Spy: Amazon, Barnes and Noble, Apple, Kobo, IndieBound, BAM, or Indigo.